BLYTHEWOOD – Annie Faust has lived in the same house in Blythewood for about 75 years – just down the road from where she grew up on Rimer Pond Road. Hers was a simple life with few frills. But today, at 103, Annie is living every senior citizen's dream, basking in round-the-clock attention of an army of loving caregivers – her family – in her own home.
In addition, she may well own the distinction of being the oldest living native Blythewoodian.
Born in 1916, Annie was always an independent woman and is still remarkably healthy in mind and body. Last year, at 102 years old, she fell and broke her hip, but she's defied the odds with an amazing recovery that has been hampered only by arthritis in her knees.
"My doctor says I'm fine. Nothing wrong with me," she said with a laugh and feisty wave of her hand. "My heart and everything's fine. I'm fine."
She has a quick wit, an astonishing grasp of her faculties, and she delights in talking about what it was like growing up in Blythewood.
Asked how she maintains such a sharp memory at her age, she quipped, "It's not that older people don't have good recall, it's that the older you get the more memories you have to keep up with. It's hard!"
Annie sat down with The Voice recently to talk about her 103 years. She quickly turned the interview around, noting that she doesn't always get her Voice newspaper in the mail every week and she wanted to know why.
Growing up as the next to youngest of five children whose parents were farmers, Annie's young life was never easy.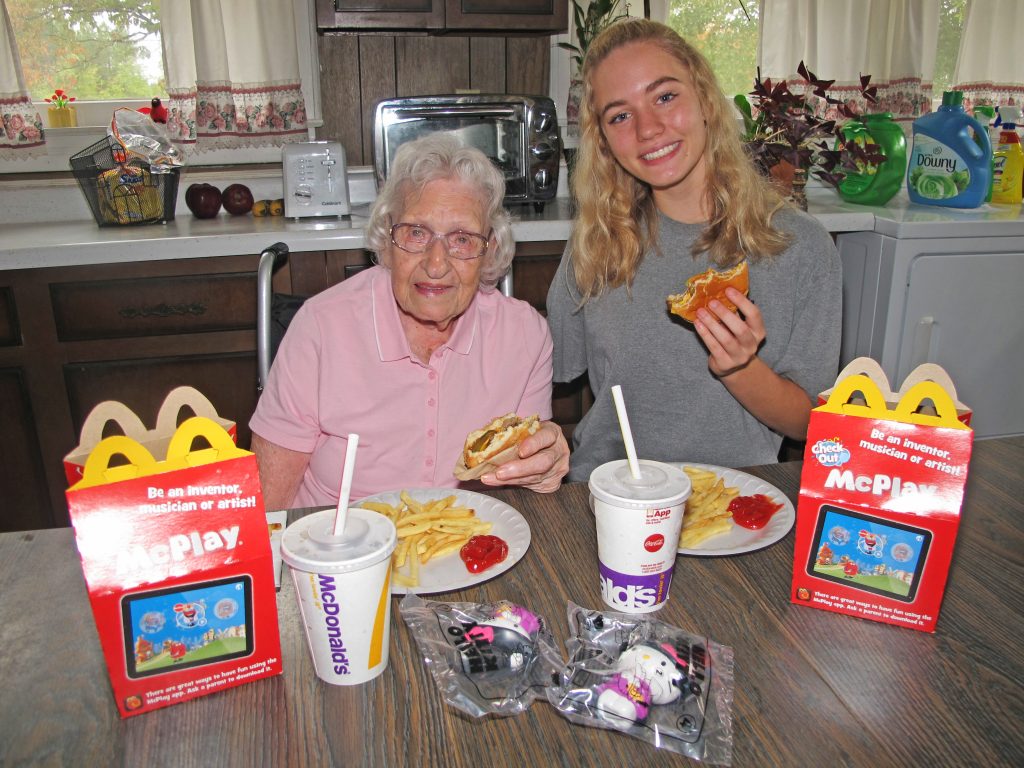 "My parents tried to farm, but my mother was sick a lot and my daddy became ill and died in his 60s. So they never made much at farming," she recalled.
Annie and her late husband, Littleton Faust, knew each other in school as they were growing up.
"A bunch of us kids all walked together about three miles to school every day and back home. We didn't have a cafeteria or any food at the school. We either took our lunch or waited till we got home to eat. That's what I did," she said.
There were only 11 grades at the time, and after graduation, Littleton, at 17, split for the Army. Annie stayed at home with her parents, often helping her dad in the garden, something she remembers fondly.
"There was nothing for girls like me to do back then after we got out of school. No real job. No car. No money.
About five years later she and Littleton reconnected, this time romantically. She was 24 when they were married in 1940.
"After we married, he left the Army and tried to get work in Columbia, but it was hard to make enough money for a family," Annie recalled. World War II was underway, so Littleton re-enlisted. He also served in Korea, Vietnam and other places around the world as well as a number of years at Ft. Jackson before he retired after 30 years.
During her husband's extended deployments, Annie remained in their home in Blythewood where she raised the couple's two daughters, Sandra (Prince) and Cheryl (Bullock), both of whom still live in Blythewood.
In later years, she also helped look after her grandchildren, great-grands and great-great-grand while their parents worked.
Littleton died eight years ago at the age of 93. Asked how long they were married, Annie answered, "We're still married. He's just dead."
Today, Annie still lives in their little house on seven acres on Highway 21, where she raised their two girls almost by herself. She talked about how she sewed and gardened to help make ends meet as a stay-at-home mom. While the years were often lean, she remembers them as good times.
She said she couldn't afford fancy weddings for her daughters, but she sewed the dresses they wore to be married in.
"They were very pretty," she said.
"I loved to sew and work in the garden, and I loved to cook. I just loved it," she said enthusiastically. "I still did a lot of that until I turned 90. Then I just stopped and let someone else do it," she said with a laugh.
While Annie faces life head on and generally exhibits a straight-laced demeanor, her soft side engages when she talks about her family and her fond remembrances of her daughters growing up.
"They were sweet girls," she said. "Sometimes children cause their parents trouble. Our girls didn't. They were very sweet."
When the girls got married, Annie and Littleton gave them each an acre of the family property for their own homes. Today, one of their two daughters, two granddaughters and a grandson, all but one of the six great-granddaughters and a great-great-grandson still live in the family compound and are returning the love and thoughtful care that Annie provided in abundance for them as they all grew up.
"One is with me around the clock," Annie said. "They take turns in 12-hour shifts. Someone is here all the time. The [great-grand] girls do their homework and studying while they're here." Three of the six great-granddaughters attend Westwood High School and one is enrolled at Midlands Tech. "It's so nice to have them here.
"Whoever stays the night shift fixes breakfast for us," Annie noted. Her breakfast is always a hearty one and always the same – a bowl of grits and cheese, two pieces of toast, a Jimmy Dean sausage biscuit and two cups of coffee.
"Someone brings in lunch or one of the great-grands picks up Happy Meals for us," she said with a wink.
"She likes extra fries," great-granddaughter Kendall Walker added, with a smile.
Annie said she doesn't eat supper or snack before bedtime.
A tall slender woman who would easily pass for a vibrant 80-year-old, Annie attributes her healthy skin to liberal applications of Oil of Olay and eating lots of fruits and vegetables.
"I do eat some meat, but I always loved vegetables – butterbeans, tomatoes, black-eyed peas, cucumbers, just about any vegetable. I especially like purple-top turnips. When I was young, I was always picking a peach or plum or apple right off the tree and eating it. I love fruit, especially apples," she said.
While Faust doesn't get out and about too much anymore, she's always up early, dressed and ready to pass a pleasant day with whichever family member is on duty.
And, at 103, she's still making plans for the future and looks forward to every tomorrow.
"I'm hoping to be getting around without my walker by the end of the year," she told The Voice.
Annie has made the most of a simple life, focused on sharing the gifts of her time, energy and whatever she had in this world with her children and their children. Now those gifts are coming back to her in the form of busy days filled with happy experiences, occasional visitors and the constant coming and going of family members who clearly love her to pieces.
"I enjoy them all," she said, folding her hands in her lap. "Everything has worked out real good."