WINNSBORO – It was an epic battle of the birds when Richard Winn volleyball hosted conference rival Newberry Academy on Tuesday. The Newberry Eagles arrived in Winnsboro perched atop the region with untarnished record but departed with a tight 3-2 loss to the Eagles of Richard Winn.
In their first meeting earlier this season, Newberry handed the Eagles a 3-1 loss. This time, Richard Winn was ready. They took the first set handily with a 25-13 final. Richard Winn jumped out to a 5-0 lead under Anna Taylor Mathias's service and never relinquished.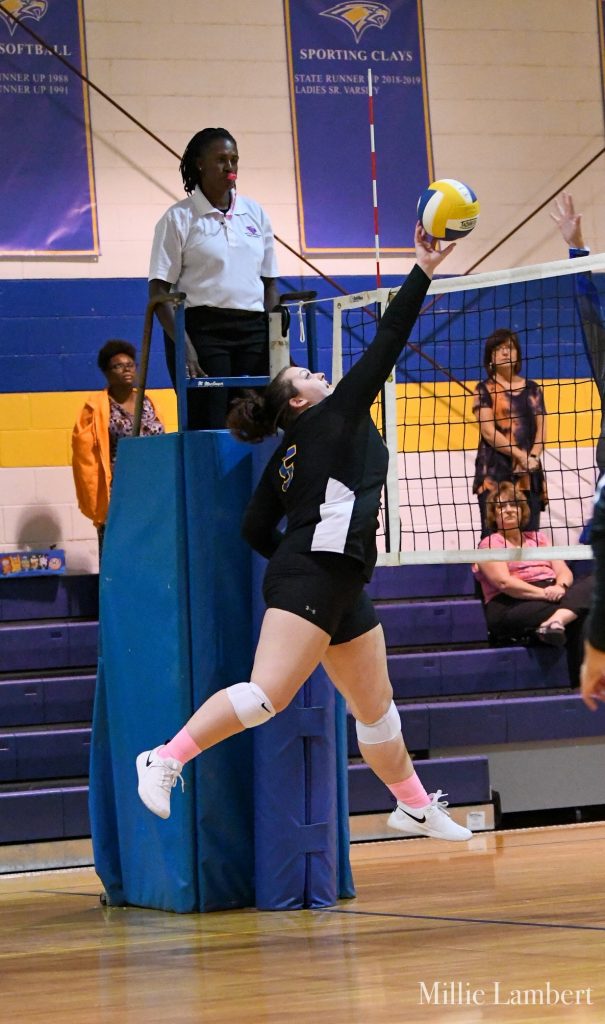 The Eagles took game two by a tight 29-27 margin to take a 2-0 lead in the match, but Newberry found redemption in game three. A regroup between games put Richard Winn at the wrong end of a 25-15 game three score and 26-24 game four final to send the match to a deciding set.
With adrenaline running high in game five, it looked to be a tough go for the Eagles until they took a 6-4 lead under service of sophomore Mikaela Miller. The momentum shift was all the fuel Richard Winn needed as they took game five 15-8 to hand Newberry their first region loss of the season.
Senior Riley Simpson and junior Sydney Boulware led the Richard Winn offense with 13 and 12 kills each. Boulware tacked on three aces and Simpson two. Junior Taylor Spires added three aces of her own to go with four blocks and three kills.
The win came on the heels of a tough battle in Greenwood last Thursday when the Eagles took to Cambridge Academy for a region matchup.
Richard Winn handily took the first game by a 25-14 margin, but game two told a different story. Richard Winn found themselves down 10-5 before Cambridge scored 12 points in a row to set themselves up for a 25-6 win.
The Eagles were not able to regroup, and fell 25-18 in game three and 25-13 in game four to give Cambridge the 3-1 win.
Simpson and Boulware led in kills again with 5 and 4 respectively. Junior Meredith Pope added five kills. Emma Castles notched four digs and Miller grabbed three in the loss.
The Eagles move to 4-4 on the season, 4-2 in region play with losses to Cambridge and Newberry. They travel to Wardlaw Oct. 3 for a rescheduled match. Richard Winn hosts Cambridge for their second meeting of the season Oct. 8. Facing the backend of their region schedule, Richard Winn will face King Academy again on Oct. 17 and will battle with Laurens Academy on Oct. 10 in Winnsboro and Oct. 15 in Laurens.