WINNSBORO – Fairfield Central may have executed a beautiful scoring drive to open against Westwood at E.K. McLendon Stadium, but the Redhawks' ground game outlasted the Griffins 26-7 Friday night.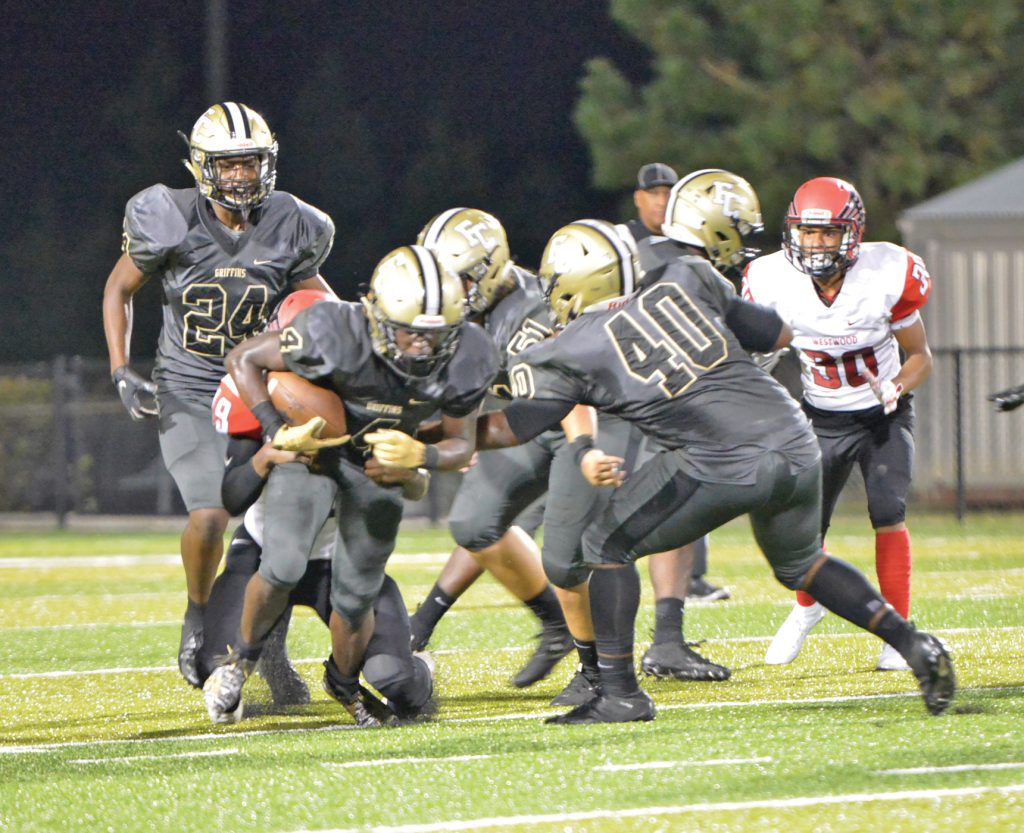 "They did a good job running the football," Westwood head coach Matt Quinn said about the Griffins. "It worried us there early, but we made some adjustments at halftime."
Fairfield Central took the opening kickoff and marched 85 yards on 21 running plays, closing out the 9-minute, 55-second marathon on Chris Suber's 1-yard touchdown run.
"We felt like us," Fairfield Central head coach Demetrius Davis said. "We felt like we could line up with them and run the football. We felt like we could pound them."
When starting quarterback Stephon Gadsden came out of the game with an injury to the thumb on his throwing hand, the game plan changed.
"That's why we wanted the ball," Davis said about taking on the Redhawks. "That was our plan to pound them, but when Stephon went out, it took the threat of throwing the ball away, so they overloaded us in the box."
The opening drive was about the only highlight for the Griffins (3-4), who went scoreless the rest of the way and had just two possessions in the second half.
Westwood (4-1) used quarterback Ahmon Green to set the tone. Green rushed for two touchdowns and passed for a third. He had 50 yards passing but rushed for 69 yards on 10 carries.
"Ahmon does what Ahmon does and totes the football," Quinn said. "He does a good job back there for us and takes over the game."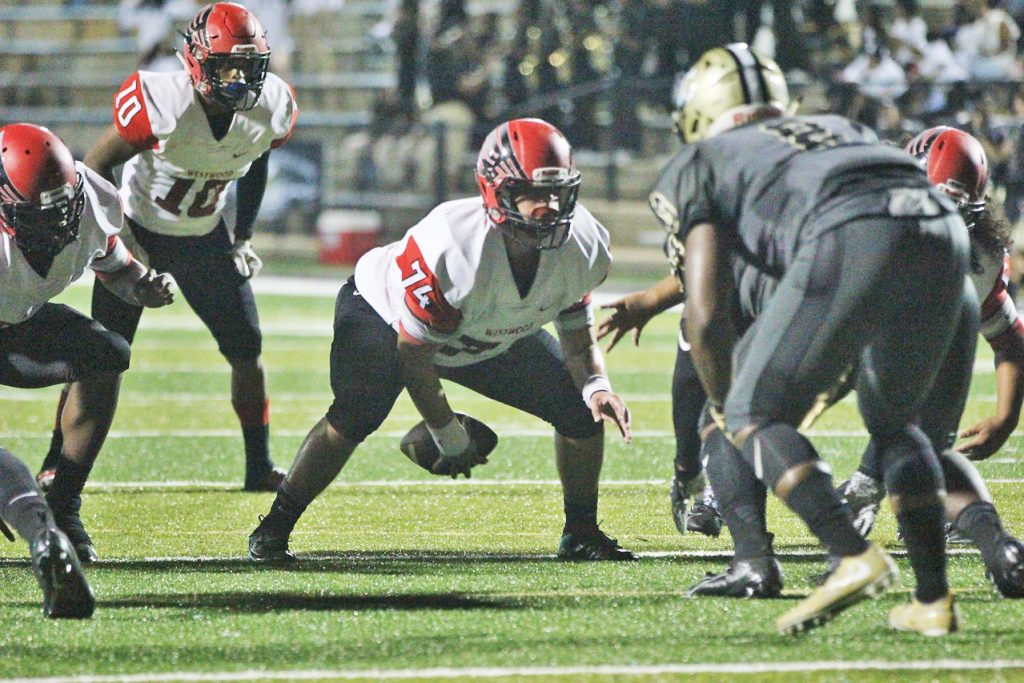 Once Fairfield Central's opening effort was in the books, Westwood got to work. Green carried the ball six times for 58 yards of the Redhawks' 65-yard scoring drive, capped with Green's 9-yard TD run.
That score got the Redhawks on the scoreboard early in the second quarter, but the 2-point conversion failed.
Westwood's Joe Singleton recovered a Fairfield Central fumble on the Griffins next possession, which the Redhawks used to get another second quarter score, this time from Nick Gilliam's 13-yard touchdown run at the 9:47 mark.
The Redhawks kept moving in the second half. They took the opening kickoff and drove 53 yards in 11 plays to set up Green's 7-yard touchdown pass to Cam Atkins. Green connected with Rashad McCain for the only 2-point conversion made in the game to give Westwood a 20-7 lead.
With Fairfield Central starting quarterback Stephon Gadsden out of the second half action because of a thumb injury on his throwing hand, the Griffins used a number of wildcat formations anchored with Montavious Thompson to move the ball downfield.
"The one joker we couldn't afford to lose out there was No.2 (Gadsden)," Davis said. "Well, we didn't have No.2. And to be honest, those kids got in there, and the fact that we didn't flinch and we didn't quit, let me tell you, we're fine."
The Griffins found some momentum, reaching the Westwood 30-yard line and the Westwood 16 in both of their second-half possessions. Thompson rolled up 81 yards on eight carries, but the Westwood defense stiffened each time—Zikef Johnson picked off a Thompson pass and the Griffins turned the ball over on downs.
Meanwhile, the Redhawks' offense stayed on the field. De'Shawn Boyd had 14 carries for 70 yards in the second half, most of which came on a 76-yard game-ending drive that ended as time expired.
"Boyd just closed the game out for us," Quinn said. "He's a senior, he's a workhorse. He does what he's gotta do every day of practice. And the best thing about him is that he's a team player, but when he needs to shine, he does it."
Fairfield Central opens up Region 4-3A play at Keenan Friday.
"We're good enough, even with Stephon out, to win some games," Davis said. "We'll be fine. Even without him (Gadsden) we'll sprinkle a little Montavious in there, sprinkle in a little wildcat in there, and we'll be fine."
Westwood opens up Region 3-4A play hosting South Pointe Friday, a daunting task. The Stallions, who won four straight state championships in 3A and 4A classifications from 2014-2017, come into District Two Stadium 5-0.
"We've got to go home and do some work and get prepared for this region schedule," Quinn said. "This region's tough, and it doesn't help that you start off with South Pointe."
WHS – 0-12-8-6 – 26
FCHS – 7-0-0-0 – 7
FIRST QUARTER
FCHS – Chris Suber 1 run (Edwin Aguilera kick) 2:05
SECOND QUARTER
WHS – Ahmon Green 9 run (run failed) 11:21
WHS – Nick Gilliam 13 run (kick failed) 9:47
THIRD QUARTER
WHS – Cam Atkins 7 pass from Green (Rashad McCain pass from Green) 8:21
FOURTH QUARTER
WHS – Green 1 run (pass failed) 10:07
TEAM STATS WHS FCHS
First Downs 14 10
Rushes-Yards 33-178 40-171
Passing Yards 50 21
Att-Com-Int 11-6-0 7-4-1
Fumbles-Lost 0-0 2-1
Penalties-Yards 7-80 14-125
Punts-Avg. 1-34.0 1-33.0
INDIVIDUAL STATISTICS
RUSHING: Westwood – Ahmon Green 10-69, Nick Gilliam 7-32, De'Shawn Boyd 15-76. Fairfield Central – Montavious Thompson 8-81, Will Barber 15-53, Devin Johnson 5-27, Chris Suber 8-18, Keon Trapp 3-(-9), Stephon Gadsden 1-0.
PASSING: Westwood – Ahmon Green 6-11-0. Fairfield Central – Stephon Gadsden 2-3-0, Jacob McManus 1-1-0, Montavious Thompson 1-3-1.
RECEIVING: Westwood – Cam Atkins 4-53, Noah Jennings 1-(-2), Xorian Dobey 1-(-1). Fairfield Central – Justice Boyd 1-2, Jacob McManus 1-9, Montavious Thompson 1-4, Taylor Truesdale 1-6.