With the season of giving fast approaching, the Marine Toys for Tots campaigns are in full swing across the country and in Blythewood and Fairfield County.
The foundation's mission is to collect new, unwrapped toys and distribute them to less fortunate children at Christmas.
This year, the Toys for Tots campaign is already underway. Staff Sergeant Christopher Cleeland is the coordinator. The campaign covers six counties: Fairfield, Kershaw, Lexington, Newberry, Richland and Saluda.
In 2018, 26,822 toys were distributed locally to 7,612 children in the Columbia area. This year the need is expected to be over 10,000 children. Here's how you can help: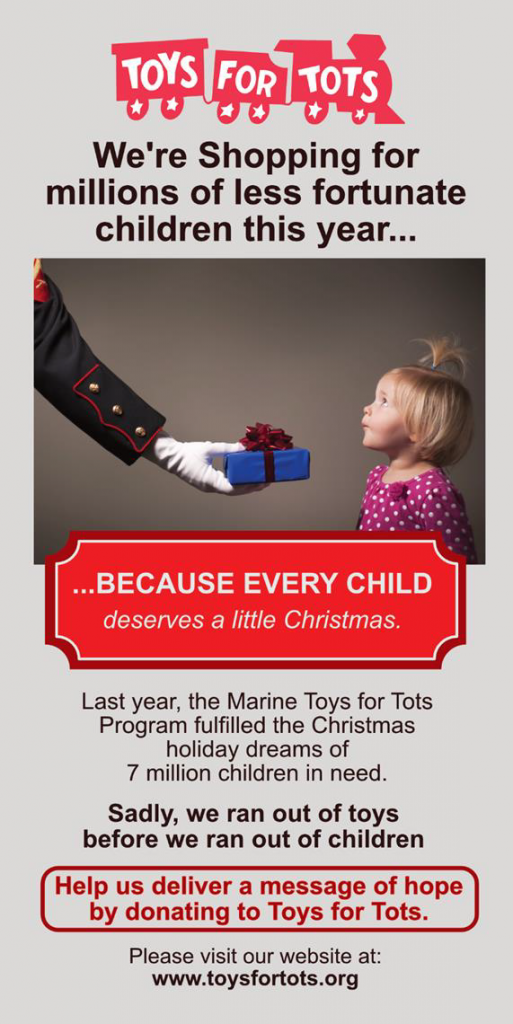 1 – Donate a new toy or book at one of our drop locations. The goal is to collect items in the $10-$30 range, but any new toys or books are accepted.
Non-toy donations that are desperately needed are box trucks, cargo vans, or fuel cards to transport toys over the 3500+ square mile area of operation. Trash bags, used for bagging toys during distribution, are also needed. Last year roughly 7000 bags were used. Donations of these items will ensure we are using most donor dollars on buying toys and books.
Toys for Tots allows participants to make a donation in 10 different ways: donate online, donate in memory or in honor, donate through the holiday recognition program, donate toys, donate by mail, Crowd Funding, employer gift matching, planned giving and supporting through the Native American Program.
2 – Volunteer. You can sign up to be a toy collection point or even host your own toy collection event. Sign up online.
Organizations request form for toys closes Dec. 1. All requests must be submitted through online at Columbia-sc.toysfortots.org. Children selected to receive toys through the program will be notified of the pickup point after their application has been accepted. This year's distribution will be Dec. 16 – 20, 8 a.m. to 5 p.m. every day.
Contact 803-500-5077, [email protected] or follow on Facebook for the most up to date information.