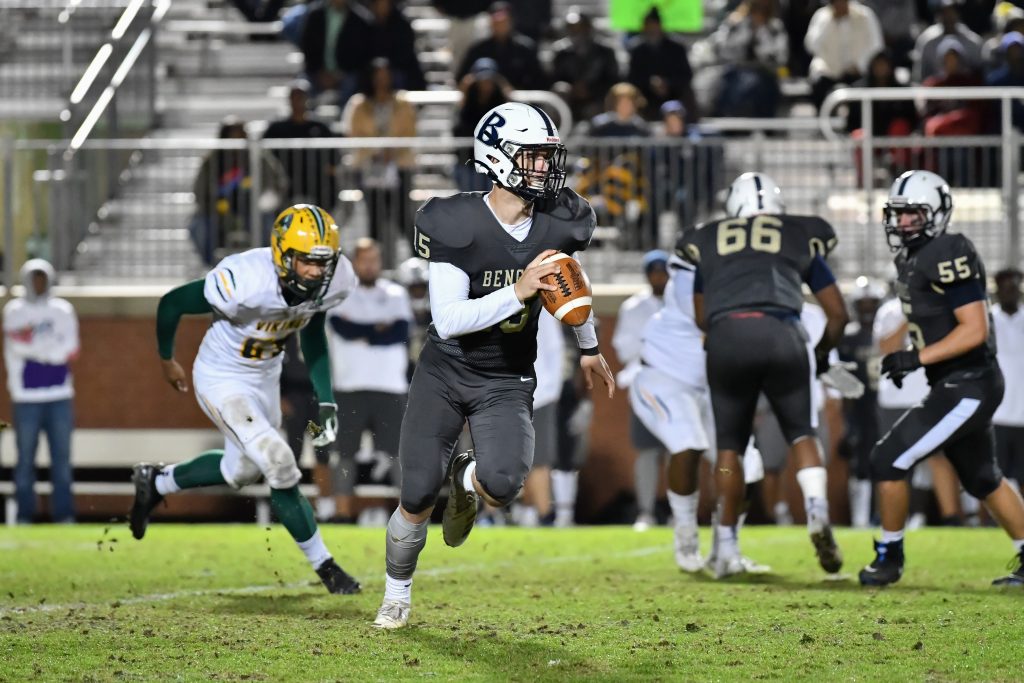 BLYTHEWOOD – Blythewood had a chance to right its late-season slump Friday night.
The Bengals looked to shake off a tough 23-20 loss at Lugoff-Elgin last week, and a win over Spring Valley at District Two Stadium would give the Bengals a third seed in the Class 5A playoffs that start next week.
Unfortunately for the Bengals, the Vikings had just gotten adjusted to a spread offense.
The efficient DeQuandre Smith went 19-for-21 in passing for 212 yards and three touchdowns as Spring Valley stayed ahead of Blythewood in the Bengals' 42-21 defeat.
"It seems like everything goes well, and then we make a mistake or do something wrong at the worst time possible," head coach Jason Seidel said. "It goes to us being young. Their effort is great, they work their tails off. They just make mistakes, but you can put that on me."
Blythewood (5-5, 1-3) is not out of the post-season, but will more than likely be in one of the at-large spots in the 5A upper state bracket, against No.1 seed Laurens District 55.
The Vikings (5-5, 2-2), faced being shut out of the playoffs if it lost. Instead they finishe in second place, behind Region champion Sumter and ahead of Lugoff-Elgin, which finished its regular-season slate last week.
"These kids believe in each other, and the coaching staff too. We're a tight-knit group," Spring Valley head coach Robin Bacon said. "What a great effort by our kids, because Blythewood is a very good football team, they're gonna make waves as an at-large. Coach Seidel and his group do a really good job."
Smith, who passed for a school record 476 yards in a 30-28 loss to Sumter last week, picked up right where he left off.
On Spring Valley's first play from scrimmage, he passed to Elijah Bryant on the right side. Bryant darted past Blythewood defenders and blasted 72 yards for the first score of the game.
Blythewood responded with a 90-yard scoring drive capped with a 7-yard Aamir Washington touchdown run in the final minute of the first quarter. Spring Valley blocked the point-after attempt.
Smith struck again two minutes later with a 50-yard touchdown pass to Hunter Rogers to give the Vikings a 14-6 lead.
After one possession that ended with a John Javis interception at the goal line, the Bengals knocked out a 7-play 54-yard scoring drive that Edwards finished off with a 2-yard TD run. Edwards' 2-point conversion run brought Blythewood to a 14-all tie with Spring Valley at the 2:54 mark.
Spring Valley took a 21-14 lead just 13 seconds after Edwards score, when Quanta Jackson broke loose on an 80-yard kickoff return for a touchdown.
Edwards finished the night with 101 yards and two touchdowns on 20 carries on top of 6 catches for 102 yards. He even had a sack on defense.
"In my opinion, he's the best player in the state," Seidel said. "Hands down. What he does for us is amazing. I just wish college coaches could see that, he's tremendous."
Like Seidel explained, whenever there seemed to be a big moment for the Bengals, the Vikings were able to steal the momentum away.
Blythewood marched inside the 20-yard line in the final two minutes of the half, but the Bengals turned the ball over on downs and Spring Valley took a knee to go into the locker room.
When play resumed, Smith rushed into the end zone from six yards out to close its opening drive and take a 28-14 lead.
Blythewood answered that score with a short drive that Edwards finished off with a tough 21-yard touchdown run to make it 28-21 four minutes into the second half.
From that point the Bengals and Vikings could have continued to exchange scores, but a double pass play from Smith to Rogers to Jackson in the end zone that was good for a 60-yard strike put the Vikings in control.
The extra point on that score failed, but Smith found Marquel Brown for a TD from 11 yards out, then he hit Bryant for the 2-point conversion to make it 42-21.
Besides Edwards multifaceted night, Josh Strickland went 22-for-41 for 305 yards but two interceptions, including one at the goal line in the first half, after he had marched the Bengals into scoring position.
"You feel for them, because they do everything right, but they lose confidence in themselves," Seidel said. "That's what our talk was after the game, just let it go. But they play tight and it's heartbreaking because they play so hard."
SVHS – 7-14-7-14 – 42
BHS – 6-8-7-0 – 21
First Quarter
S – Elijah Bryant 72 pass from DeQuandre Smith (P.J. Ulengchong kick) 9:34
B – Aamir Washington 7 run (kick blocked) :54
Second Quarter
S – Hunter Rogers 50 pass from Smith (Ulengchong kick) 10:25
B – Brandon Edwards 2 run (Edwards run) 2:54
S – Quanta Jackson 80 kickoff return (Ulengchong kick) 2:41
Third Quarter
S – Smith 6 run (Ulengchong kick) 8:02
B – Edwards 21 run (Finney kick) 5:15
Fourth Quarter
S – Jackson 60 pass from Rogers (kick failed) 11:49
S – Marquel Brown 10 pass from Smith (Bryant pass from Smith) 7:55
SVHS             BHS
First Downs    16        21
Rushes-Yards  29-112 31-130
Passing Yards 272      305
Att-Com-Int    22-20-0           41-22-2
Fumbles-Lost  2-0       1-0
Penalties-Yards           11-81   6-47
Punts-Avg.      4-37.0  3-38.7 
INDIVIDUAL STATISTICS
RUSHING: Spring Valley – Marquel Brown 10-66, DeQuandre Smith 13-53, Elijah Bryant 2-5, Harrison Gowland 1-0, TEAM 3-(-12). Blythewood – Brandon Edwards 20-101, Josh Strickland 4-17, Aamir Washington. 5-13, Dhani Dixon 1-0, Jordan Burrell 1-(-1).
PASSING: Spring Valley –  DeQuandre Smith 19-21-0-212, Hunter Rogers 1-1-0-60. Blythewood – Josh Strickland 22-41-2-305.
RECEIVING: Spring Valley – Elijah Bryant 5-97, Marquel Brown 5-13, Hunter Rogers 3-63, Harrison Gowland 2-18, Ty Hill 2-6, Quanta Jackson 1-60, Manny Moore 1-12, Paul Davis 1-3. Blythewood – David Patten 7-98, Brandon Edwards 6-102, Josh Burrell 4-48, Chase Smith 3-30, Noble Cooper 1-22, Aamir Washington 1-5.