ASHEVILLE, NC – A 15-year-old Blythewood girl has received sweet recognition after spending weeks on a tasty holiday endeavor: building a professional-quality gingerbread creation.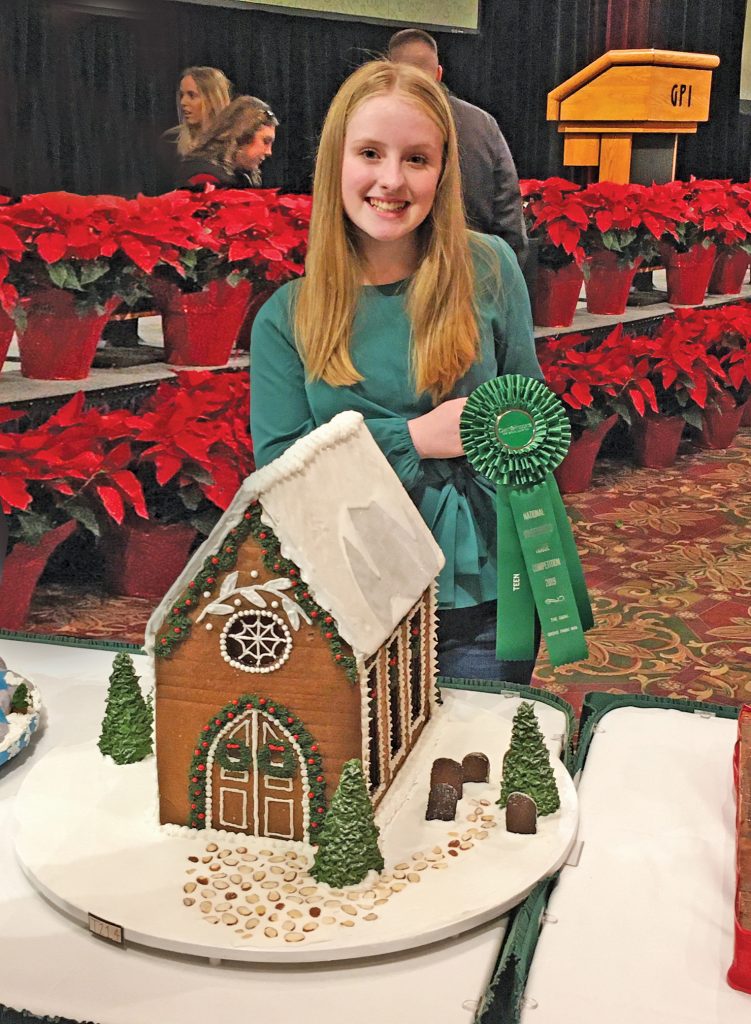 Maddy Love made it into the top 10 in the teen age group at the National Gingerbread Competition in Asheville, a contest that brings competitors from around the country to show off their baking and decorating skills in the traditional holiday medium of gingerbread.
"It's really fun," Maddy said of the contest. But her warning to anyone who might consider an entry: "It's going to take a lot of work."
She decided last year – after seeing last year's gingerbread entries during a visit to Asheville – that this year she wanted to enter one of her own.
She started her design in September – a chapel inspired by her great-grandmother's family church. She started baking in October – and it took a little bit of trial and error to figure out a recipe she liked. The contest was Nov. 17.
She had decorated gingerbread houses before – basic ones, at Christmas, with her family, she said – but never anything like this.
"This is my first time entering in a contest for gingerbread houses and entering a competition for any kind of baking activity at all," Maddy said, "but I love baking and I'm always in the kitchen making something."
She started with the walls. With the dough rolled out and shaped, she used a ruler to make grooves to look like wooden planks. She left holes for the windows and crushed jolly rancher candies – baked as part of the gingerbread wall – to create stained glass.
For the roof, she made very thin gingerbread; she didn't want it to be too heavy and cause the sides to cave in. She drew the roof details with a toothpick.
To complete her scene, she made trees from upturned ice cream cones coated in green icing, and sliced almonds for a walkway. Everything had festive icing – and it was all covered in a sparkly disco dust to look like a fresh, sparkly snow.
Of course, none of that was as easy as it sounds. Maddy, who is homeschooled, put aside her lessons for nearly two weeks before the contest to focus on gingerbread – in addition to all the time she spent preparing beforehand.
"I had a lot of mishaps making it. I dropped a lot of pieces on the floor, and they broke. I had to remake this one side piece three times because the first time I dropped it, the second time I forgot to use the ruler technique to make it look like planks, and the third time the windows came out cracked," she said.
"I was definitely burned out by the last couple of days, but I knew I couldn't quit."
When her gingerbread chapel was finally done, she worried all the way to Asheville that the vibration of the car would damage it. She wondered how competitors traveling much farther managed to keep their creations intact, and at the contest learned their secret: most of the entries are solid, shaped with piled layers of gingerbread – not hollow.
At the contest, she enjoyed seeing gingerbread creations that ranged from the traditional houses and buildings to a variety of elaborate animals, figures and scenes. She talked to people who'd been working with gingerbread for many years and got some tips for the next time.
Maddy said she first started baking with her grandmother as a young child and, when she got older, had a "cookie business" in her neighborhood with her own recipes. But baking is not her career goal. She's also into beauty and fashion, and her dream job is to work at a fashion magazine in New York City.
Still, baking has always a part of her life. While she sometimes gets ideas from books, cooking shows, and online, she's proud of the recipes she develops on her own, the old-fashioned way – by mixing up what feels right and seeing how it turns out in the oven.
After so much gingerbread, she's not sure yet if she'll enter next year's contest; instead, she's thinking about all the other things she'd like to bake around the holidays.
Her advice to anyone who's having similar thoughts: "If you see something that looks really fun, go for it – because [even] if you mess up, hopefully it'll taste good," she said. "And don't focus too hard on the recipe. If you think it needs a little more cinnamon in it because you like cinnamon, then go ahead and put more cinnamon. Just try new things out."
As for her holiday baking plans, the list includes eggnog cheesecake, something new with pumpkin, and a peppermint brownie chocolate truffle.
"I'm excited for the holiday season, to make all my favorite recipes," she said. "I can't wait to get into the kitchen and make something other than gingerbread."
In addition to her winning ways with gingerbread, Maddy is also a member of the Blythewood High School girls' golf team that brought home the state championship girls' golf title in October.