BLYTHEWOOD – At least for the past few weeks, if the Blythewood boys needed a basket, they needed to get the ball to Julian Phillips.
At no time was that fact more visible than Tuesday night against Lugoff-Elgin.
In a game that should have been a clear-cut win were it not for the Demons' second-half rebounding and persistence at getting to the basketball, Phillips racked up 27 points of clutch baskets and free throws—before draining a 3-pointer as the final buzzer went off to give the Bengals a thrilling 50-49 victory.
"We had no time-outs," head coach Zeke Washington said about the final seconds of the game. "They just went down the floor and they knew they had to get it up."
The game was tied at 47 with 1:03 to go after Samaad Wright had scored a basket, stole a ball and put it up against the glass for Phillips to ram down.
Lugoff-Elgin inbounded and passed around the perimeter once crossing midcourt, holding possession for 57 seconds.
That's when Kyjuan Gadson dove into the lane for a short-range field goal to give the Demons a 49-47 lead.
From there, Phillips took the inbound pass, worked his way free outside the three-point line, and let off a shot.
The buzzer sounded shortly after the ball left his fingers. When it found its home in the net, the student crowd leapt off the bleachers and briefly mobbed the court before players, coaches, security officers, and Richland County Sheriff's deputies brought things back into the usual routine of post-game.
"They did a good job, they didn't give up," Washington said. "We came out early, we were playing well, then all of a sudden the momentum shifted."
Blythewood held a 13-8 lead after the first quarter, but Lugoff-Elgin outscored the Bengals 18-13 in the second quarter to trail 26-23 at halftime.
The Demons tied the game with 1:48 to go in the third, but Phillips responded with two quick baskets to give Blythewood a 38-34 lead going into the final stanza.
Lugoff-Elgin finally took a lead for the first time in the game with 3:30 left, but thanks to Phillips, the Bengals were never far behind.
"We got into a little foul trouble, got into double bonus," Washington said. "But our kids did a good job of fighting through adversity. It wasn't easy."
The win puts Blythewood (15-10, 4-3) in a good spot to hold onto second place in Region 5-4A, behind first place Irmo. Lugoff-Elgin (7-18, 3-5) will finish fourth, its regular season complete.
Sumter, also 3-3 going into Tuesday's action, played Spring Valley. The Gamecocks go on the road to face Irmo in their region finale.
Blythewood, which beat the Gamecocks 64-45 Jan. 21, fell 47-46 at Sumter Friday night.
Blythewood is at last-place Spring Valley Friday.
Against the Gamecocks Friday, Blythewood jumped out to a 26-11 lead before Sumter eventually took a 45-44 lead late in the fourth quarter. A Phillips basket tied the game at at 46 with 7 seconds to go, but the Gamecocks got the win when Marcus Lane hit the back end of a pair of free throws with 1.6 seconds remaining.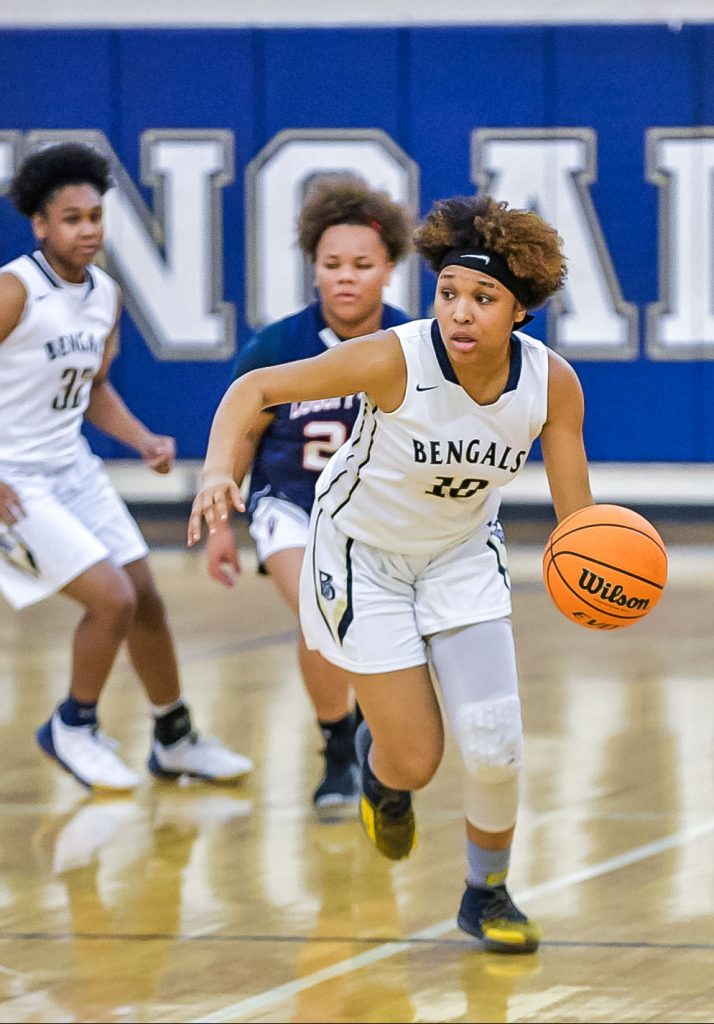 In the girls game Blythewood (6-17, 2-5) picked up its second region win with a 41-17 drubbing of the Demons. Morgan Kelly had 11 points to lead the Bengals.
"A win is a win. We take them anywhere we can get them," head coach Steve Inabinet said, almost tearful after the senior night recognition ceremony. "I'm proud of them. Even though it's been a rough season, it's a good group of girls. In fact, I wish we could start next year's practice when we finish with Spring Valley Friday."
It was the last game of Nylah Terry's high school career. Even though the Bengals were not the region's best, she said she enjoyed her time at Blythewood.
"It's been fun, I've had a lot of fun this year," Terry said. "We had an up-and-down-season, but as long as we have fun, I've enjoyed the season and looking forward to my future in college."
Friday night, the Bengals fell at Sumter 64-34. Kelly Morgan scored 11 points and Emiya Gallman added nine to lead the Bengals.
Girls
Friday – Sumter 64, Blythewood 34
BHS – 7-8-10-9 – 34
SHS – 14-17-18-15 – 64
BHS: Kelly 11, Gallman 9, Boseman 5, Terry 4, Wooten 2, Swanier 2, Jones 1.
SHS: Croskey 28, Cox 16, K. Brown 5, T. Brown 5, Spann 4, Colclough 3, Conyers 1, Andrews 1.
Tuesday – Blythewood 41, Lugoff- Elgin 17
LE – 3-4-4-6 – 17
BHS – 13-4-14-10 – 41
Lugoff-Elgin: Grant 6, Mihelich 4, Moore 4, Duncan 3.
Blythewood: Emiyah Gallman 10, Boseman 8, Swanier 6, Gerry 6, Kelly 5, Wooten 4, Pinkney 2.
Boys
Friday – Sumter, Blythewood
BHS – 8-18-9-11 – 46
SHS – 4-12-15-16 – 47
BHS: Julian Phillips 20, Wright 8, Samuel 6, Williams 4, Cohen 3, Hardy 3, Rogers 2
SHS: Durant 14, Lane 11, Lowery-Isaac 8, Isaac 4, Owens 4, Boone 4.
Tuesday – Blythewood 50, Lugoff- Elgin 49
LE – 8-18-11-15 – 49
BHS – 13-13-12-12 – 50
LE: Kyjuan Gadson 13, Devante Johnson 11, Nelson 8, Haymon 7, Brunson 6, Pagan 2, Williams 2.
BHS: Julian Phillips 30, Samuel 9, Shepard 4, Richards 3, Cohen 2, Wright 2.