WINNSBORO – Richard Winn baseball flexed amid two region games last week before the COVID-19 sports suspension hit.
The Eagles faced off with Laurens Academy last Thursday in the first game of their two-day stretch. With senior Hudson Wade on the mound for the Eagles, Laurens scored first through an RBI on a sacrifice fly. The Crusaders added another run to their lead in the second inning through a fielding error. The Eagles remained scoreless through the first two innings, and Laurens tallied another run in the top of the third to take a 3-0 lead.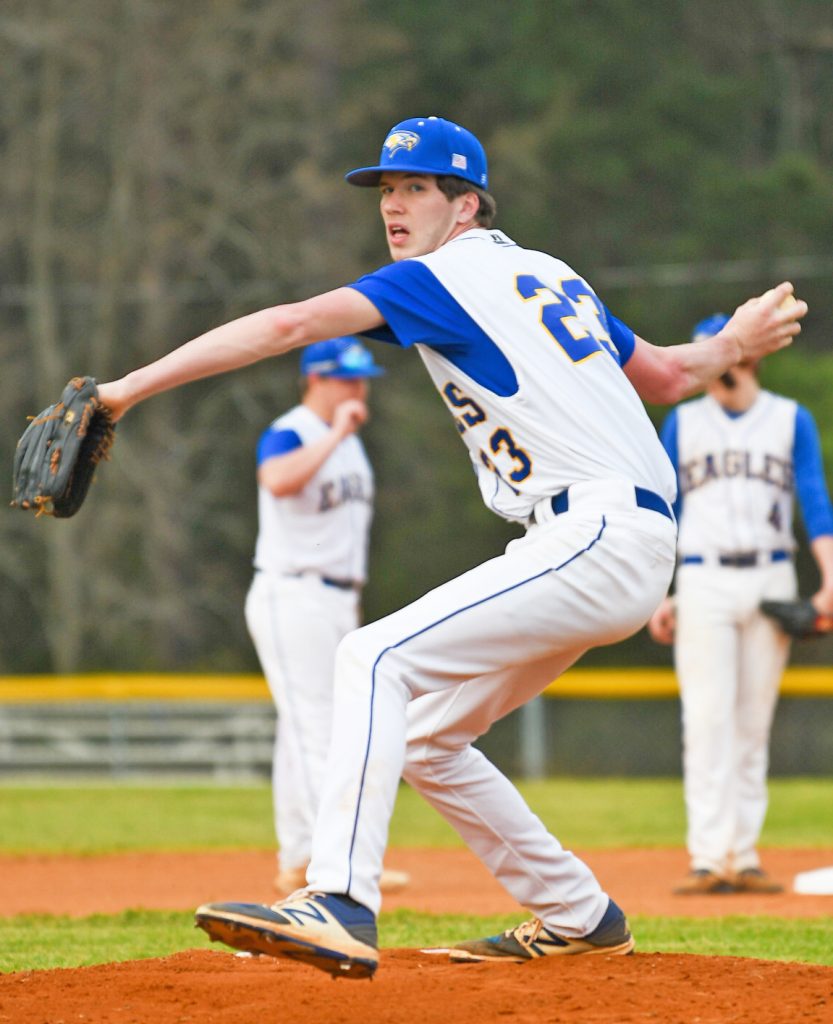 The momentum shifted to the Eagles in the bottom of the third. With runners on, senior Brandon Miller reached first base on an error, scoring Jimmy McKeown and B Baker and cutting the lead to one run.
Richard Winn held Laurens scoreless for the remainder of the game and ignited offensively with 10 runs in their next three at-bats.
B Baker, Zack Taylor and Jimmy McKeown each picked up two hits in the 12-3 thumping of Laurens. McKeown led the Eagles with four RBIs.
Wade picked up win, facing 26 batters in five innings of work. He allowed one hit, three runs, walked six and struck out seven.
The Eagles returned on Friday to face King Academy in Batesburg.
Off to an early 1-0 lead in the first, the Eagle offense tore through the King defense, racking up 10 hits in the 8-0 win.
Dru Caldwell allowed just three hits in seven innings on the hill. Caldwell faced 27 batters, walking two and striking out eight.
Baker and Taylor led again with two hits apiece, including a homerun from Taylor. Austin Lancaster and Wade also had two.
With five games scheduled in the remainder of March, the Eagles (6-0) look to continue their undefeated season if and when play reopens.
LA – 1-1-1-0-0-0-0 – 3-1-3
RW – 0-0-2-4-2-4-X – 12-8-4
PITCHING: Hudson Wade (WP): 5 IP, 1H, 3R, 1ER, 7K, 6BB; Rob Wilson: 2 IP, 0H, 0R, 0ER, 1K, OBB.
HITTERS: 1B: Baker (2), Taylor (2), Wade, Bass, McKeown (2). RBIs: Baker, Bass, Caldwell, McKeown(4), Taylor
RW – 1-0-2-4-0-1-0 – 8-10-1
KA – 0-0-0-0-0-0-0 – 0-3-8
PITCHING: Dru Caldwell (WP): 7 IP, 3H, 0R, 0ER, 8K, 2BB
HITTERS: 1B: Baker (2), Taylor, Wade (2), Lancaster (2), Miller, Bass. HR: Taylor. RBIs: Caldwell, Lancaster (2), Taylor (2), Wade (2)