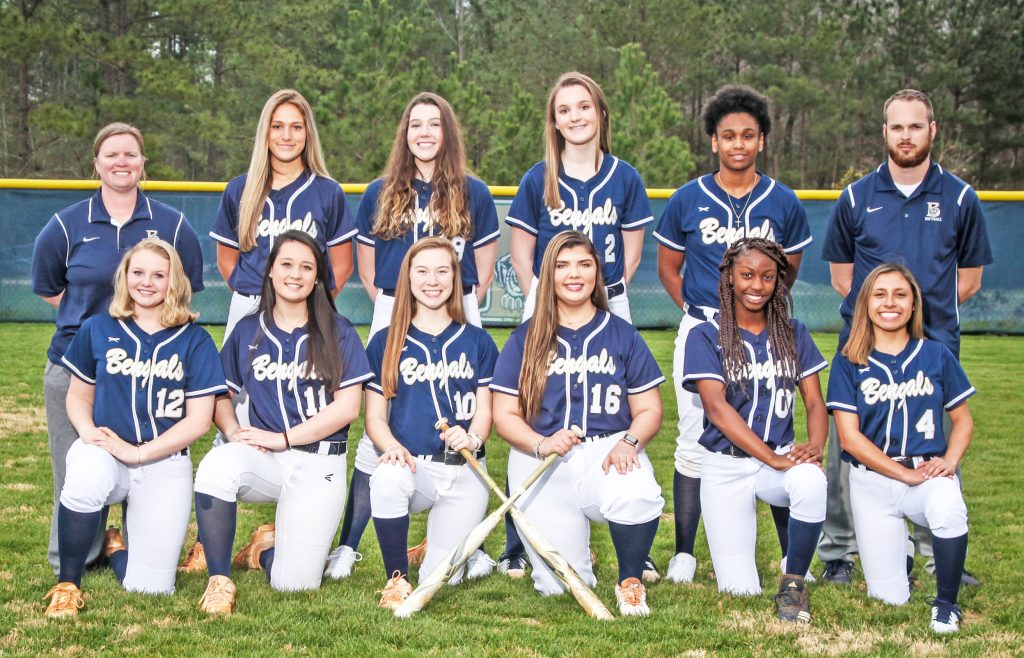 The Blythewood softball field looked razor sharp this spring.
"We spent a lot of time getting the field ready for this year," head softball coach Jordan Atkinson said. "We had it laser graded and we felt like it was the best the field ever looked in its history. It was awesome."
Likewise, the Bengals softball team, was playing razor sharp in the first week of the season.
"I really felt like this was the year we were going to compete with Lugoff-Elgin for first place," Atkinson said. "We had some young kids step up when some older kids went down with injuries, and they played really well. The older kids were just getting back into the lineup and I felt that they were going to make us that much better."
The Bengals finished 12-10, 5-3 in Region 4-5A last year, and headed into this season. They got off to a 5-2 start by the 12th of March.
"We were pretty excited," Atkinson added. "We played Edisto that Thursday (March 12) and we beat them pretty bad. We had that Friday off and I remember we were just wondering if Edisto was going to be like our last game. I didn't know. I felt like we might get to play the next week."
As it turned out, Blythewood's 9-1 win over the Cougars was indeed their last game. The Bengals had Friday off, no games on the weekend, and when Atkinson and the girls were at a baby shower for an assistant coach Sunday, March 15, they found out that Gov. Henry McMaster ordered that all K-12 schools in the state be closed until March 31, and all after-school activities cancelled as well.
For the Blythewood baseball team, which had played Mauldin at Fluor Field that Saturday, both the Bengals and the Mavericks had an impromptu senior recognition ceremony in anticipation of a season stoppage.
The softball team had games scheduled at Nation Ford that Monday and at Irmo that Tuesday, but no game was to play on the laser-leveled home field until Irmo visited Friday the 20th.
"It happened so soon," Atkinson said. "We didn't get the chance to honor our seniors. We didn't have time to do anything. When the news came that the season was postponed, that was it, what do you do? The kids were pretty upset. We had been working since the day after Labor Day."
Emily Babbitt

Bell Reynolds
Seniors Emily Babbitt and Bell Reynolds were longtime members of the team, and Atkinson and their teammates were despondent about them not being recognized.
"They're great kids who aren't going to play in college," Atkinson said. "They could if they wanted to, but they're not. This was their final ride."
Babbitt has been with Atkinson on the varsity level for six years, starting in the seventh grade. Reynolds played JV ball, but had been varsity for almost as long as Babbitt.
"Emily has done everything for me. She's pitched, she's been in the outfield, infield, a catcher, but mainly she's a pitcher," Atkinson said. "Bell has been a solid outfielder. Both of them have seen senior day five other times and they know what it means, but unfortunately they won't have it."
The loss of a season was disappointing, but Atkinson said the girls are taking it in stride, and noting the true danger of a respiratory disease with no cure or treatment as of yet.
"I've talked to them a few times, and several of them have said that yeah, this stinks, but it could be much worse. That Friday (March 13) while the JV and B team were playing in tournaments, I was pitching to our infielders in the cages and I really think they understood. Before school was cancelled they realized how serious this was. I think they were more nervous and anxious as grandchildren. A lot of them were talking about their grandparents, and relatives who were in nursing homes and vulnerable. One player's grandparents had gone on vacation in Spain where the coronavirus was really bad, and they were all nervous about that."
In the hopes of closing out their softball careers on a good note, Atkinson and others have been working on putting together a travel ball team made up of Blythewood players. Unfortunately, summer ball teams depend on an active season, which is still up in the air considering American Legion baseball has already cancelled the 2020 season.
Whatever the outcome, the Bengals are staying strong by being together, even without games or the opportunity to play on a polished field.
"They've been on facetime with each other, staying in contact," Atkinson said. "I guess the good thing about softball is that so many of them have played together for so long."