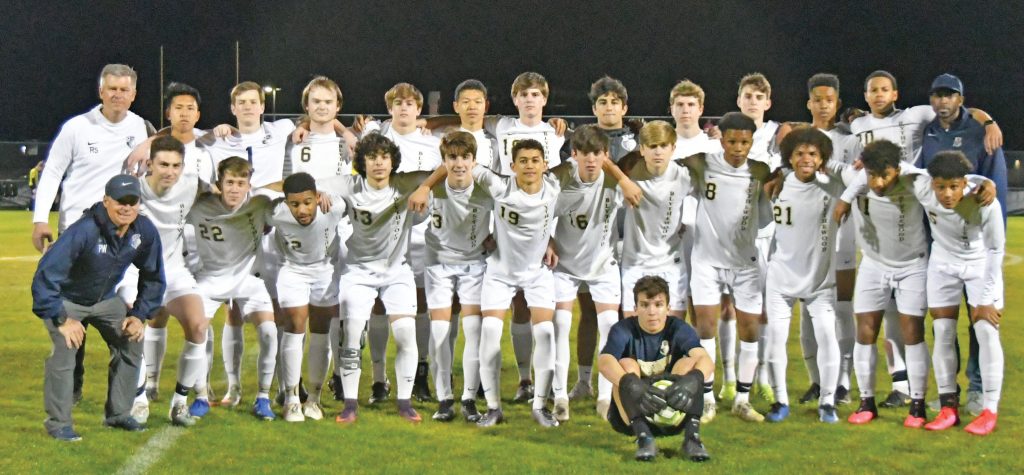 After 39 years of teaching, 25 years as a high-school soccer coach, and several other years as a club soccer coach, Peter Wittig was going to coach boys soccer for one last season in 2020.
Six games into the season, though, Gov. Henry McMaster ordered all high schools closed because of the global coronavirus pandemic.
"I made the decision at the end of last season that I was retiring from teaching and coaching," he said. "One of the motivations in that decision was that I knew that returning team would be really strong again."
Blythewood finished 13-7 last year, but tied with Spring Valley for first in Region 5-4A. The Bengals won the region by a coin toss, but exited quickly when fourth-seeded Fort Mill traveled to Blythewood and upset them 2-1 in the first round of the state playoffs.
That loss fueled the Bengals in preparing for this season. All of the starting lineup save two seniors would return, and nine seniors in all packed the roster with experience.
"We were very excited about 2020," Wittig said. "We figured this year it would be us again and Spring Valley. We didn't know for sure, but our prospects looked really good and we were excited."
The Bengals opened play with a 2-0 preseason loss to a Dutch Fork team ranked No. 1 in the state and second nationally. They picked up three straight preseason wins over Brookland-Cayce, Richland Northeast and A.C. Flora.
In the season opener at River Bluff, Phillip Huang knocked in a goal in the first half, but the Gators scored two goals in the second half to close out a win. Blythewood then tied with Dreher, beat Cane Bay 1-0 and shut out West Florence 4-0 on the road.
A 4-0 loss at Clover put the Bengals at 2-2-1 by Friday March 13, when the team was on the way up to Fort Mill to take on the Yellow Jackets. By then, coaches and players knew that the coronavirus pandemic was making its way into South Carolina, and that schools and businesses alike were going to be affected.
"Going up there we knew that it was a possibility that play might get suspended for a week or indefinitely," Wittig said. "My assistant coach grabbed some hand sanitizer and some other stuff so that if we made contact, we could use it."
Also going into that game, Blythewood players had the sting of last year's early exit in the playoffs on their minds.
"We should have spanked them," Wittig said about the playoff loss. "We had so many chances in that game, and there was a revenge factor going into that game."
Huang hit another goal in the first half of the game. Then Ethan Poungthana scored in the second half to deliver a 2-0 shutout for the Bengals.
That turned out to be the last time Blythewood would take the field.
"There was a celebration, but there wasn't a thought that, man this could be it," Wittig said. "I don't think that really hit them what it was going to be like. We all had it in the back of our minds though."
That night, Wittig did email the team.
"I told them if we're not together for a week or two, they needed to stay in shape, do some ball work," he said. "Then I think Sunday night we found out that coaches couldn't have any contact with them on the field or anything, so I communicated with them about what they needed to do and what we could not do."
The official news came down March 15, when Gov. McMaster went public with his order to close the schools.
That Monday the team was scheduled for team pictures and senior pictures, but because of the order, no one was allowed to venture to the school.
"When they said no, we couldn't do that, that was a reality check there," Wittig said.
Since the order to close schools for two weeks has now extended to the rest of the spring semester, Wittig and the team have been going along with the closures and the precautions, with occasional reminders. Wittig had plugged the team's schedule into his phone calendar, and every day his team was scheduled for a game, a reminder pops up on his phone.
"Today (Tuesday) was supposed to be the fourth round of the state playoffs," he said. "Could we have been there, that was one thing on my mind."
For the team's nine seniors—Huang, Poungthana, McLean Brown, Vance Strobel, Henry Moscoti, Myles Harris, Hunter Halliday, Kasra Kaserounian, and Jerry Finney—Wittig said that it has been hard.
Wittig said he considers two groups of seniors, the ones who started and are disappointed that they couldn't see their careers finish with a deep run in the playoffs and time in the North-South game and the Clash of the Carolinas, and the ones who were on the bench, biting at the heels of their teammates for playing time who were disappointed about what could have been.
Among the senior starters, Wittig points to Strobel, Huang, and Poungthana as a representation of those feelings in the senior class.
"Vance is a four-year letterman and returning team captain," Wittig said. "Knowing that we had a strong team, he was excited about the possibilities of going far in the playoffs. He is definitely disappointed about the way this turned out, but he is moving forward and looking at a couple of college soccer offers."
Wittig continued, "Ethan Poungthana and Phillip Huang were looking at the possibility that with a strong season, they would have had offers for soccer at some small colleges."
Wittig will not be on the sideline next season, but he has high hopes for the team next year, and knows the Bengals will have a lot of returning athletes to the program.
"I feel really good about what they will do and how they will do it," Wittig said. "Whoever the coach is, he's going to have a good group of players."
The one thing he will take away from his final year coaching is the never ceasing possibility of what could have been a championship team.
"They had that character," he said. "They were going to fight. They were going to be as good as they could be. It would have been exciting to see."
Philip Huang

Myles Harri

McLean Brown

Kasra Kazerounian

Jerry Finney

Hunter Halliday

Henry Moscoti

Ethan Poungthana

Captain Vance Strobel