Sean Wise

Jordan Alexander-Coleman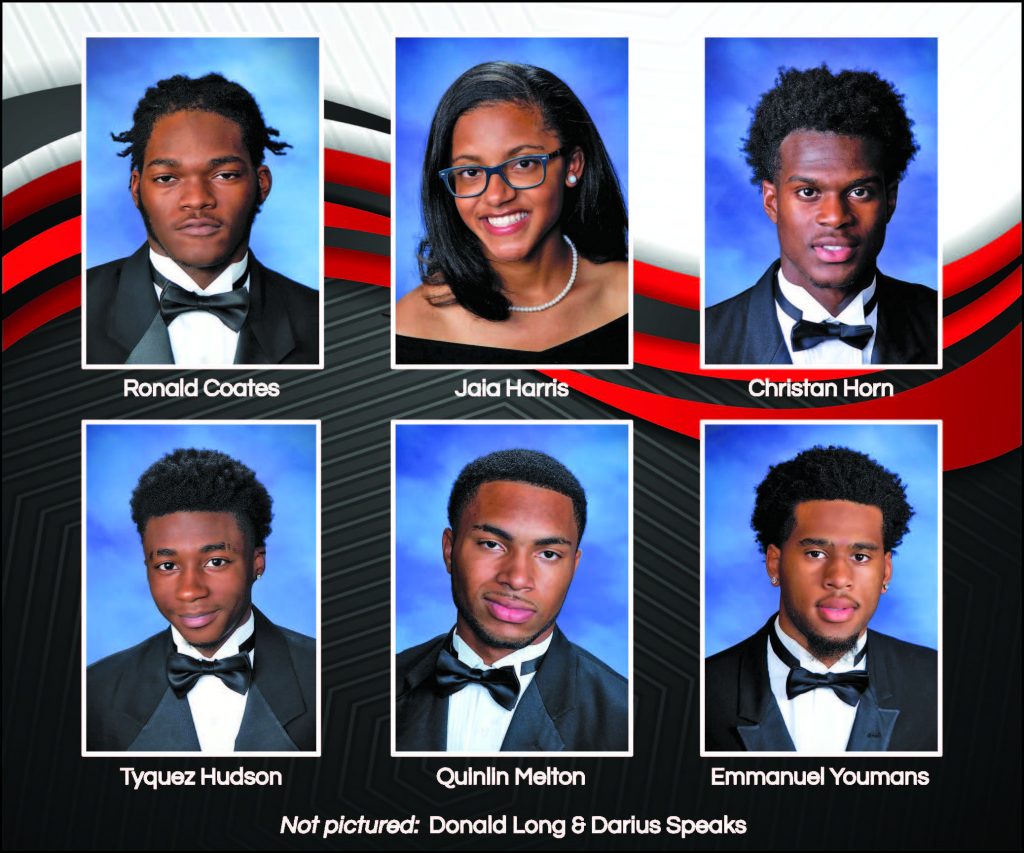 Adaora Okeke

David Nelson
Westwood boys disappointed with 2020, will reload in 2021
The Westwood boys track team had just two events under its belt by the time Gov. Henry McMaster ordered schools to be closed as a precaution to the COVID-19 Pandemic.
That was all Rod Lorick and the Redhawks to know that this could well be the year they could win a state championship.
"We had a pretty solid core, this particular team of seniors I've coached since they were freshmen, when I got here," said Lorick, in his fourth year as head coach. "They knew the concept of working hard and running hard in practice every day. They were region champions for three years, and this year we wanted to win a fourth and wanted to bring it home with a state title their senior year. And it's not just the seniors, we had a lot of good younger guys and the seniors pushed some youngsters that were talented as well."
Among those seniors was Christian Horn. A 6-1, 170 wide receiver on the football team who recently signed to play for Appalachian State, Horn also played basketball and was a big part of the track and field team's success over the past four years.
Last year in Westwood's third-place effort in the 4A state meet, Horn won the state championship in the 400-meter dash, took third in the 200-meter dash.
With teammates Rayshawn Floyd, Robert Johnson and Paul McCants, took state in the 4×400 relay for the second straight year.
The Redhawks, who placed second in the state meet in 2017 and 2018, were ready for the road to state as early as the first meet of the season, at Keenan Wednesday, March 11. But by the time of the Redhawk Invitational at Westwood Saturday the 14th, most all of the team and coaches knew that that meet may well be the last, at least for a little while.
When Gov. McMaster's order to close schools was extended from March 31 to April 30 and then for the remainder of the school year, Westwood's season came to an abrupt close. That extended time off not only closed out what might have been a banner season for the Redhawks, it also gave dozens of dedicated athletes nothing to compete for.
"It wasn't good," Lorick said. "What we've done was to try to encourage the upperclassmen to stay in shape because nobody knows what's going to happen. I've been checking up with them to encourage them that they could do anything they set their sights on, but they were all pretty sad, they didn't want to end the season."
Horn and the other seniors, Donald Long, Tyquez Hudson, Emmanuel Youmans, Quinlin Medlin, Darius Speaks, Ronald Coates, David Nelson, and Jordan Alexander-Coleman will move on, even if they didn't close out their year the way they wanted to. Lorick knows it's tough for them, but even he knows that he's got to focus on the group that stays and have them in the best condition for next year's run.
"You have to move on, you have to continue to work on the next season," He said. "I had individual conversations with the seniors about training up for the next level and I'm working with a couple of them I'm helping them to get their skills to where they can compete at the next level, but at the same time I'm focusing on the next season."
Among the returners is Johnson, who was on the state championship 4×400 team. He, along with a variety of rising sophomores and juniors, will carry the torch into 2021.
"This year we had a strong core of freshmen that were not only competing with other ninth graders, but also they were competing for state. I think we're well-rounded on the roster," Lorick said. "We're losing a powerhouse in Christian Horn, he comes once in a lifetime. He's a good kid all around, but at the same time I don't think too many people had a Christian Horn on their team. We have a strong team moving forward after this year. They want more."
---
Redhawk girls stunned by season's end, looking forward to next year
The day before the season ended, Westwood girls track and field head coach Corey Head thought he had the makings of a good season to build on.
At the same time, Head as well as the rest of the Redhawk coaching staff had talked to the girls about the possibility of a shortened season because of the COVID-19 pandemic.
"We didn't' know when, but we knew that the powers that be would be making a decision soon," Head said.
The day before the season ended—March 14, the day of the Redhawk Invitational—Westwood was running with teams from crosstown rival Blythewood as well as Clinton, Fairfield Central, White Knoll, Irmo, and home schoolers.
Among the highlights for the Redhawks were sprinters Kennedy Rivers, Adaora Okeke, and Jakeyia-Maktin Maybin, who finished sixth, seventh, and eighth, respectively in the 100-meter dash finals.
The 4×100 team of Jahmera Trapp, Brianna Rodriguez, Maybin, and Rivers took second behind crosstown rival Blythewood. The 4×100 team is a Westwood strength—the Redhawks finished third in the 2019 4A state meet with the help of Trapp, Okeke, Sierra McCant and Rivers.
"This year I thought we were going to have a really good team," Head said. "We were returning a couple of upper classmen and had some good freshmen this year, we were looking forward to a good season."
Okeke and Jaia Harris, the team's only seniors, were the leaders of the young team. Unfortunately, March 14 would be the last day they would run as Redhawks.
The moment that Head and other coaches talked about came the day after, when Gov. Henry McMaster announced that he would sign an order that would close the schools from March 16-March 31.
Head said that for those two weeks, the girls were waiting the stoppage out, practicing by themselves and itching to get back into competition. Then came the extension of the school closures until April 30. Then came another extension to the end of May, which cancelled the entire season.
"I think they were OK after the two-week period but when the order was extended they were a little stunned that the season was possibly over as a whole," Head said. "It had never happened before, and we'd never been through anything like this. They were missing out on a chance to really compete this year."
While the season was off, life goes on. Head said he feels bad for the girls, but he knows his team's upside and is looking forward.
"We had a couple of freshmen this year that were practicing really well. Brianna Rodriguez, one of our hurdlers was looking really good, I think coming in she was second in the region timewise," Head said. "And we had some eighth graders as well. Jakeyia-Maktin Maybin was running really well, and our youth has been an upside to our ladies."
Head said he has been keeping in touch with the girls, making sure they're keeping in shape. A lot of the girls run in summer teams as well, and they're getting ready for what appears to be a regular summer season, albeit with COVID-19 precautions.
Knowing that, Head said he's looking forward to the next season already.
"Like I said, our team was really starting to come together camaraderie wise as well as a good core of ladies returning," he said. "They'll be coming back next year though, and hopefully in the years to come we'll be pretty strong."