CHARLESTON – College of Charleston Honors College student and Winnsboro native Vernon Kennedy Jr. has been named a Goldwater Scholar, one of the nation's highest honors for undergraduates studying science, technology, engineering or mathematics (STEM).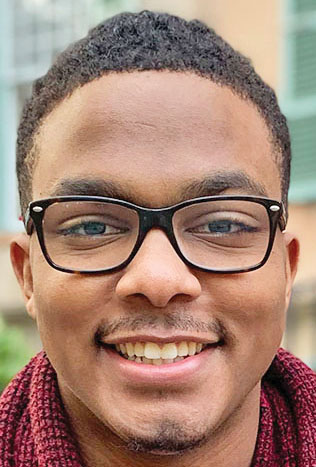 Kennedy, a molecular biology major, was among the 396 undergraduates that the Barry Goldwater Scholarship and Excellence in Education Foundation chose to be awarded Goldwater Scholarships, which cover the cost of tuition, fees, books and room and board up to $7,500 per year.
The scholarship recognizes college sophomores and juniors who show exceptional promise of becoming the next generation of research leaders in their fields.
Kennedy has presented his work both on and off campus, even receiving a Research Presentation Grant from the College to support his travel last fall to present at Neuroscience 2019.
Specifically, Kennedy studies the effects that estrogen signaling and exercise have on spinal cord changes following peripheral nerve injury. This research supports Kennedy's future goals of pursuing an M.D./Ph.D. in either neuroscience or molecular biology, with the hopes of studying molecular treatments for neurodegenerative disorders.
"Discovering the mechanistic details behind this relationship would allow us to develop treatment protocols with the potential to benefit the thousands of patients impacted by these injuries each year," Kennedy said.