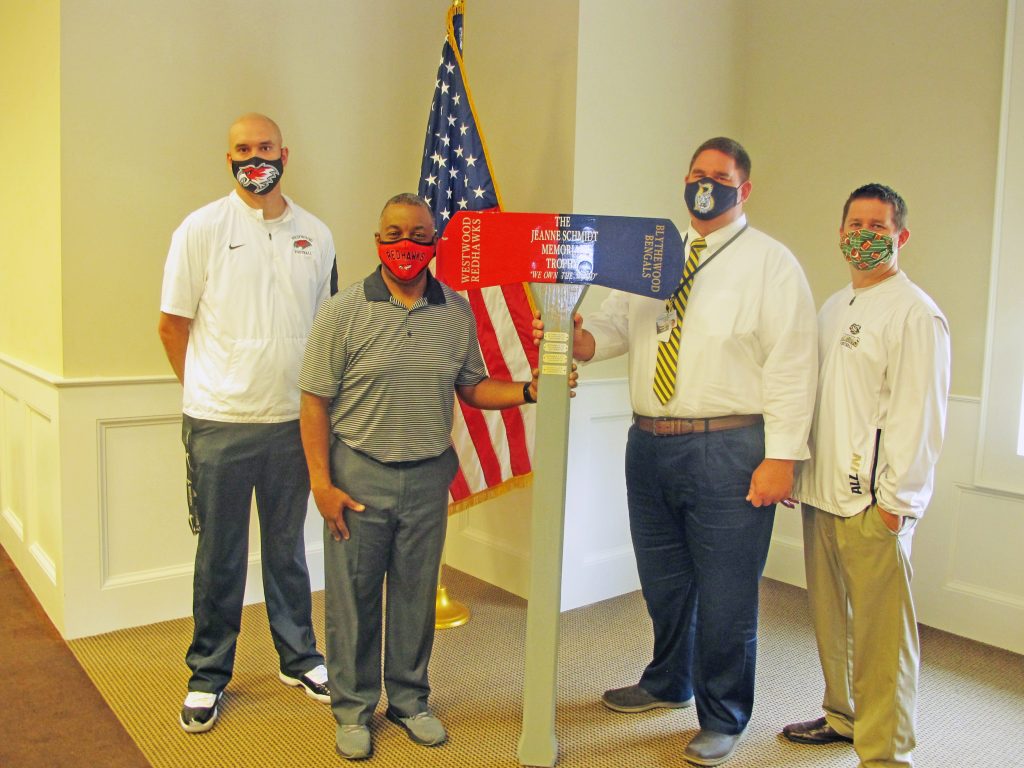 BLYTHEWOOD – The wait for football season is nearly over—unless it isn't.
In South Carolina, as school districts have been cleared to take in students on and off campus, athletes have also been cleared to begin fall practice in the shadow of the COVID-19 global pandemic.
Coaches and players alike are optimistic about playing a season that starts in late September, even if it is a shortened season that only allows region games and two non-region games. Blythewood head coach Jason Seidel and Westwood head coach Matt Quinn said as much in their speeches to the Blythewood Chamber of Commerce Tuesday morning.
Seidel, whose team finished 5-6, began his remarks by saying that one thing he cannot comment on is whether there will be any football.
"It's a fluid situation, we take everything a day at a time," Seidel said. "As of right now, we are practicing. Everything looks good, so we're going to keep going with what we're doing."
The concern for having a season is real. Later that afternoon, the Big 10 and PAC 12 conferences, two of the NCAA's Power Five conferences, opted to cancel fall football with a possibility of a spring season. The ACC, SEC and Big 12 are still moving toward a fall sports season.
Quinn, whose team finished 8-4 last year, also began his remarks to the Chamber stating that he didn't know if there would be a season, but addressed the need for structured programs such as football in kids' lives.
"Football to me is life," he said. "I'll tell you about a kid from Dun can, South Carolina, a country boy that couldn't afford to go to a big college, but the education that I received at Presbyterian College was paid for because of football. The position I am in right now is because of football. The man that I am, the father that I am is because of the coaches that I had and because of football. Football matters."
For both coaches—and probably for coaches across the state, getting the players ready to play on short notice is the biggest challenge.
"We just started playing last week," Seidel said. "We're in the middle of August and we've gotta put these kids in helmets and shoulder pads if we want to get playing in September. As much as I want to get back, we've got to do it the right way. This past week and this week we're running a lot, so when we get our helmets on Monday we'll be in a little bit better condition, a little bit better shape. "
Quinn added that the players who are looking to move to the next level are less of a concern because they work all the time, either alone or with trainers. The more important bunch are the committed players who are not looking to play beyond high school.
"What it takes to win high school football games is those in-between guys," he said. "Those guys are not going to play in college, but you need those guys to win football games. Those are the guys we've really got to get ready and focus."
Both teams are practicing without helmets and pads, in training more focused on getting the team acclimated to the heat. For the time being, restrictions limit groups to 15 players per coach, which makes it difficult to install an offense, defense, or special teams. Those restrictions may lift next week, when teams can practice in pads and helmets—although social distancing and masks or face shields will be required.
Add to those difficulties the fact that the players have not seen the coaches in months, until last week. Neither coach had seen the team except through Zoom sessions. Seeing them up close was a pleasant surprise.
"They looked good," Seidel said. "I don't know how much running they've been doing but they've obviously spent a lot of time in the weight room. We'll take care of the running part."
Next week will be the real beginning, actually putting on equipment and working on the field.
"We've got a lot of good players, but we've got a lot of question marks," Seidel said. "We haven't touched the ball and we're supposed to play in a month, and you wonder where you're at."
Both teams will compete in either new or altered regions.
Blythewood's Region 4-5A includes Spring Valley, Ridge View, Rock Hill, and Northwestern.
The Bengals open the season Sept. 25 at North Augusta. The Bengals then go right into region play with a home game against Northwestern.
"That's a whole other challenge that kind of scares you," Seidel said. "Usually your non-region games are getting you ready for the region. Now we've got one game and here's region, and it's Northwestern, it's Rock Hill, it's Spring Valley and it's Ridge View. It's pretty tough."
Westwood, which plays in Region 4-4A with Dreher, Lugoff-Elgin, Richland Northeast and A.C. Flora, rolls right into region play Sept. 25 with a home game against the Falcons. That game is a big one, because not only do the teams both think they are the tops in their region, former Redhawks coach Dustin Curtis heads up A.C. Flora.
"We feel like we're opening the season with a region championship," Quinn said. "Coming off a no-offseason, with barely any time to prepare, playing against one of my good friends who I used to work for, It's gonna be a fun night."
That is, unless the season is further altered or cancelled.
"I hope we have a season," Quinn said. "I think right now with all the rules and regulations in place, we're doing a great job of keeping our kids safe. We're doing check-in procedures, we're testing them, we're temperature checking, we're keeping them separated, we're masking them up, we're doing all the things that we're supposed to do, and we haven't had an issue in this first week and any issue from my friends around the state who are coaching either."