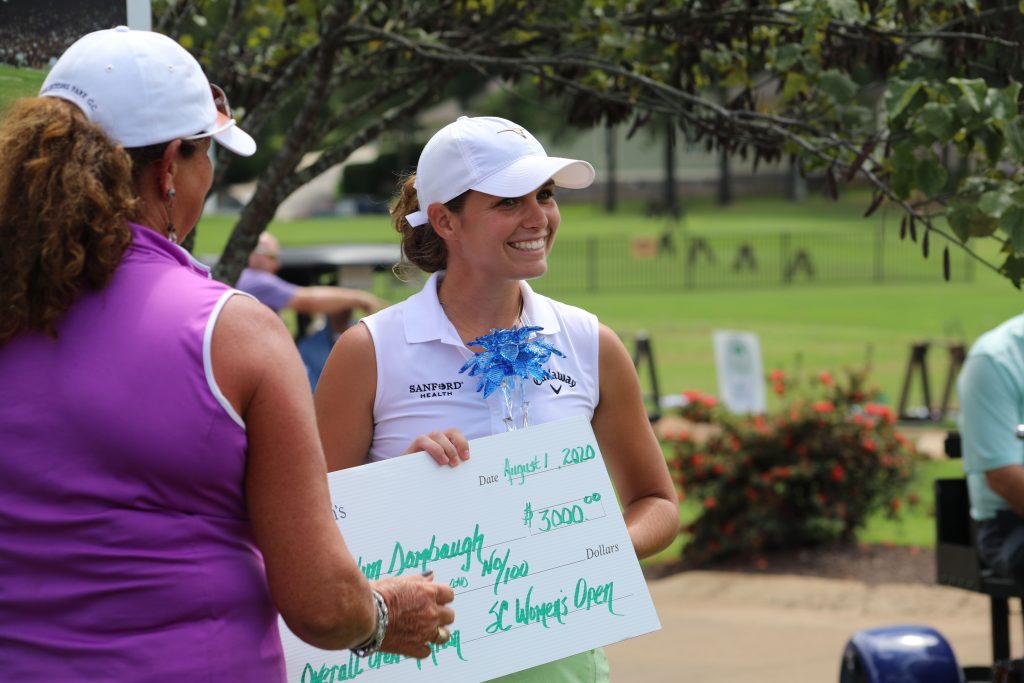 BLYTHEWOOD – The 3rd Annual South Carolina Women's Open, played last weekend at its new venue, the Cobblestone Park Golf Club, is in the books.
The three-day event saw mostly good weather with a slight breeze and only one downpour. The greens were smooth and fairways plush with tons of talent teeing it up from veteran LPGA Players to future stars. The Cobblestone community was out in full force with over 60 volunteers to help make the event run smooth for the participants.
LPGA pro Laura Diaz led the Senior Professional Division from the outset, winning the championship over S.C. Women's Open defending champion Rosie Jones.
Under overcast skies, with a slight breeze, Diaz opened the final day with a three-shot lead over Jones. Jones came out of the gate posting two birdies on the first two holes and continued with a birdie on the first two holes on the back nine.
Diaz wasn't giving up and found a groove between hole 15-17, making a birdie trifecta to take a one shot led with two holes to go. Keeping it close down the stretch, Diaz ended up securing the championship posting a 67 for a two-day total of 131, edging out Jones by one shot. Jones shot a 6 under 65 in the final round. Sue Ginter placed third with a two-day total of 142.
The Overall Champion and Professional Division Champion was Katelyn Dambaugh from Charleston, SC. Dambaugh, a University of South Carolina graduate, won her first professional golf tournament on her collegiate home course, Cobblestone Park Golf Club. Dambaugh put together 3 under par rounds of 65-66-69 for a 13 under par total of 200 to beat defending SC Women's Open Champion Sydney Legacy by 5 shots; 6 shots better than amateur Gina Kim. Legacy finished strong posting another 67 for a three day total of 71-67-67.
The Senior Women's Amateur Champion is 2019 CGA Women's Senior Player of the Year, Jayne Pardus firing a 75-70= 145 to win by 6 shots over Pam Prescott. Coming in third was Charlotte Twitty shooting a 78-77=155. It was a tight race going into the final round of the Open Amateur Championship. Elle Johnson had a one shot lead over Kayla Smith and Gina Kim. The weather was perfect for making birdies and the field took advantage of it. Duke's Gina Kim had 5 birdies and 13 pars in her final round to post a 66 to take the SC Women's Open Amateur Division Title by 5 shots over Alyssa Montgomery from Knoxville, TN.
Laura Diaz

Jayne Pardus

Gina Kim
Laura Diaz

Katelyn Dambaugh