BLAIR – Mrs. Esther "Eula" Wilson is ready to celebrate her 100th birthday.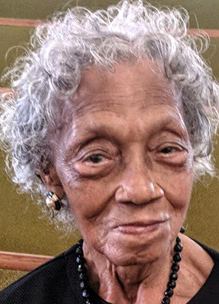 Family, friends and community members will gather for a drive-thru birthday celebration at Shelton Ball Field on Friday, Aug. 21. The ball field is located at the intersection of Road 99 and Road 33. Cars will line up at 6 p.m., and the parade begins at 6:30 p.m. Masks required!
Wilson still travels extensively with her children to family gatherings and enjoys every moment. A life-long member of Weeping Mary Baptist Church in the Shelton Community of Blair. She is blessed to be the oldest church member.
Born August 21, 1920 to Blanche Lyles and Eli Lyles, the birthday girl married the late Woodrow Wilson in 1944. They had nine children: Cynthia Jones, Jacqueline Gantt, Sharon Edrington, Ira Wilson, Jamie Wilson and Lloyd Wilson. Three children, Elliot Ezell Wilson, Gwendolyn Wilson and Columbus Wilson are deceased.
Wilson loved to quilt and is well known for her savory sweet potato pies. She was employed with the Green Thumb program at McCrorey-Liston School and worked in the school cafeteria in Chester County Schools.
Anxious to celebrate the occasion are her children, 15 grandchildren, 22 great grands and one great-great grand-child along with family, friends and the Blair Community.