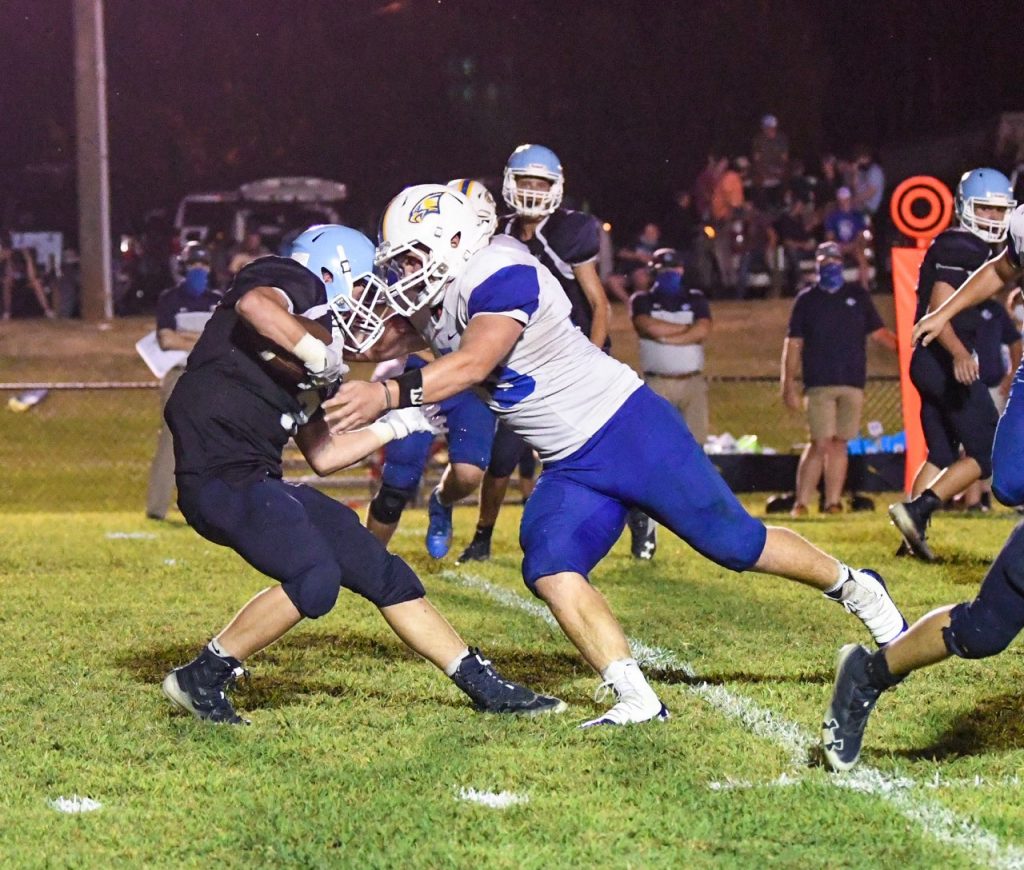 BATESBURG – The Richard Winn Eagles continued their domination on Friday, September 11 with a 41-0 shutout of King Academy. This was the Eagle's third straight shutout to begin the 2020 season as they have now outscored the opposition by a score of 141-0 over three games. RWA had six first half possessions and it scored a touchdown all six times.
The Eagles got the ball first and started at its on 45, they went 55 yards on seven plays to open the scoring. Zack Taylor completed both of his passes on the drive for 17 yards and B Baker rushed three times for 29 yards. Taylor capped the drive with a two yard rushing score.
After Richard Winn's defense forced a quick three-and-out it would score its second touchdown on just two plays. Baker ran this score in from 35 yards out and Taylor added the PAT making it 14-0 with 6:49 left in the opening quarter. The Eagles finished the first quarter by forcing King into three and outs on all three possessions while they scored touchdowns on all three possessions. Baker scored his second rushing touchdown of the quarter, this time from eight yards out.
In the second quarter the Eagles domination continued as they outscored the Knights by a 20-0 count in the quarter and did not allow a first down. Richard Winn scored every time it touched the ball as it scored on an 11-yard pass to Brian King from Dru Caldwell. The second score came via a three yard pass from Taylor to Joey Banister and then Banister recorded a 44-yard rush for a score to cap off the scoring. Taylor converted on five of six PAT attempts for the Eagles in this contest.
The Knights had three second half series with their best drive of the night ending in a fumble. The Eagles touched the ball twice in the second half but did not convert either into points.
Richard Winn returns home this weekend for a 7:30 kickoff against Charleston Collegiate. This weekend is Hall of Fame weekend for the Eagles.
PASSING: Z. Taylor (10-12-73-1-0) D. Caldwell (1-1-11-1-0) L. Caulder (1-3-4-0-0)
RUSHING: B. Baker (6-82-2) J. Banister (2-44-1) Z. Taylor (2-9-1) D. Spires (5-45-0) C. Koelsch (4-11-0) J. Chaisson (4-14-0) T. Bonds (1-4-0)
RECEIVING: G. Douglas (3-28-0) R. Wilson (1-16-0) B. King (1-11-1) L. Wade (1-10-0) D. Branham (1-8-0) D. Caldwell (1-6-0) D. Spires (1-4-0) J. Banister (1-3-1) C. Koelsch (2-2-0)