WINNSBORO – The Richard Winn Eagles hosted the Charleston Collegiate Sun Devils on Hall of Fame Night at Ruff Field and the Eagles prevailed by a 54-6 margin. The Eagles made it 13 quarters and 4:10 of playing time before allowing a touchdown in the 2020 season.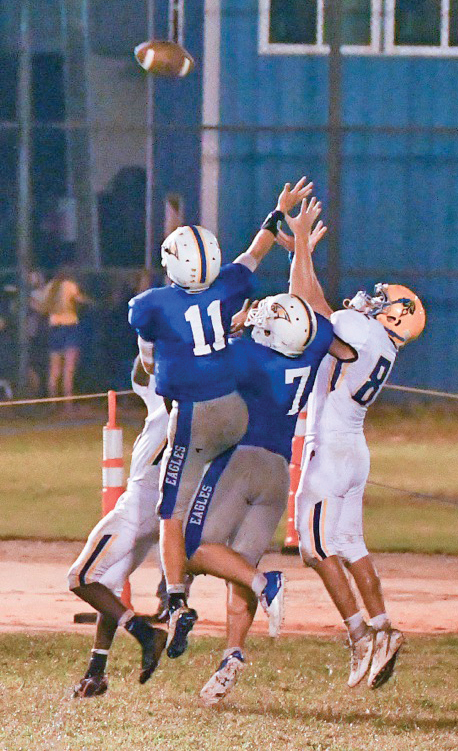 "They have been really good," said Head Coach Paul Brigman when asked about his defense's dominance in thus far in 2020. "We have a lot of seniors on our defense and those guys have taken it as a challenge to be tough like that. We hated giving up a touchdown tonight but we knew it was inevitable. We still think we played well tonight defensively, we had some mistakes tonight with penalties but defensively overall tonight we were good."
For the first time in the 2020 season the Eagles were held without a touchdown on their opening possession, Richard Winn did not score until its third time touching the ball and would lead by an 8-0 score exiting the first quarter. On the Eagles third offensive series of the game they took over at the Sun Devil 36-yard line and would march 36 yards in five rushing attempts. The first three carries and 25 yards would be gained by B Baker while quarterback, Zack Taylor would call his own name for the final 11 yards.
"We thought we would be able to throw it a little bit," said Brigman when asked about having to go to the ground and pound style of offense as opposed to throwing the ball around. "They played great defense on us early and we were a little out of sync, but we always feel like we can count on our running game."
Richard Winn exploded for 38 second quarter points after being held quiet in the first quarter. Taylor scored two more times in the second quarter while Drew Spires and Baker also scored a second quarter touchdown. Dru Caldwell, relieving Taylor, on the final series of the first half would record the 12-yard touchdown toss to Gavin Douglass. This was the Eagles only touchdown through the air on the evening.
Richard Winn had Charleston Collegiate pinned at its own 31-yard line when the Sun Devils went for it on 4th down and 6 yards to go, Mason Hawes was able to find Aiden Anderson behind the Eagles' secondary for the 69-yard touchdown pass. This score cut the Eagles lead to 24-6 before Richard Winn scored the final 22 points of the quarter to lead 46-6 at the half.
Baker scored his second rushing touchdown of the evening with 0:06 left in the third quarter bringing the score to 54-6. This would be the final score of the game as the second half was played with a running clock for the fourth time in four games this season.
PASSING: Zack Taylor (3-7-39-0-0), Dru Caldwell (1-1-12-1-0), Landon Caulder (2-3-1-0-0)
RUSHING: B Baker (15-79-2), Taylor (12-92-3), Drew Spires (3-32-1), Joey Banister (1-8-0), Caulder (1, -6 -0)
RECEIVING: Tyler Tanner (1-28-0), Caldwell (2-11-0), Gavin Douglas (1-12-1), Spires (2-1-0)