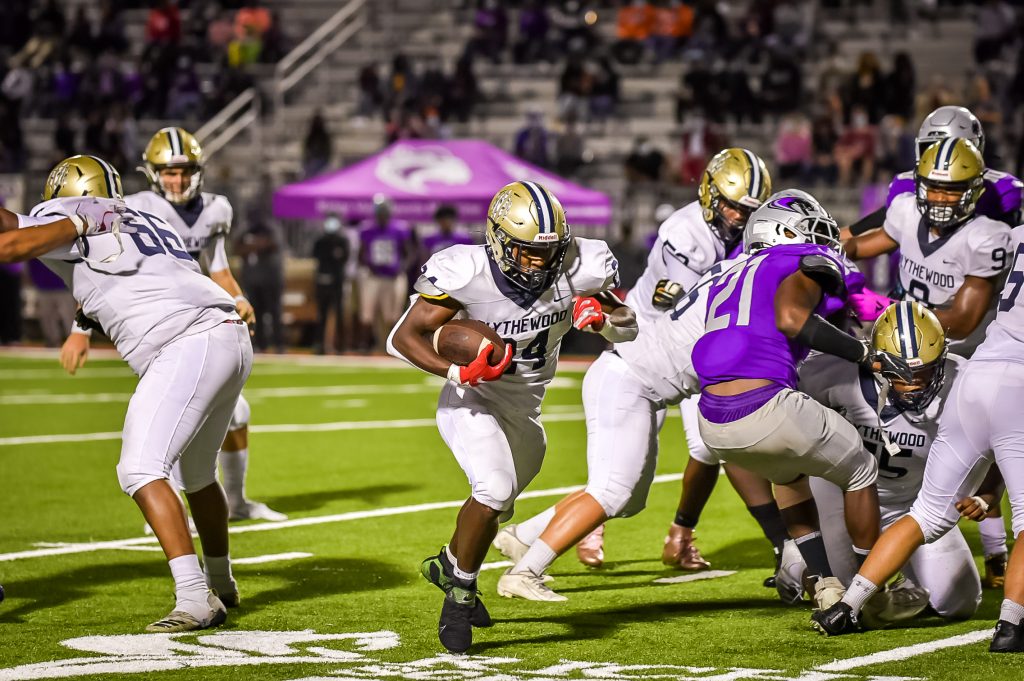 BLYTHEWOOD – After a halftime 0-0 stalemate, Blythewood and Ridge View offenses gave it their best shot in the opening of second-half action Friday night.
The Blazers came through with a 1-yard Andre Washington touchdown run, then blanked the Bengals for the rest of the way in a 7-0 shutout at Westwood High School's District Two Stadium.
"It was a great game, credit to them and credit to our defense," Blythewood head coach Jason Seidel said. "We missed on some big plays that were there, we missed on some opportunities, and it is what it is. It's just football. I keep telling the kids, you've just got to keep grinding this out, that's how this works."
Ridge View (4-1 overall, 3-1 Region 4-5A) finishes its slate of region games. The Blazers and Northwestern (4-0, 3-0) are the top two teams in the region and will move on to the abbreviated postseason in the 5A classification bracket.
The Bengals (2-2, 1-2), Rock Hill, and Spring Valley will not play in the postseason. Blythewood wraps up its region schedule hosting the Bearcats today.
The Bengals (2-2 overall, 1-2 Region 4-5A) took possession to start the third quarter, but punted on a fourth-and-six. They caught a break when a roughing-the-kicker penalty gave them a first down at midfield. From there, Blythewood drove to the Ridge View 17-yard line.
There, quarterback Angelo Donato ran for no gain and fired toward the end zone three times, looking to hook up with Noble Cooper, Chase Smith, or anyone who could cap a scoring drive that might put the Bengals over the top.
Donato's passes fell uncaught.
"It's hard on him. It's tough. It's a lot on him," Seidel said of Donato, who came in when starting quarterback Jordan Burrell went down last week with an ankle injury. "He fought, he fought, he fought, but we missed a couple (of opportunities) that were there and that's the way it goes sometimes."
Ridge View (4-1, 3-1) took over at the 17 and finally started moving on the ground.
After being stymied for the first half, Josh Holmes ripped a 22-yard gain. He followed up with an 8-yard run.
Darius Footes had gains 13 and 7 yards before Washington got sprung for a 35-yard gain that put the Blazers at the Blythewood 1-yard line. Washington's next carry proved the difference in the ballgame.
After that scoring drive, Blythewood ended possessions on an interception and a punt.
The Bengals did come within three feet of tying the game late in the fourth quarter, but Donato's fourth-down run from the Ridge View 3-yard line fell short of the goal line.
The Blazers took over from there and drained the clock on an 81-yard drive before time expired.
"We just missed out on some points," Ridge View head coach Perry Parks said. "We knew coming into the game we had a better team, we felt that all week. Our defense played lights out, our offense should have had a touchdown. Conditioning was an issue, but late in the second quarter we felt like we could come out running the football."
The Blazers had 191 rushing yards in the second half. Washington finished the night with 108 rushing yards on 16 carries.
The first half was a defensive stalemate.
Ridge View sacked Donato twice and gave up just 46 rushing yards. The Blazers limited the Bengals to three first downs, one of which came on a personal foul.
Blythewood sacked Kenyan Conner once and gave up 62 rushing yards and 118 total yards. While the Blazers moved a tad more fluidly down the field, the Bengals forced the ball over on downs three times, including a goal line stand ending at the 1-yard line.
Ridge View came close on several occasions, but in the final minutes of the second quarter seemed to get a rhythm enough to drive deep into Blythewood territory.
On that drive, starting quarterback Andre Washington connected with Nasir Butler for a 19-yard touchdown pass, but that play was called back on a holding penalty. On fourth and 16, a Washington pass intended for Butler fell incomplete.
Blythewood took over with about a minute to go, but the Bengals went backwards on a holding penalty and the clock expired to leave the game scoreless at the half.
Ridge View plays host to Mauldin Friday in a nonregion game.
Blythewood – 0-0-0-0 – 0
Ridge View – 0-0-7-0 – 7
Third Quarter
RVHS – Andre Washington 1 run (Anthony Barton kick) 5:08
BHS RVHS
First Downs 9 16
Rushes-Yards 29-87 43-253
Passing Yards 29 56
Att-Com-Int 13-6-1 14-6-0
Fumbles-Lost 0-0 1-1
Penalties-Yards 3-35 7-65
Punts-Avg. 6-31.8 3-36.3
RUSHING: Blythewood – Dhani Dixon 6-25, Angelo Donato 13-22, Desmond Boatwright 11-40. Ridge View – Andre Washington 16-108, Josh Holmes 9-36, Darius Footes 8-53, Jordan Smith 7-33, Marcus Kelly 4-22.
PASSING: Blythewood – Angelo Donato 13-6-1. Ridge View – Andre Washington 14-6-0.
RECEIVING: Blythewood – Josh Burrell 3-3, Chase Smith 1-19, Noble Cooper 1-7, Chanceler Robertson 1-0. Ridge View – Nasir Butler 2-16, Jordan Smith 3-31, Tyree Byrd 1-9.