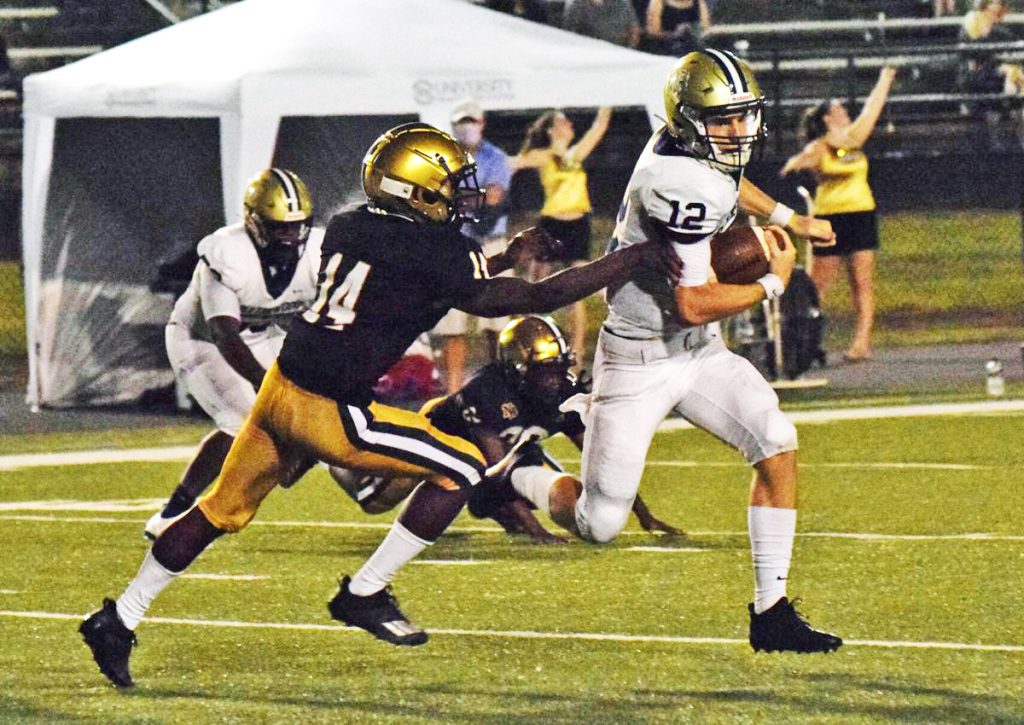 NORTH AUGUSTA – Consider Blythewood's Pre-Region 4-5A slate for 2020 a success with the Bengals' 27-24 come-from-behind victory at North Augusta.
Dhani Dixon's 6-yard touchdown run in the final two minutes of the season opener capped a 13-point rally, and the Bengals' defensive stand on the Yellow Jackets' final series sealed the win.
In his first game under center for the Bengals, Angelo Donato completed 14 of 25 passes for 213 yards and two touchdowns. His last TD strike, a 10-yarder to Chancellor Lorick, opened the fourth-quarter rally and helped his new team rally from a 24-14 deficit.
Donato, a transfer from Wake Christian Academy in Raleigh, targeted Josh Burrell five times for 75 yards and Noble Cooper five times for 60 yards. Jake Parker and Chanceler Robinson each had catches.
Donato's 55-yard connection to Chase Smith early in the second quarter put Blythewood on the scoreboard after North Augusta had jumped to a 14-0 lead after the first.
One minute after that play, D.J. Hutcherson recovered a blocked punt in the end zone to tie things up with nine minutes to go in the first half.
Austin Harrell's 6-yard TD run with 1:15 left in the half gave North Augusta a 21-14 lead at intermission.
The Bengals defense limited the Yellow Jackets to just one second-half field goal, Drew Stevens' 40-yarder midway through the third quarter.
Linebacker Myles Cotten led the defensive effort with 20 tackles, a sack, and a forced fumble. Besides blocking a punt and scoring a touchdown, Hutcherson had 12 tackles and two fumble recoveries on the night. Jayvon Watson, with nine tackles, and Josias Addison, with eight, both recorded sacks. Chad Ishmael had eight tackles and five pass breakups.
Dixon led the rushing attack with 9 carries for 65 yards. Desmond Boatright had 55 yards on eight attempts and Donato carried six times for 45 yards. Mason Legree had four carries for 18 yards.
Jacari Buckson led the North Augusta offense with 113 yards on 26 carries. Harrell was 7-for-22 in passing for 153 yards and a touchdown. Jordan Wilburn had three catches for 90 yards. Grayson Bridgers had four catches for 63 yards and a touchdown.
Blythewood opens region action playing host to Northwestern on new turf at District Two Stadium. The Trojans beat Ridge View, up from the 4A classification, 37-21 Friday night.