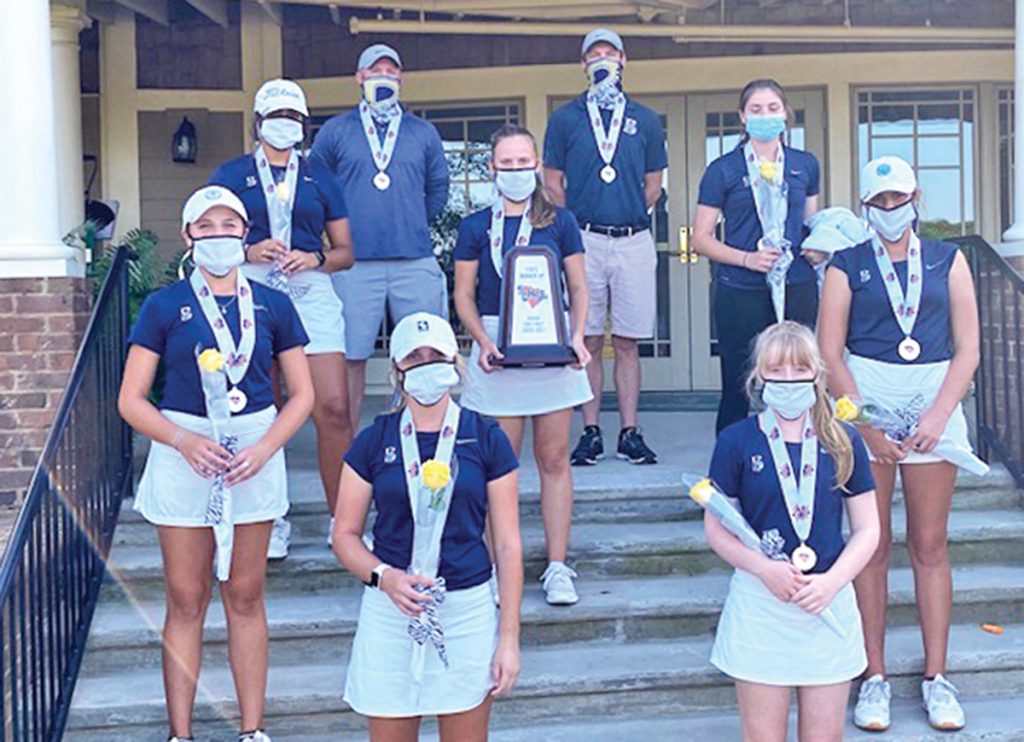 LEXINGTON — It took a record day for the Lexington girls golf team to get past defending 5A state champion Blythewood Tuesday afternoon Oct. 26 at the Country Club of Lexington.
The Bengals turned in a score of 610 over the two-round, 36-hole tournament on the Par-72 course. That total was 11 shots less than last year's state title effort of 621.
The Wildcats, on the other hand, finished with a state record 578, two shots better than their previous record of 58, set in 2013.
"They definitely shot lights out. As for us, I don't think we performed our best as a whole," Blythewood head coach Jason Minkel said. "We definitely improved, but you know with Lexington it's always going to be tough to win, especially when you're playing in their backyard. They came out and beat us, they knew what they had to do to win. We tried our best but they were the better team."
All four Wildcat golfers finished in the top 10. Juniors Molly Hardwick and Isabella Rawl were the top two finishers, while seniors Karlee Vardas took sixth and Emily Beiers finished 10th.
Paige Paolucci led Blythewood with a fourth-place finish and Ella Stalvey tied for eighth with Boiling Springs' Mary Katherine Talledo. Catherine Hawkins was in a four-way tie for eleventh place and Elizabeth Madden tied with Stratford's Chayse Cool for 20th.
The battle for the state championship was all Lexington versus Blythewood—Byrnes, the third-place team, finished 72 strokes behind the Bengals. Wando, the fourth-place team, finished 77 strokes back.
The Bengals came in with a first-round 306 score Monday as Paolucci fired a 2-under 70, Stalvey a 76, Hawkins a 79, and Madden an 81.
The Wildcats came in 11 shots lower with a collective 295. Hardwick's 71 was the lowest on the afternoon for Lexington and it combined with Rawl's 72, Vardas' 74, and Beiers 78.
Blythewood came off the course two strokes lower on championship day, with Paolucci and Stalvey both turning in 73 scores while Hawkins came in two strokes off her first day with a 77 and Madden turned in another 81.
Lexington's second round score of 283 was simply the best. Hardwick's 6-under 66 was the lowest round of the tournament, two strokes better than Rawl's 4-under 68. Vardas made par with a 72 and Beiers trimmed a stroke off her first day with a 77.
The second day's action clinched the Wildcat's second state title in three years and 14th state title in the last 17 years.
Minkel said he was sorry to see his girls walk off the course with rounds a few strokes higher than their consistent rounds in the 70s during the regular season, but added that the Bengals will reload and revitalize for the next season.
While Lexington will graduate Vardas and Beiers, all of the Blythewood girls will return for 2021 action. Paolucci and Madden will be seniors looking to go out with a state crown, Stalvey will be a junior and Hawkins will be a freshman.
"I'm very excited for next season," Minkel said. "With everyone coming back, I'm confident that we'll retake the crown next year. We'll still be a strong team, but what gives me the confidence in them has been their improvement of our girls from last year to this year. They'll continue to shoot those lower scores consistently, and the seniors will be ultra-focused on getting the title back."
Blythewood (610)
Paige Paolucci 70-73—143
Ella Stalvey 76-73—149
Caroline Hawkins 79-77—156
Elizabeth Madden 81-81—162
Joceline Paez 103-103—206
Lexington (578)
Molly Hardwick 71-66—137
Isabella Rawl 72-68—140
Karlee Vardas 74-72—146
Emily Beiers 78-77—155