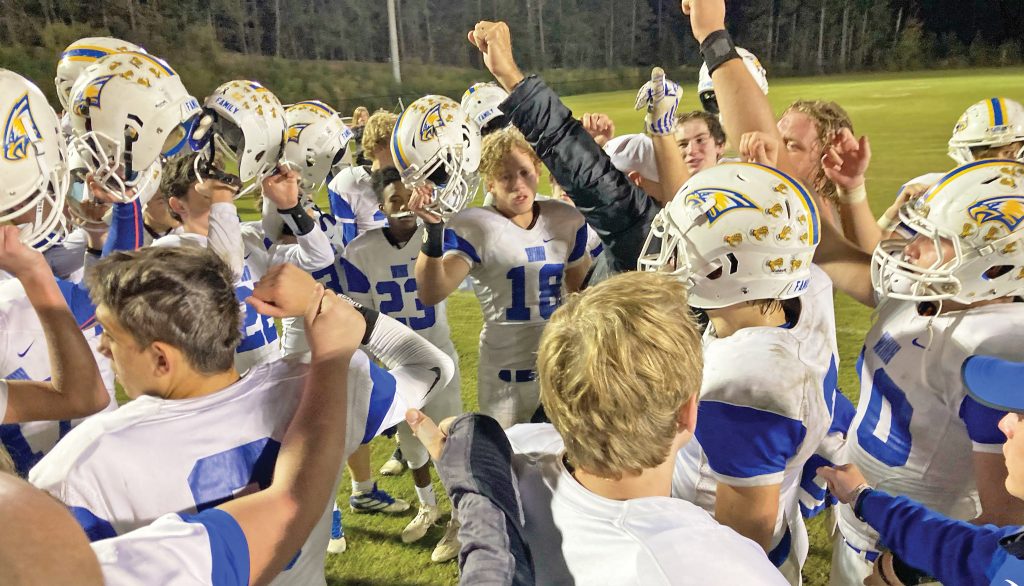 LEXINGTON – Richard Winn Academy's 8-man football season may not have ended the way the Eagles would have wanted it—with its first state championship in six years.
After falling 56-14 to Holly Hill Academy Friday night at Northside Christian's Palmetto State Armory Field, third-year head coach Paul Brigman said the fall 2020 team has much to be proud of.
"That's what we tried to impress to the kids," he said. "It hurts tonight, but when we get some time to reflect on it, we'll realize it was a great year. We did some things this year that we haven't done in a long time at our school."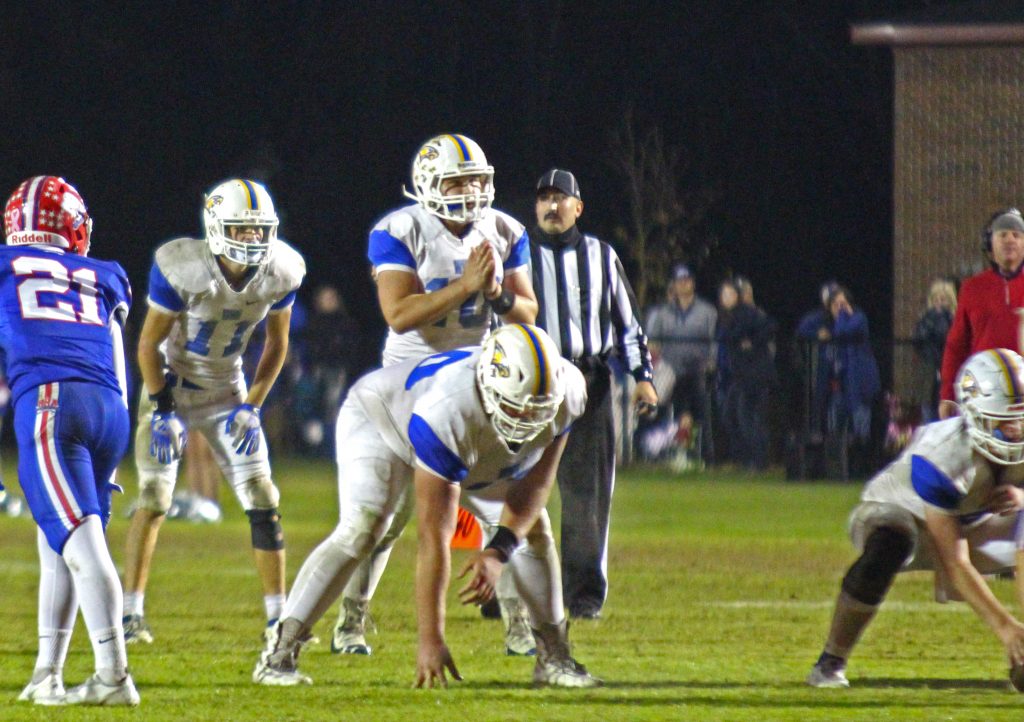 Richard Winn (10-1) opened the season with three straight shutouts, for one thing. The Eagles scored 47 points against Conway Christian, 53 at Faith Christian, and 41 at W.W. King to go along with a 54-6 win over Charleston Collegiate in the fourth week.
More lopsided victories followed, including a 54-32 win over Laurens Academy, a 44-18 triumph over Northside Christian, and an 80-20 blasting of Jefferson Davis.
The Eagles opened the playoffs with a 52-30 dismissal of Clarendon Hall in the first round, then topped defending state champion Andrew Jackson Academy 22-16 to earn the right to play for its first championship since 2014.
This time, a title was not meant to be for the Eagles, who suffered the loss of quarterback and middle linebacker Zack Taylor to a left-shoulder injury in the Andrew Jackson game. Taylor, who had 1,533 rushing and passing yards and 33 touchdowns to go with 54 tackles and 3.5 sacks on defense going into Friday, started the Holly Hill game but Brigman said he was not 100 percent.
"He tried to play tonight, but he was not very effective," he said. "It hurt us more on defense, probably. We just weren't able to be effective. We had a couple of big players go out early in the game and we weren't able to recover."
Taylor had just three carries for 5 yards and passed for 142 yards. He also threw an interception that Holly Hill running back and defensive back Marion Breland returned 98 yards for a touchdown.
The first half was all Holly Hill, with the help of an anemic Richard Winn offensive effort. The Eagles had just two first downs and Holly Hill limited them to eight net rushing yards on eleven attempts.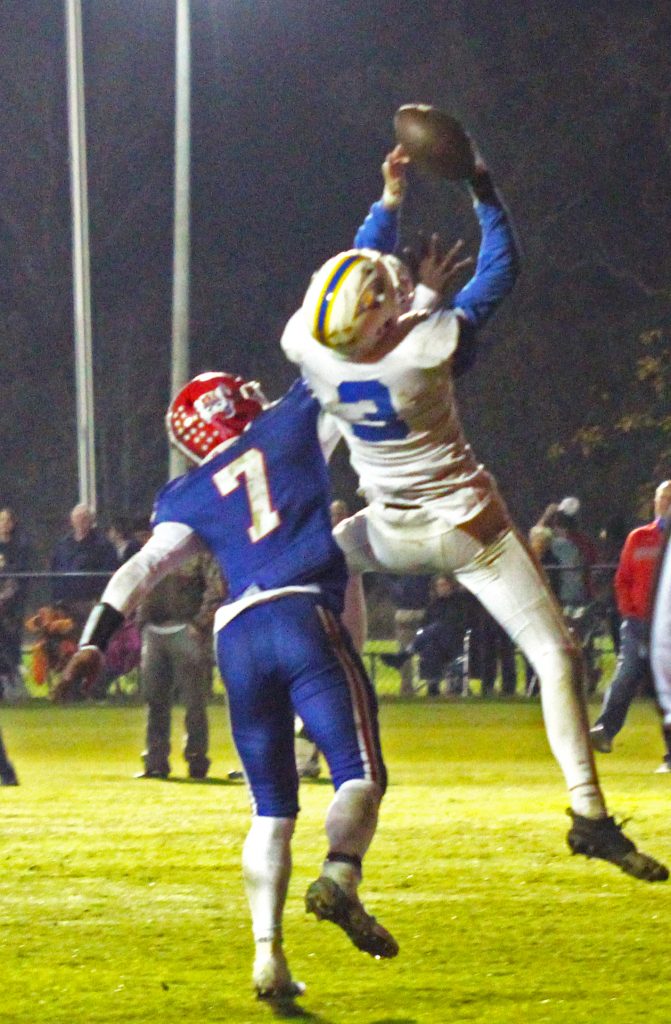 On the other side of the football, the Raiders rolled up 226 rushing yards on 32 carries, with Breland racking up 126 yards on 13 attempts.
Holly Hill got its train rolling when they took the opening onside kickoff at midfield. Breland rushed for 44 yards on the 50-yard drive, and put the Raiders on the scoreboard at the 8:55 mark with a 16-yard touchdown run for the 6-0 lead. Zach Pelloni's conversion run failed.
Both of Richard Winn's first downs came on their only scoring drive in the first half, which started with a recovered fumble at the Holly Hill 44-yard line. From there the Eagles drove 56 yards on 11 plays, getting their only score of the half on B Bakers's 1-yard run and Taylor's 2-point conversion pass to Dru Caldwell at the 1:08 to go in the first.
On Holly Hill's possession that followed, Pelloni got the ball for most of the snaps. Pelloni's 6 rushes for 38 yards included a 7-yard TD run on the 55-yard scoring drive that straddled the first and second quarters. Pelloni ran the ball in for the 2-point conversion to put the Raiders back on top 14-8.
Richard Winn's next two possessions ended in punts, while Holly Hill got another score on Breland's 60-yard touchdown sprint with 4:25 left in the first half.. The 2-point conversion failed and Holly Hill walked off the field at intermission with a 20-8 lead.
Even though Richard Winn was down two possession at intermission, the Eagles had a fighting chance—if they could contain the Holly Hill rushing attack and begin to mount some drives in the second half.
"We really felt good at halftime," Brigman said. "We had not played well, but we felt like if we could get ourselves on track offensively, come out and score, that we could get right back in the ballgame and put a little bit of pressure on them in the second half."
That did not come to pass. Breland and Pelloni kept on running, and Richard Winn couldn't keep up. Holly Hill outscored the Eagles 22-6 in the last five minutes of the third quarter.
Breland made it 26-8 with a 22-yard touchdown run at the 5:02 mark.
While Richard Winn cut that lead to 26-14 with Taylor's 9-yard TD pass to Derek Branham a minute later, Pelloni scored from six yards out and Breland added a 2-point conversion run to make it 34-14.
Two minutes later, Breland picked off a Taylor pass at the Holly-Hill 2-yard line and managed to run it back 98 yards for the final score of the third quarter. Crawford Thomas added another 2-point conversion to make it 42-14.
Pelloni scored from two yards out with 8:20 to go and Perrin Breland caught a Thomas pass in the end zone with 2:44 left to close out the scoring.
"They were a very physical team," Brigman said. "They were a very deserving champion. We just never had momentum swing our way."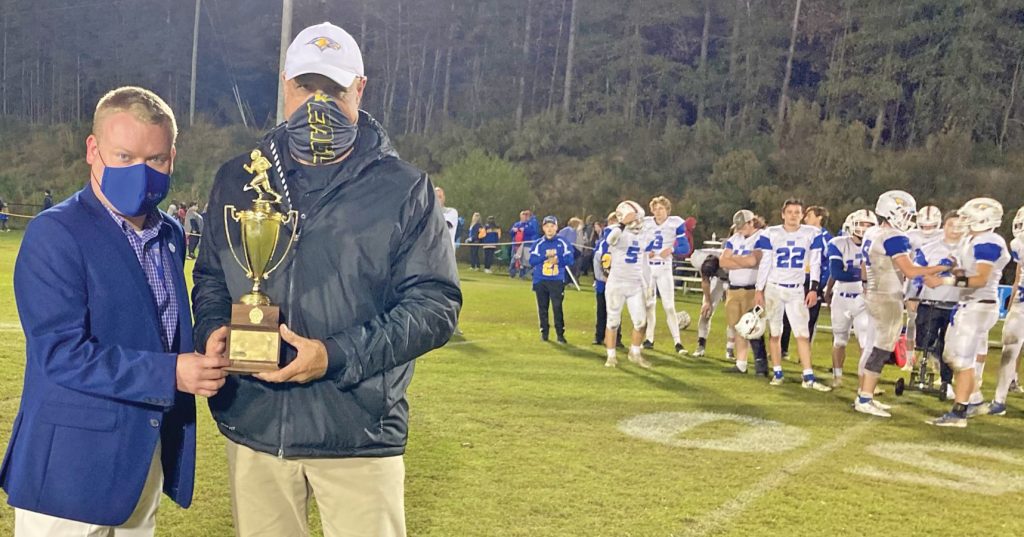 Richard Winn – 8-0-6-0 – 14
Holly Hill – 6-14-22-14 – 56
First Quarter
H – Marion Breland 16 run (run fails) 8:55
R – B Baker 1 run (Dru Caldwell pass from Zack Taylor) 1:08
Second Quarter
H – Zach Pelloni 7 run (Pelloni run) 10:12
H – Marion Breland 60 run (run failed) 4:25
Third Quarter
H – Marion Breland 22 run (pass failed) 5:02
R – Derek Branahm 9 pass from Taylor (pass failed) 4:01
H – Pelloni 6 run (Marion Breland run) 3:26
H – Marion Breland 98 interception return (Crawford Thomas run) 1:14
Fourth Quarter
H – Pelloni 2 run (Tyler Wright run) 8:20
H – Perrin Breland pass from Thomas (run failed) 2:44
RWA Holly Hill
First Downs 9 20
Rushes-Yards 18-83 51-458
Passing Yards 142 66
Att-Com-Int 31-15-1 5-4-0
Fumbles-Lost 0-0 2-1
Penalties-Yards 5-45 5-45
Punts-Avg. 4-43.3 1-16.0
INDIVIDUAL STATISTICS
RUSHING: Richard Winn – Zack Taylor 3-5, B Baker 8-30, Dru Caldwell 4-39, Derek Branham 1-13, Drew Spires 1-1, Jacob Chaisson 1-(-5). Holly Hill – Marion Breland 17-204, Zach Pelloni 25-227, Crawford Thomas 5-6, Tyler Wright 4-21.
PASSING: Richard Winn – Zack Taylor 31-15-1. Holly Hill – Marion Breland 4-1-0, Crawford Thomas 1-1-0.
RECEIVING: Richard Winn – Derek Branham 4-25, B Baker 3-16, Gavin Douglas 4-48, Dru Caldwell 2-16, John Russell 1-11, Drew Spires 1-26. Holly Hill – Zach Pelloni 1-26, Harley Watkins 1-3, Perrin Breland 2-37.