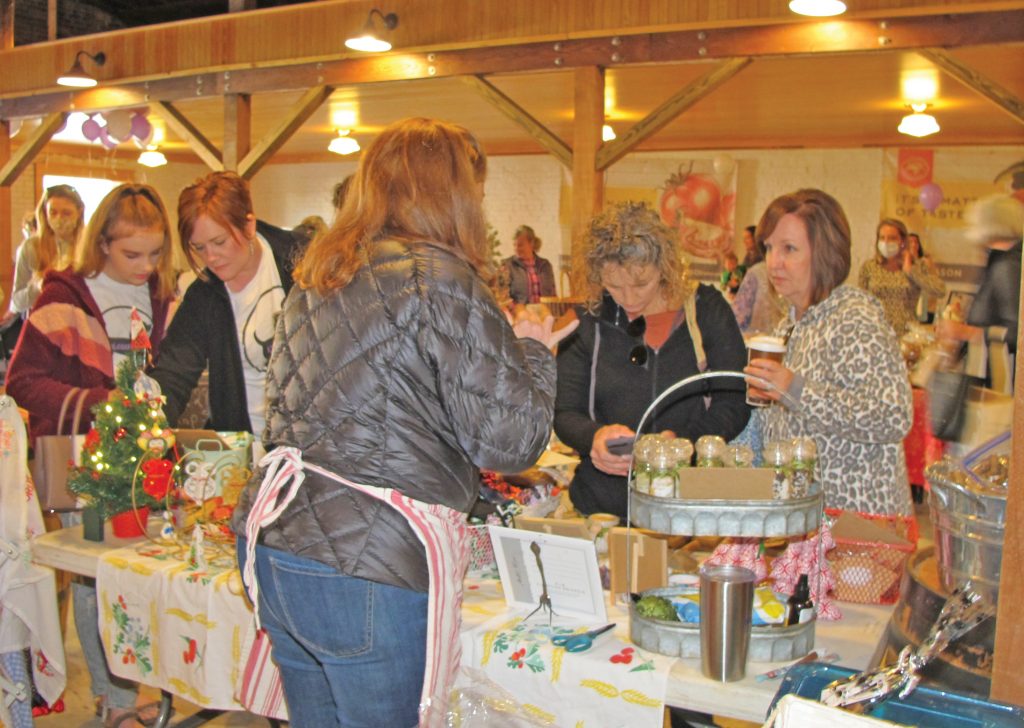 WINNSBORO – While families may not be able to gather this holiday season, there are still lots of holiday events to be enjoyed in the county.
Shop Small!
Everyone knows to shop small on Saturday, Nov. 28, but this year, more than ever, it's important to shop small every shopping day. Most local holiday events throughout December involve dining out or shopping. So be sure to do both in Fairfield County this Christmas season. Local shops need sales – lots of sales – so they can hang on until the new year. When contemplating the local holiday events in the coming weeks, shop small…shop Fairfield.
Holiday Market
The Fairfield County Farmers and Artisans Market vendors kicked the holidays off Saturday with the first of three Holiday Markets. The market building behind the clock was chock full of vendors selling everything from cabbage, cucumbers and shelled pecans to holiday decorations, glittery stick-on fingernail 'polish' and gifts galore. The next two Holiday Markets are set for Saturday, Nov. 28, and Saturday, Dec. 12, from 9 a.m. – 1 p.m. Vendors will be well stocked with great holiday items, according to Valarie Clowney, co-manager of the market. Location is in the county market building at 117 E. Washington St.
Winnsboro Tree Lighting
Winnsboro will be holding its tree lighting on Sunday, Nov. 29, at 6:30 p.m. This year's event will be virtual but nonetheless glorious, Fairfield County Chamber of Commerce president Gene Stephens said. Save the date, and watch for more information as it becomes available.
Ridgeway Tree Lighting
The Ridgeway Tree Lighting will be held in front of Ridgeway's Town Hall on Friday, Dec. 4, from 6:30 – 8 p.m. Following the tree lighting, attendees can take a tour of the town's Christmas lights – routes will be provided. After partaking in the many shopping and dining specials throughout the town, stop by Caldwell's Tree Lot (on Palmer Street) and purchase a live tree. Strap it on your car, and you'll be ready for Christmas.
Christmas music will be provided throughout the evening by emcee Donald Prioleau.
Angel Tree
The Angel Tree is a holiday tradition in the Fairfield community that makes Christmas special every year for about 250 of the county's senior citizens. Staff members at the Council on Aging's Senior Center have filled a tree in the Center's lobby with paper angels – each one representing a senior in the community who may live alone or be in need or perhaps one of the Council's Meals on Wheels clients or a senior who eats and participates at the Senior Center.
Members of the community are asked to stop by, pick an angel from the tree, then pick up a 32-quart plastic tote (provided by the Center), fill it with non-perishable items – soap, paper towels, socks, cleaning supplies, slippers, skin creams, soups, a special little gift, puzzle books, toiletries and other personal items – and return the tote to the Senior Center for distribution. Anyone wishing to pay for a tote to be filled and delivered, the cost is $35. For more information, call the Center at 803-635-3105.
Light Up the Town!
The Fairfield Chamber of Commerce in partnership with the Fairfield County Board of Disabilities and Special Needs (BDSN) has planned a special Christmas event that will bring the lights of Christmas to the whole community along with the spirit of Christmas.
"We're asking the agencies in the county to decorate a Christmas tree and display it in front of their buildings," Director of the BDSN, Laura Collins, announced in a press release earlier this month. "We ask that you leave these trees lit up every night for the entire month of December. It will be a wonderful way to light up Winnsboro during this Time of Corona so we can share our joys and spirit with each other," Collins said. The event will involve a tree competition and prizes awarded to participants. For more information and to register to participate, contact the Chamber (803-635-4242) or the Board of Disabilities and Special Needs (803-635-2154.)