COLUMBIA – 2020 was a big year for cross country in Fairfield County. Not only did Richard Winn's girls team win the program's first region championship, another up team in the county is rising.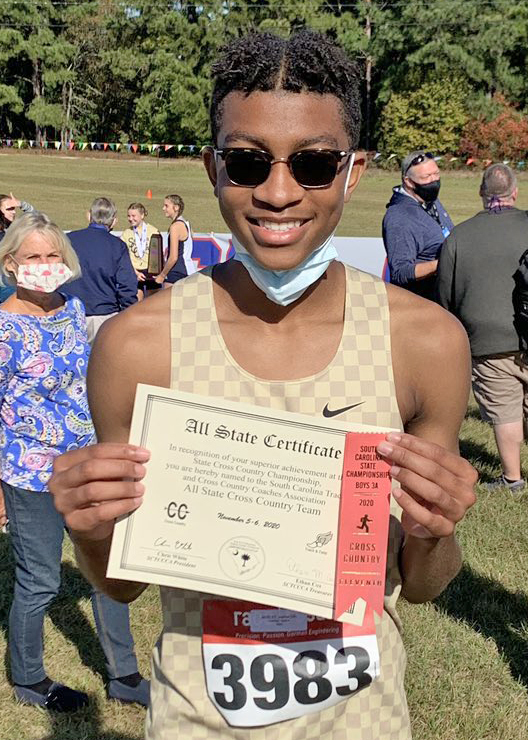 Midlands STEM Institute's (MSI) boys team competed in the 1A South Carolina High School League's State Championship meet on Nov. 5 at Sandhills Research Center in Columbia. The team finished 14th out of 15 teams competing, but they gained experience for the 2021 season.
Mikeole Younts, a junior who finished third for MSI, is the oldest of the team's runners. The team also looks to return sophomores Eli Moore (23:35), Michael Lucas (26:42), Ty'quarius Turner (29:43.98) and freshmen Trent Bullard (29:05.08) and Isaiah Pierce (29:10.79) next year.
Perhaps the biggest feat of the 2020 cross country season is the surge of Griffin standout Joshua Mosley. Mosley, a junior at Fairfield Central, finished the South Carolina High School League's 3A State Championship meet just one spot out of the top ten. Mosley's 16:53.54 finish put him in eleventh place of 89 runners, roughly 46 seconds behind the first place finisher.
Mosley finished fifth at the 3A State Qualifiers on October 30, and first at the Fairfield Central-hosted Region Championship on Oct. 21. The Griffin boys team finished second place of five teams at the Region meet, just one point behind Mid-Carolina.
Mosley's 17:18.11 finish topped all runners, followed by Luke Downs (19:06.08) in third, Nygel Woodard (20:07.01) in seventh, Hank White (20:59.02) in tenth, Adrien Jackson (22:10.56) in 14th, and Parker Douglas (23:20.68) in 18th place. The Griffins look to return these runners in 2021.
Fairfield Central's girls placed third of four teams at the region meet. Kensley Green's time of 25:27.70 put her in seventh place, followed by Kendis Green at 25:52.13 in eighth place, Jamie Downs (30:12.45) in 13th, and Celysha Jackson (33:50.02) in 19th place.