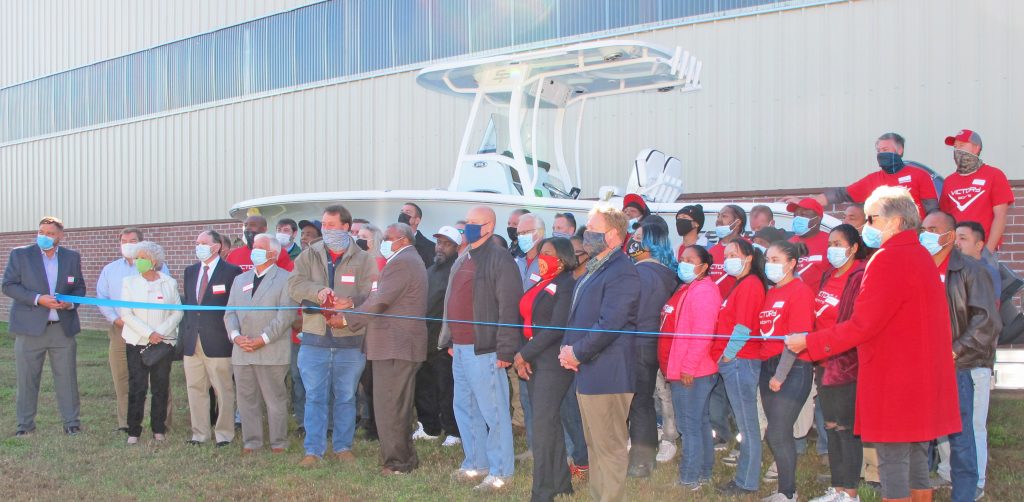 WINNSBORO – The grand opening of Sea Pro, a saltwater boat manufacturer, last week was well attended by town and county officials, Sea Pro employees and others from the community. The event was organized by the Fairfield County Chamber of Commerce. The Chamber's president Gene Stephens welcomed the company and thanked County Council, Fairfield County Economic Director Ty Davenport, and County Administrator Jason Taylor for bringing the company to Winnsboro.
With one of the company's imposing boats for a backdrop, Sea Pro owner Preston Wrenn and Mike Youngblood thanked the county, town and state officials for Sea Pro's warm welcome to Fairfield County.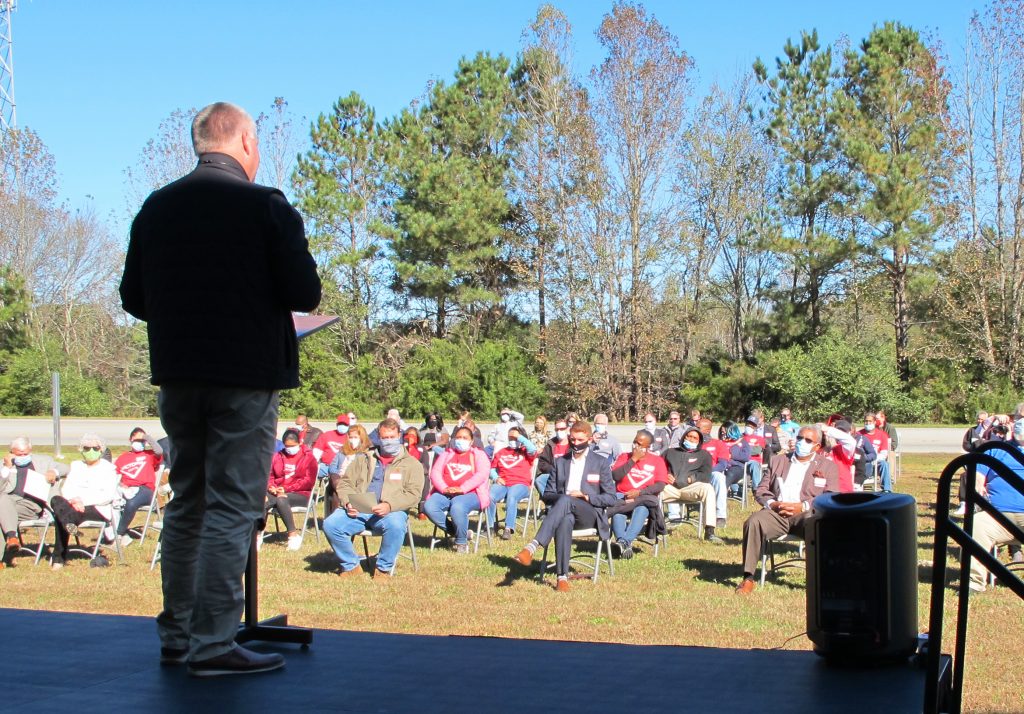 "The welcome we've received here is gratifying," Youngblood told the audience. "We thank you for your support and we're looking forward to many years of success here in Fairfield County." Youngblood let it be known that the company is especially thankful for and proud of its employees. "At Sea Pro, our employees are not social security numbers. They're family."
Wrenn echoed those sentiments.
"When you see this product in Maine, Florida, Texas and other states, you should feel a sense of pride," Wrenn told the audience, "because you and our employees have supported all that we're doing. We're thankful to be associated with this county, with Winnsboro, our employees and all of you."
Following a ribbon cutting that included local government dignitaries and Sea Pro employees, Doko Smoke catered a barbecue lunch on red tables across the lawn in front of the building. Tours of the facility were provided following lunch.
"We certainly wish them nothing but success," Taylor said following the ceremony. "We look forward to partnering with them to do whatever we can to assist them. Their success is good for Fairfield County."
The company acquired the building in March to expand its Whitmire-based manufacturing operation. While Whitmire will continue to manufacture 17- to 25-foot boats at their facility, the 24- to 32-foot boats will be built in Winnsboro going forward, Wrenn said.
"We currently have about 14 employees working in house, and we're looking to grow that to approximately 80 by next year, with a full hire-out somewhere in the 130 range in the next 24 to 36 months," Wrenn said.
The company is currently hiring and taking applications on Tuesdays and Thursdays from 1 – 3 p.m., at 396 State Highway 34 East in Winnsboro.