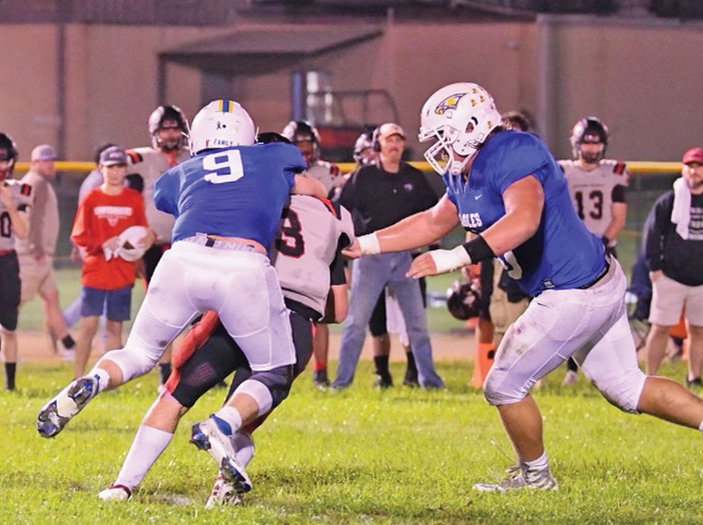 WINNSBORO – The Richard Winn Eagles (10-0) defeated Andrew Jackson Academy (10-2) by a 22-16 score on Friday evening, earning a spot in the 2020 SCISA 8-Man State Championship game. This will be Richard Winn's second appearance in the 8-Man State Championship since joining the 8-Man league in the fall of 2012.
Andrew Jackson (AJA) scored on its opening series of the game with a seven play, 65-yard drive that took nearly four minutes off the clock in the opening quarter. AJA added the two-point play and led 8-0 early on. This would be Andrew Jackson's only score until five minutes remained in the contest.
Richard Winn's opening drive lasted just over five minutes as it ran 11 plays, gaining 50 yards and scored an opening series touchdown as well. The Eagles two-point conversion was no good and they trailed 8-6 with three minutes remaining in the opening quarter. The Eagles forced a punt on Andrew Jackson's next possession. A muffed snap at the hands of AJA allowed Richard Winn to force a safety and tie the game at 8 after one quarter of play.
The two teams swapped turnovers as RWA threw an interception before forcing a fumble by Andrew Jackson. The fumble gave Richard Winn possession at the 30-yard line. After a delay of game penalty, the Eagles' Zack Taylor found Derek Branham from 35 yards out for a touchdown and a lead that the Eagles would not relinquish. Richard Winn added one more touchdown with 19 seconds left in the first half to take a 22-8 lead in to the intermission break as Dru Caldwell found Branham from 28 yards out.
Defenses came to play in the second half as the two teams combined for five straight series ending without a score. Each team's first series ended with a turnover on downs before three straight ended with punts.
Finally, with just over five minutes left in the game Andrew Jackson scored their second touchdown and then added the two-point play to make the score 22-16 in favor of Richard Winn. The scoring drive by Andrew Jackson went 15 plays and 86 yards before ending with a three-yard touchdown run.
The Eagles' next series ended with an interception for Andrew Jackson, but they was unable to do produce points and turned the ball over on downs. Andrew Jackson got the ball back one more time but Richard Winn's defense held them off.
The Eagles will face Holly Hill Academy for the SCISA 8-Man State Championship on Friday on the campus of Northside Christian Academy in Lexington. Kickoff is set for 7:30.
Passing– Z. Taylor (6-8-82-2-1) D. Caldwell (12-21-123-1-1)
Rushing– B Baker (6-20-0) Z. Taylor (7-19-0) D. Caldwell (5-3-0) J. Banister (1-0-0)
Receiving– D. Branham (4-71-2) B Baker (5-40-0) D. Caldwell (3-34-1) T. Tanner (1-24-0) G Douglas (3-23-0) J. Russell (2-13-0)