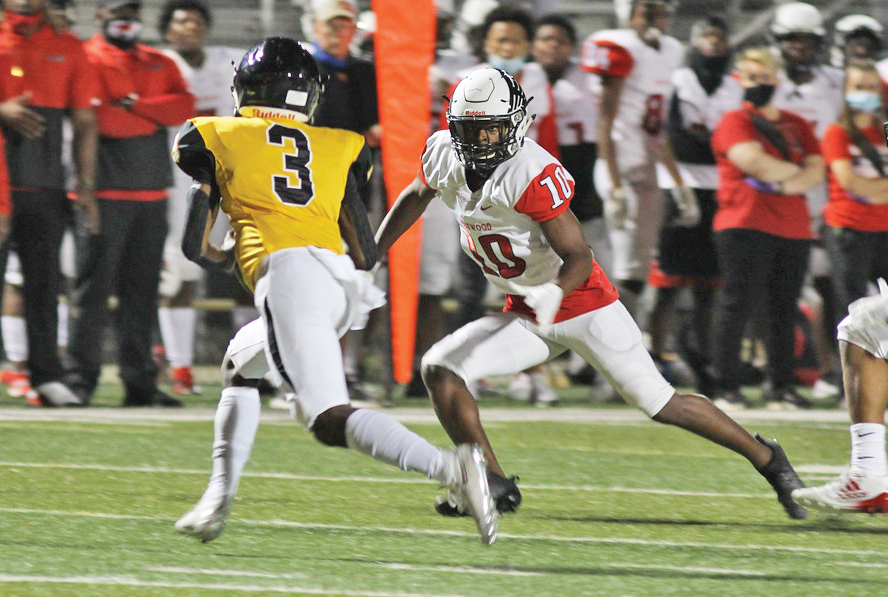 IRMO – Westwood head coach Matt Quinn knew exactly what went wrong in the Redhawks' lopsided 36-14 loss at Irmo, which ended the team's season.
"We ran out of gas," Quinn said. "We have not been in a weight room, and we have not been able to work out with our kids since March. [The Yellow Jackets are] working out. They're working out 5-6 days a week, and that showed in the second half."
After leading Irmo 14-8 in the second quarter, the Redhawks faded. Westwood's total offense in the second half was 15 yards and two first downs. The team managed to run five plays for minus-1 yard in the third quarter.
The year has been rough on Westwood (2-2, 2-2), which has played just four games in an already shortened season due to COVID. The Redhawk ultimately had to cancel their game with Dreher, while pushing nonregion games aside to allow for rescheduling two games.
The bumpy season, as well as having the weight room closed for everyday workouts, extracted a toll on the health of players, Quinn said.
"When we ran out of gas, we ran out of bodies, people started getting hurt, because we're not allowed in the weight room," Quinn added. "Hopefully we can get back to normal soon, and we can get our kids back in the weight room and get ready for next year."
Nick Gilliam was the team's leading rusher with 119 yards on 14 carries. He and quarterback Rashad McCain, who passed for 22 yards and rushed for 65 yards and a score, could not match the power running of Irmo's Dylan Williams, Diedrick Starkes and, Jayon Chambers.
Starkes had 109 yards and three touchdowns on 16 carries. Williams had 118 yards on 14 carries, and Jayon Chambers rushed 21 times for 104 yards.
The three athletes were the only players to carry the ball in a game determined almost entirely on the ground. Brand praised the unselfishness of Williams as well as the tenacity of Starkes, who is over 200 pounds and plays on both sides of the ball.
"Dylan's job is to lead us, and to put us in good situations and make the right decisions," Brand said. "When Starkes goes in, you know he's gonna get going downhill. We wanted to use our athletes. Especially in a game like this where it's winner take all, we didn't care if you knew what we were doing, but we had to get behind our guys, and our guys are the big ol' linemen up front with (Davion) Pyles (6-3, 280) and (Langston) Bryant (6-2, 265) and Torian Washington (6-1. 255) . We wanted to get behind those guys and we wanted to get downhill."
The game didn't start out that way.
Westwood charged into the game and running back Nick Gilliam laid into the Irmo defense in the opening drive. McCain capped the 10-play, 77-yard drive with a 1-yard touchdown run up the middle. Another McCain run added two points to give the Redhawks an 8-0 lead at the 7:56 mark of the first quarter.
After punting twice, Irmo took over on their own 43-yard line early in the second quarter. The Yellow Jackets eventually got a 35-yard run from Diedrick Starkes that set them up at the Westwood 10-yard line. Three plays later Dylan Williams pushed his way into the end zone from one yard out for the touchdown. Starkes finished the scoring drive with a 2-point conversion run that evened the score at 8 with 9:09 left in the first half.
Then came the hook-and-lateral that lit up the Westwood sideline. Facing a third-and-four at the Westwood 45, McCain took the snap and lofted a 10-yard pass to Noah Jennings that was good for a first down, but Jennings pushed a lateral toward Gilliam, who grabbed hold of it and rushed down the left sideline to complete the 55-yard scoring play.
McCain's 2-point conversion pass failed, but the Redhawks held a 14-8 lead with 6:07 to go in the second quarter.
"We felt that the corners had been playing off on us, and we felt that we could throw some hitches on them. We threw a hitch on a play a few plays before that, and we knew that could set it up for us."
Irmo made good on its final drive of the half, one heavy on Starkes runs. Starkes finished it off with a game-tying 4-yard TD run with 1:02 left. Jose Villanueva's extra point gave Irmo a 15-14 lead.
When second-half action opened up, the Westwood defense couldn't get off the field.
Irmo took the opening kickoff and drove 91 yards on 14 plays, which drained 5:40 off the clock. Starkes bulled into the end zone from nine yards out to close out the drive.
After the Yellow Jackets snuffed out a short Westwood possession, they went on another drive that straddled the third and fourth quarters and ended with another Starkes score with 11:23 left in the game.
Chambers ran his carries on the night to 100 yards on Irmo's last drive. He scored from three yards out to seal the win.
"Westwood was a little bit fatigued," Brand said. "I know they had had some weeks off, but that game fatigue is a little different than-having-played-a-game fatigue. They were gassed a little bit and we wanted to see if we could play fast on them once we saw they were gassed."
Irmo heads to Anderson to play Westside (5-1, 5-0). The Rams finished Region 1-4A undefeated but lost to 5A's T.L. Hanna 26-7 Oct. 30.
Westwood – 8-6-0-0 – 14
Irmo – 0-15-7-14 – 36
First Quarter
W – Rashad McCain 1 run (McCain run) 7:56
Second Quarter
I – Dylan Williams 1 run (Diedrick Starkes run) 9:09
W – Nick Gilliam 50 run (pass failed) 6:07
I – Starkes 4 run (Jose Villanueva kick) 1:02
Third Quarter
I – Starkes 9 run (Paul Wheeler kick) 6:20
Fourth Quarter
I – Starkes 1 run (Wheeler kick) 11:23
I – Jayon Chambers 3 run (Wheeler kick) 3:17
Westwood Irmo
First Downs 10 21
Rushes-Yards 33-201 54-328
Passing Yards 22 5
Att-Com-Int 11-6-1 1-1-0
Fumbles-Lost 0-0 0-0
Penalties-Yards 2-30 5-31
Punts-Avg. 3-42.3 3-37.7
INDIVIDUAL STATISTICS
RUSHING: Westwood – Nick Gilliam 14-119, Rashad McCain,11-65, Ali Brunson 6-14, Syone Beckford 1-3. Irmo – Dylan Williams 14-118, Diedrick Starkes 16-109, Jayon Chambers 21-103.
PASSING: Westwood – Rashad McCain 11-6-1. Irmo – Dylan Williams 5-1-0.
RECEIVING: Westwood – Nick Gilliam 1-3, Jaylin McDuffie 1-6, Pau Zavier 1-5, Noah Jennings 1-10, Trevion Gentle 1-0, Ali Brunson 1-(-3). Irmo – Jhamari Thomas 1-5.