WINNSBORO – Helen Porter Ellison, 99, born June 6, 1921 in Winnsboro, SC to the late Rebecca Boyd Porter and late William Burnice Porter, passed away on December 22, 2020.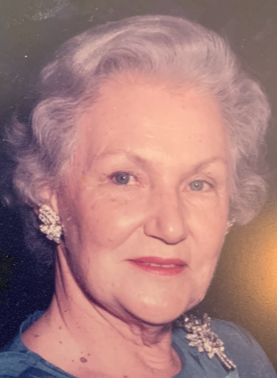 Mrs. Ellison was a member of St. John's Episcopal Church.  She was a graduate of Columbia College and taught school at Lexington, Chester, and Fairfield Counties.  She was the sole proprietor of Lady Fairfield, a lady's dress shop on main street in Winnsboro.  She enjoyed interacting with her grandchildren and playing bridge with her friends.  She was a devoted wife, mother, and grandmother.  She especially enjoyed car riding with David, her husband, almost daily. 
Mrs. Ellison is survived by her children, David G. Ellison, Jr. (Dee) of Edisto Island, Robert B. "Bobby" Ellison (Amelia) of White Oak, and William D. "Billy" Ellison (Lucia) of Lexington; grandchildren, James Ellison of Rwanda, Dr. Candice Ellison (Teddy) of Morgantown, WV, Augusta Ellison of Denver, CO, Audrey Ellison of Sacramento, CA, and Boyd and Creighton Ellison of White Oak, SC. She is also survived by brother, John Fredrick Porter (Toni) of Wellford, SC.
In addition to her parents and husband, Mrs. Ellison is predeceased by brothers, William Burnice Porter, Jr. and Robert Boyd Porter; sisters, Margie Porter Ginn, Bertie May Porter Shealy, and Edith Porter Pope; and stepsister, Frances Schmidt Motes.
A private family graveside services was held at St. John's Episcopal Cemetery.
In lieu of flowers, memorials may be made to St John's Episcopal Church, 301 W. Liberty Street, Winnsboro, SC 29180 or to a charity of one's choice.
Pope Funeral Home is assisting the Ellison family.
Online condolences can be sent to the Ellison family at www.popefuneralhomesc.com.