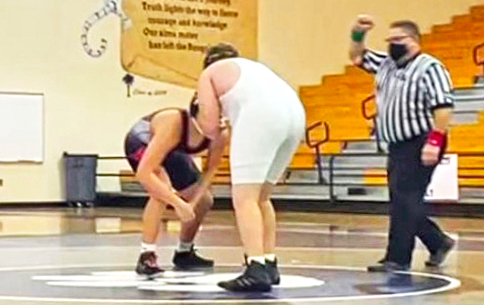 BLYTHEWOOD – Six seconds was all it took for Rilan Harkness to set a school record Jan. 13.
Harkness, a senior wrestler who moved into the heavyweight class for his matchup against Blythewood, swept the legs from under Preston Ginn, then moved his body on top to collect a pin within six seconds.
"I was thinking about beating the record cause I said I was gonna do it. I had it on my mind already," Harkness said. "That's what I planned on doing, just getting him down as fast as I could and get him on his back."
Harkness, who is naturally about 214 pounds and usually wrestles at the 220-pound weight class, also won the belt for Wrestler of the Day.
"He wanted to bump up to heavyweight for this match," head coach Brian Bush said. "We are light on guys this year, and he's a senior, so I said that was fine with me."
The preference for wrestlers is for them to cut weight, or go down a weight class in preparing for matches.
"When it comes to heavyweight class, the guys are 240, 250, 260 pounds," Bush said. "Rilan's a light 220. He's really 214, so his biggest advantage would be speed. I told Rilan to just use his speed when it comes to wrestling the big boys."
He did, and it was a bright moment for Harkness and the Westwood team in a season marred by the Covid global pandemic.
It's been a difficult year. The hardest thing for us is we dropped from 35 wrestlers who said they were interested on the first day of practice to about 10 or 11," Bush said because of the pandemic. "We've taken super precautions. We're bringing four and five bottles of hand sanitizer and wipes to every match. Just hearing these kids talk, they're scared and nervous about it. Knowing that, I'm not here recruiting. I can't be selfish this year with anything."
The Redhawks go to Lugoff-Elgin Jan. 30 for the Region 4-4A individual tournament. There, Harkness said he may cut weight and wrestle in the 195 class, or remain in the 220 class. At any weight, he said he's making the most of his senior year.
"This year's been pretty good. It's been different from every other season but it's been good so far, for me personally," he said. "I'm not thinking of college, wrestling in college. For me it's just something to keep me busy."