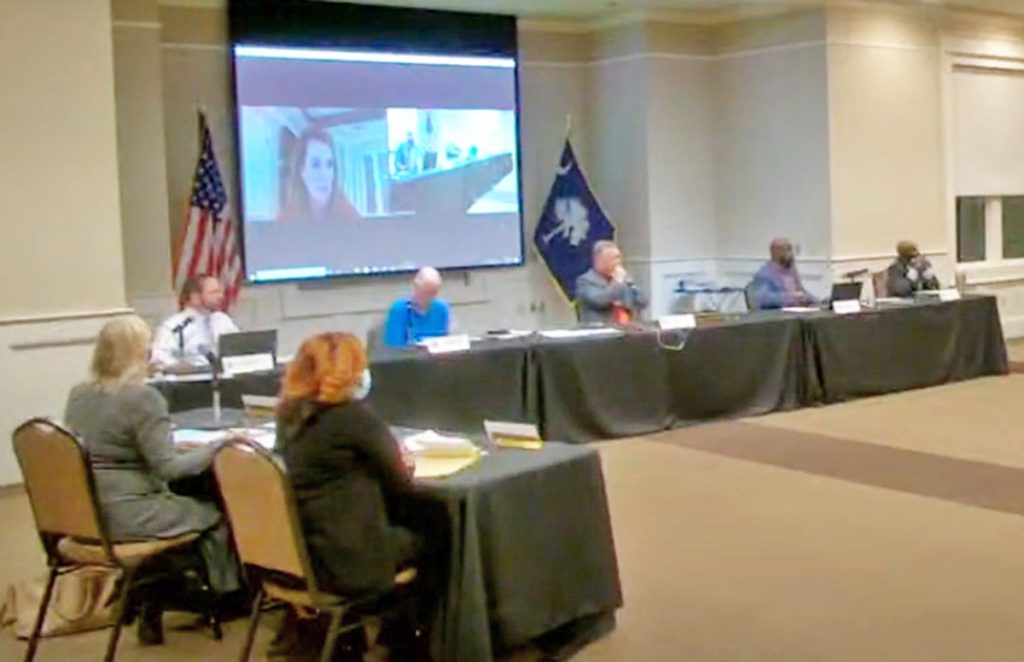 BLYTHEWOOD – After months of contentious wrangling over who should receive 30 percent of the Town's SAT (state accommodation tax) funds to market and brand the Town of Blythewood, town council voted 3-2 in favor of a Columbia firm, MPA Strategies.
The Greater Blythewood Chamber of Commerce and MPA were the two finalists out of three organizations who submitted proposals. The third submission came from NP Strategy, a wholly owned subsidiary of Nexen Pruitt law firm in Columbia. The Town dismissed that proposal which, at almost $100,000, was out of the Town's price range.
The issue of marketing the town came up last September after Blythewood town leaders became disenchanted with promotional efforts the Town was paying Experience Columbia – approximately $26,000 annually. By law, the Town must give 30 percent of its SAT funds to a non-profit organization with a tourism component. That organization uses the funds to promote tourism for Blythewood.
Mayor Bryan Franklin said he didn't feel the town was getting the 'bang for its buck' from Experience Columbia.
Councilman Donald Brock suggested that council come up with a better marketing strategy through a different marketing firm to meet the Blythewood marketing needs.
"One of the things I want us to take a hard look at is a rebranding or creating an identity for our town," Brock said. "We have a nice logo, but outside of that, what else do we have?"
Former Town Administrator Brian Cook suggested Ashley Hunter's firm, MPA Strategies, and Hunter was invited to make a presentation to council. Because MPA Strategies did not have a non-profit status at the time and was not eligible for the 30 percent SAT funds, council issued an RFP (request for proposal) to attract proposals from other organizations. Only three answered the RFP – MPA Strategies, NP Strategies and the Greater Blythewood Chamber of Commerce.
MPA Strategies
Hunter's proposal included promotional services to include media relations, website development and maintenance, marketing and digital media specific to Blythewood and its events. Plus, Hunter said, her statewide public relations firm has five full-time staffers, two part-time staffers and a public relations intern.
MPA's municipal clients include Greenville, Summerville, Cayce, West Columbia, Fountain Inn and Camden, plus others.
MPA Strategies also proposed grant writing services, something Franklin said he found attractive in the deal. With two certified grant writers on staff. Hunter said MPA writes about $3 million in grants for clients each year and is awarded about $2 million of those grants.
"I've always talked about wanting a grant writer…she is a grant writer in addition to her marketing and publicity skills," Franklin said. "So we need this. Even if you guys were to go against this and say we're not doing this at all, I would still come back to you and ask for a grant writer," Franklin said.
A sticking point for some council members, however, was that MPA did not have a non-profit component. Hunter announced Monday night, however, that her firm recently acquired a 501C(3) status, making it eligible to receive 30 percent SAT funds.
Blythewood Chamber
The Chamber's proposal to market Blythewood included 'partners,' all of whom were members of the Chamber, to do the promotional work for which the Chamber would earn 10 percent for overseeing the 'partners' work. While Chamber Director Phil Frye offered at the Jan. 25 meeting that he had no expertise in social media and other areas of promotion he suggested setting up an advisory committee to include town hall administration, staff, chamber staff, the mayor and council to help with the oversight and direction of the partners' work.
I'm looking for the best for the town," Councilman Larry Griffin had said at an earlier meeting, questioning the Chamber's ability to manage a number of separate organizations. "A non-profit organization is not going to have in its membership all these professionals."
"Every single one of my resources are chamber members. I do propose to use professionals," Frye said.
As an example of the kind of services his professionals could provide, Frye said that with proper advertising for Blythewood at, say, the Masters in Augusta, "You could have people spending one day at the Masters and they could spend the rest of the time in Blythewood. We recognize these targets."
At the Monday night meeting, Brock questioned who the Chamber's partners are, asking specifically about its grant writing expert. Brock noted that of the four grants the chamber's proposed grant writer had written, only one was successful and two were not grants but requests to the Town for funding for the Chamber, and he suggested the fourth grant was not successful because of the grant writer's lack of expertise in grant writing. He also noted that she had not written a grant since 2018.
Franklin finally asked each councilman Monday night, before the formal vote, to say whether they preferred MPA Strategies or the Chamber. Franklin and Baughman said they preferred the Chamber to handle Blythewood's marketing and branding. Larry Griffin, Sloan Griffin and Brock said they preferred MPA Strategies, ending considerable back and forth over several months' time with a 3-2 roll call vote in favor of MPA Strategies.