CLOVER – Blythewood junior wrestler Chloe Franco has lived her life thus far by a simple equation.
"One of my coaches told me once, dedication plus determination equals domination," she said. "I've just lived by that."
Franco, who wrestled in New York State before moving to Blythewood midway through her freshman year, has shown that equation on the mats as recently as Saturday. Franco won the women's state championship in the 118-pound weight class during the individual women's state championships held at Clover High School.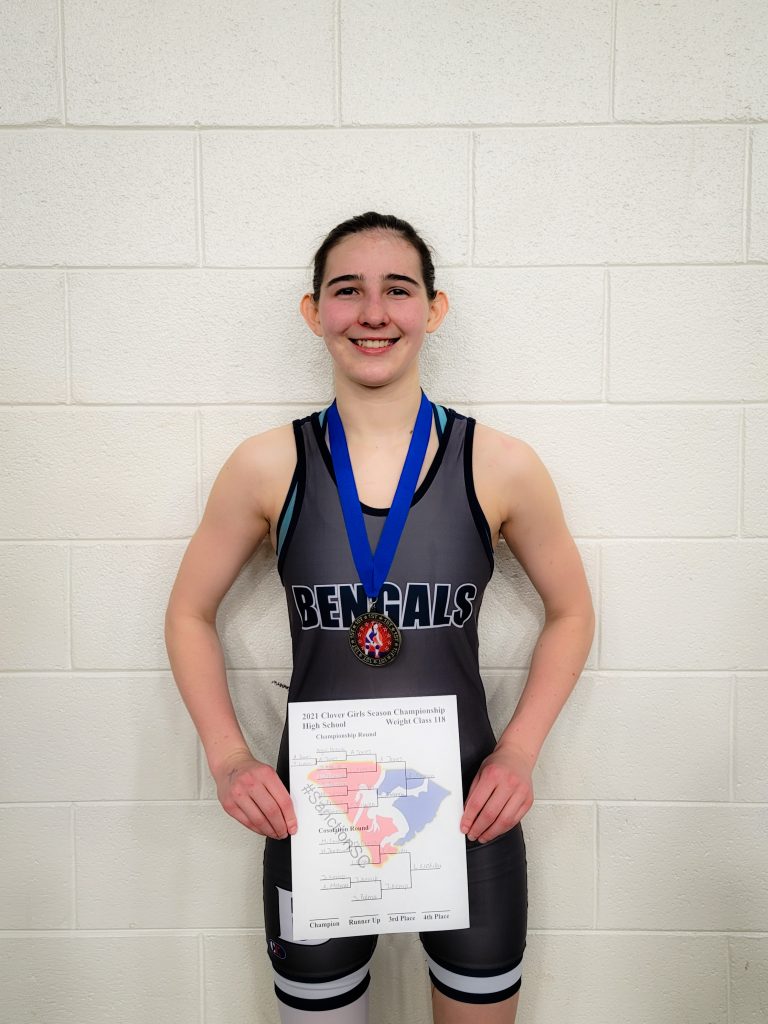 "It was very motivating, very nice to see so many girls out at the state tournament," Franco said. "For me it was going out and having fun. That was my main goal, it wasn't so much about the winning."
Along with Franco, Blythewood freshman and first year wrestler Elizabeth Vequilla took third in the 125 class. Aby Ely took the women's middle school state championship at the 135 class, her second-straight placement in middle school competition.
Blythewood's girls, and the women's individual state championships, give Franco hope that very soon, Blythewood and other schools will have women's wrestling teams.
"I'm happy right now that the sport has grown so much," she said. "When I was in the sixth grade there were only two girls on the team. Now we have four girls, and I'm really excited that we only two more girls so we can have a team. We've been trying to get women's wrestling sanctioned (by the South Carolina High School League), we just need more girls."
The championships last weekend were not sanctioned by the High School League. The League has not recognized women's wrestling yet—although Franco and Blythewood head coach Paul Watson believe that the day women's wrestling is sanctioned by this state, as well as in other states, is coming soon.
"It's not new," Watson said of the women's state championships. "When I was at Dreher I held the women's state championships for the first time, and there were 30 girls at that tournament. The turnout has gotten better each year. One of the positive things is that there were college recruiters there looking at the kids. It's a great event that Coach Mike Fitzgerald at Clover hosted."
Having all-girls wrestling events is important because it brings in a different wrestling style.
"Females are a lot more flexible and a lot more resilient with pain, but guys are more in-your-face and aggressive," she explained. "It's just different. Wrestling with the guys has been a big part of growing into wrestling. With girls it's a different feel. Boys are a lot stronger, so as a result I've had to change the way I wrestle. I have to do everything based on pressure. It's just a different kind of wrestling."
Whether going up against boys or girls, Franco holds her own at whatever weight class she wrestles.
"Immediately we could tell she had good skills and won some big matches for us for the last two and a half years," Watson said. "She's just a great wrestler, a student of the sport, a hard worker. She loves learning new techniques, and she does not give up. She's very tough to pin."
Franco has a chance to qualify for the state individual tournament if she gets a win against her Northwestern opponent in Blythewood's match Feb. 10.
"Right now I'm just trying to get my weight up and compete a bit better and get more techniques down in practicing with my team," she said.
In the long run, she's working on entering the Air Force Academy. From there, she hopes to bring women's wrestling along.
"Wrestling has been more of a motivation for me to excel past my physical barriers in everyday life," she said. "I'm planning on going to the Air Force Academy and start a club there if I can."
That's where her simple equation, dedication, determination, and domination, falls into place, whether it's on the mats or in the classroom. And if a women's wrestling team is still some years away, she knows that the work that she does now will sow the seeds of future programs.
"Even if we don't have a women's wrestling team next year, I hope my actions now will benefit others."