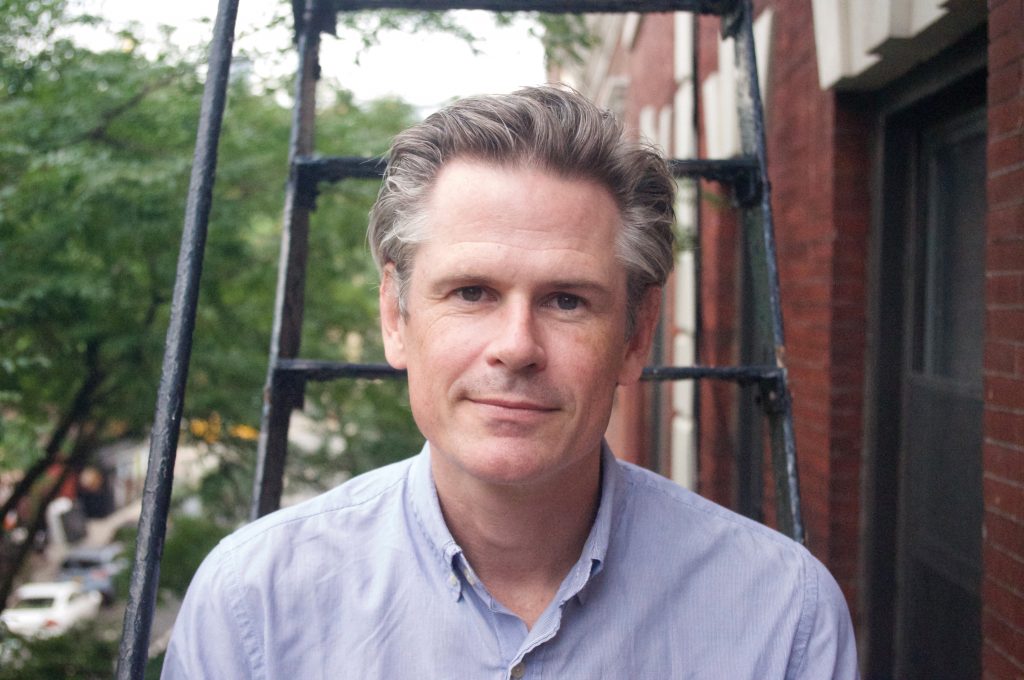 MANHATTAN – Winnsboro native Jack Livings' first novel, The Blizzard Party, published by Farrar, Straus and Giroux, will debut in bookstores on Tuesday, Feb. 23.
In early reviews, Publishers Weekly hails it as "brilliant," and Booklist describes it as a "literary feast." Kirkus Reviews states, "Livings' nearest model may be the doorstop-sized novels of Tom Wolfe … but [Livings is] a far more skillful and empathetic novelist."
Livings, 46, resides in Manhattan with his wife, writer Jennie Yabroff, and their children, ages one and a half, eight and 16, but he grew up in Winnsboro, where his mother, Laurens Livings, still lives. A graduate of Richard Winn Academy and Davidson College, Livings received an MFA in fiction from the Iowa Writers' Workshop. Formerly an International Editor at Time, Inc. and an Editorial Director at Meredith Corporation and then Fortune Media Group, he now writes full-time and takes on select editing projects.
The Blizzard Party is the second of Livings' two-book deal with FSG. The first, a 2014 short story collection titled The Dog, won the 2015 PEN/Robert W. Bingham Prize. The novel, Livings said, took off in a new direction from his earlier work.
"I deliberately wanted to write something that was almost boundary-less," he said in an interview with The Voice. "The short story form was very constrictive and restrictive, which is good, I think. It's like a sandbox that you play within. But with the novel, I wanted to see what I could do if I ripped the sides off the sandbox.
"It's not everybody's cup of tea, because it doesn't reveal itself to you early," he said. "It jumps from here to there to there. But, I promise, it all comes together in the end."
Livings said he wanted to set the novel in New York City in 1978, because he was born in New York and lived there until the spring of 1978, the year he turned four. That's when he and his mother left for Winnsboro.
"So there's a deep emotional connection to New York that I felt as I was growing up in South Carolina," he said. "One of my favorite things to do is read through old copies of the New York Times."
That's where he found the backdrop for his story – a storm, a catastrophic blizzard that hit New York in February, 1978.
"It actually started as a storm off South Carolina that rolled up the coast, locked in with two other storms and just spun over New York," he said. "It was perfect."
The novel centers on six-year-old Hazel Saltwater, and her experience on the night of the blizzard.
"She wound up at a crazy party in the penthouse of her apartment building with her mom," Livings said. "Hazel was asleep in a back bedroom while her mom was out mixing and mingling. A number of events converged, and Hazel wound up being the witness to a murder. It took place at the party, in front of everyone in the party, but no one was a reliable witness. She was the only reliable witness. And that's the core of it.
"Her father was a novelist, and he took [the events of] that night and wrote a story called The Blizzard Party, which became a famous novel and won all kinds of prizes. It came to define who Hazel was, because he didn't change anyone's names. So there was a Hazel Saltwater in the book," he said, "and she felt like she never got to be herself. And so this Blizzard Party that I wrote, is her attempt [as an adult] to re-write her father's book. And what she's essentially done is create a conspiracy theory about her own life."
Livings began taking notes for the novel a decade ago, and wrote the first draft, a manuscript of around 750 pages, during an 11-month literary fellowship in Rome, Italy in 2016-17. The residency was awarded as part of the Rome Prize in Literature, which he received from the American Academy in Rome. It provided a $28,000 stipend, living quarters, meals and a workspace, and his wife and youngest daughter were able to accompany him. After returning from Europe, Livings reworked the manuscript several times, editing it down to its final length of around 400 pages.
After previously keeping to a schedule of waking at 4:30 a.m. to write before going to work, Livings said the uninterrupted time to write in Italy was "a massive gift." The ambiance of Rome, he said, was a particularly good fit for a writer.
"Italians are an incredibly warm, generous people. And Romans, especially, don't have any concept of time. It's like, why don't you show up at three? And they show up at six. To me, Rome feels like it runs on historical time. And I think that's a good space to be in as a novelist. I never felt rushed.
"I hadn't had that much consecutive time to work since I was in graduate school, really. To be able to write six, seven, eight hours a day, five days a week, was incredible. I realized I was not nearly as slow a writer as I thought I was.
"I feel like my entire life in New York is about not quite being able to keep up; we're constantly coming up short on time. Then we went over there, and both of us were just like, oh, wow. Mentally and emotionally, things slowed down and we could pay attention. And that's a good place to be as a writer. You're supposed to be paying attention."
A virtual book launch party will be hosted the evening of Feb. 23, by Community Bookstore in Brooklyn. Registration for the event is available at communitybookstore.net/livings.
Livings' most recently published short story, River Crossing, appeared in the Winter 2020 issue of Paris Review, and he is currently at work on a new novel.
The Blizzard Party is available for pre-order on Amazon.com, at Barnes and Noble, and at independent bookstores.