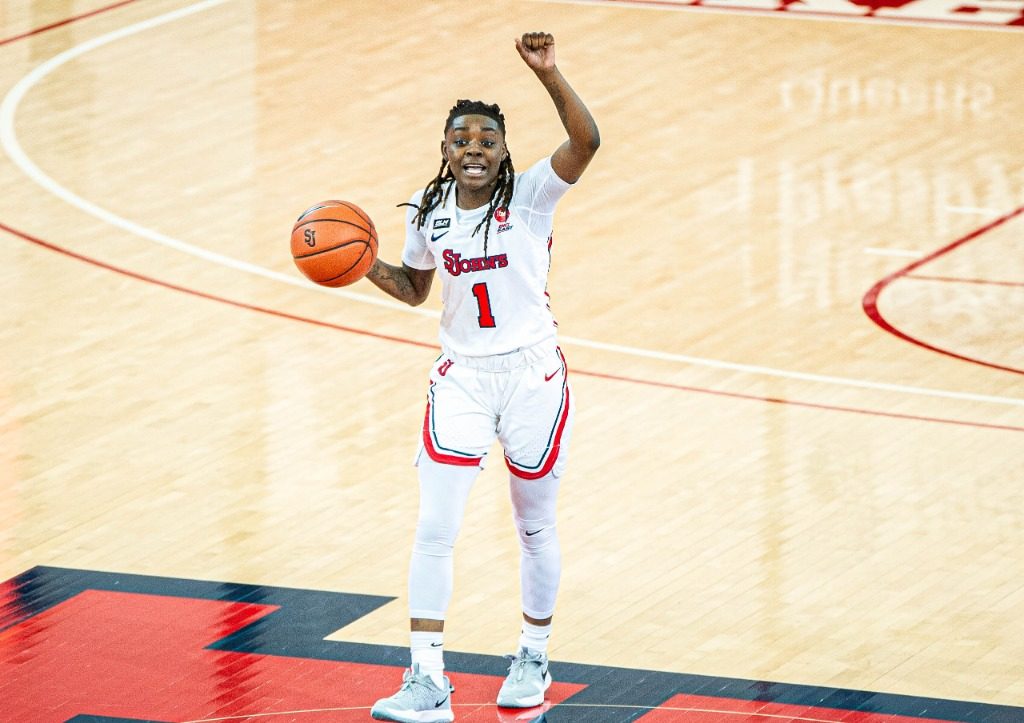 QUEENS, NY – Gone is the bouffant hairdo that Westwood basketball crowds were familiar with as she led the Redhawks deep into the postseason. The St. John's point guard sports more practical dreads.
"My mom has dreads, so I just decided that I might as well get them," she said. "And with a lot of our games being back-to-back, I didn't have the time. For me, it's very conventional."
What is still present on the court is the Westwood work ethic, which she says is tried and true.
"Westwood forever. I love Westwood," she said. "They made me where I am today. From my freshman to senior years, that's really where it all started. I want to thank Westwood community for doing all what we and Coach (Gregory) Bauldrick, he's the best. He taught me a lot."
What Drake learned, in short, is to be humble, to work constantly at getting better, and when the time comes, show up and play. She's been doing that ever since she found a home with the Red Storm, which took note of her play in Blythewood and did everything to get her up to New York City.
"They had called me one day, and then a week later I went up on a visit," she said about the recruiting process back in 2018. "When I was up there I got to the atmosphere and met the coaching staff. It felt like home, that's what made me decide to come here."
Drake caught a lot of attention as a four-star recruit. She ultimately chose St. John's over offers from Clemson, North Carolina State, and East Carolina, as well as Florida International, Charlotte, and Winthrop.
She solidified her place among the Westwood athletic elite after leading the Redhawks to the 2019 upper state championship game. The 5-7 Drake also finished out her career as a 1,500-plus point scorer, averaging 17.0 points per game over 107 games. She was a first-team 2018 USA Today South Carolina and in 2019 was nominated for the McDonald's All-American game as well as a runner-up for the Gatorade Player of the Year.
Once she was headed to St. John's, Drake knew that those accolades were promptly relegated to the past. Ahead of her lie Division One basketball in, of all places, Queens.
"It was a big transition from there (Blythewood) because up here it's really cold, it's way busier up here, a lot of cars and traffic, a different economy. It's loud, but all of it gives you a lot of energy, it's never a dull day."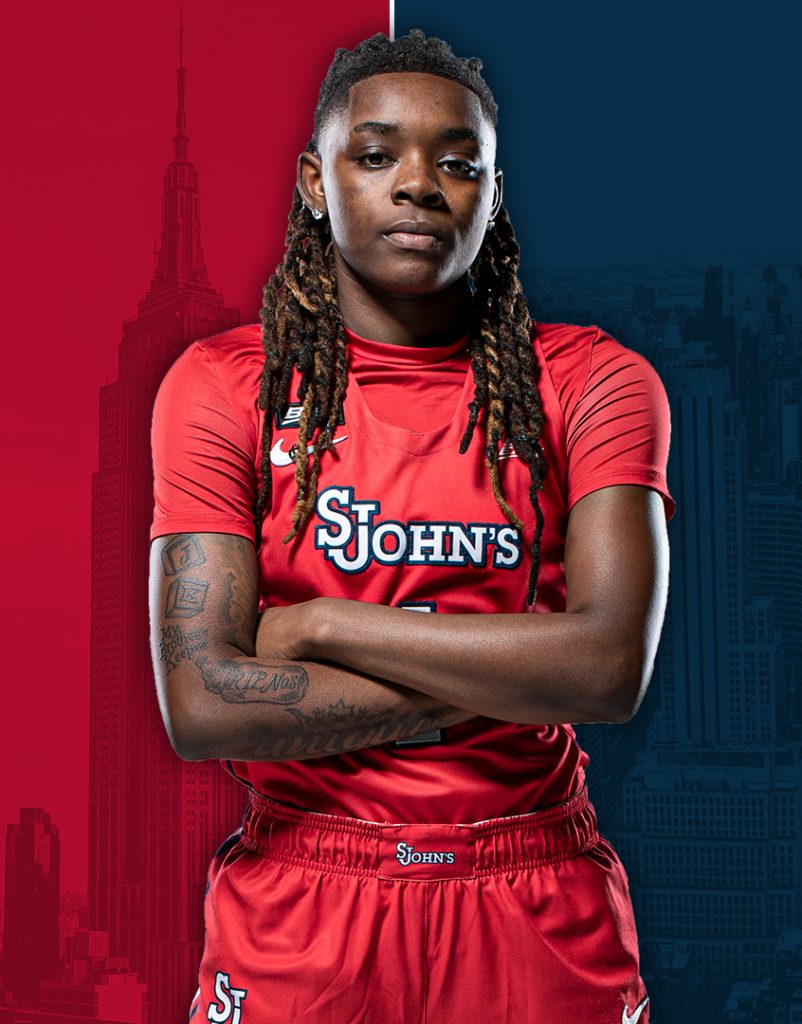 Amid that changed environment, Drake went to work. She knew coming in as a freshman that she was going to show what skills had brought her to St. John's, and that she had to watch the upper classmen work and play to get a feel for the obvious change in tempo from high-school play.
"I wasn't expecting to start," she said. "I needed to learn the game more and watch the upper classmen to see what I needed to do to get on the floor. I wanted to work hard and see where I was going to go."
In the 2019-2020 season Drake didn't start, but she did play 204 minutes in 27 games. Her first double figure scoring game was an 11-point effort against James Madison University Nov. 17.
"I went into that game and just felt ready to play," she said. "You don't think too much about the competition, they're there. For me it was just putting out the same intensity just as I was an upperclassman."
That season the Red Storm went 19-12 overall and posted an 11-7 Big East mark. The Johnnies reached the second round of the Big East tournament before falling 78-55 to Marquette.
Not long afterward, the coronavirus shut down all NCAA basketball tournaments, along with just about every other athletic and social activity in New York, the United States, and the world.
While the Covid-19 global pandemic had its effects, Drake said she knew her sophomore season was soon to come, and she would have to get ready for it. She had adjusted to the flow of the college game by then, but she knew she had to be a better point guard, and that meant hitting the weight room regularly, working on agility, and taking time to perfect her ball-handling skills.
"When I was a freshman I noticed all the other point guards were built and toned, and I didn't have that," she said. "So I had to get my body in shape. I worked hard on my shot a lot and on my handles. I know I was going to be touching the ball, and I had to make sure my handles were solid."
This year, St. John's (5-9, 2-7) has struggled in the Covid era, with five cancellations or postponements and only eight games remaining. Drake, however, has come into her own as a court leader. She's started 13 games and averages 7.9 points
Against Villanova Jan. 25, she scored a season-high 21 points and five assists. Villanova won 81-78 in overtime, but Drake's point total in the absence of senior guard Qasashah Hoppie, the team's second highest scorer who went down with a shoulder injury, showed that she has indeed elevated her game.
"I felt loose. I felt like I needed to play," she said. "I had to step up my defense and offense, and now I need to be a leader on the floor without Q. It took me a couple of games to get used to being the point guard and running the offense. (The) JMU (game) showed me that if I could do it, it could be done."
Drake keeps close ties to her family in Blythewood, but said she has a second home at St. John's. That's good news for the Red Storm.
"Life is going as it should. I'm just happy where I am and where this is going. I'm not somewhere I don't want to be. Here, I feel like you have to grow with it, grow into the moment."