BLYTHEWOOD – Westwood's girls basketball team's playoff run came to an abrupt end Saturday afternoon, thanks to the hot shooting of Travelers Rest's Mallory Bruce and the tenacity of the Devil Dogs under the nets.
The Redhawks, fresh from winning their fourth straight Region 4-4A championship, ran right into Bruce, whose 22 points boosted Travelers Rest to a 59-53 victory in the first round of the Class 4A playoffs.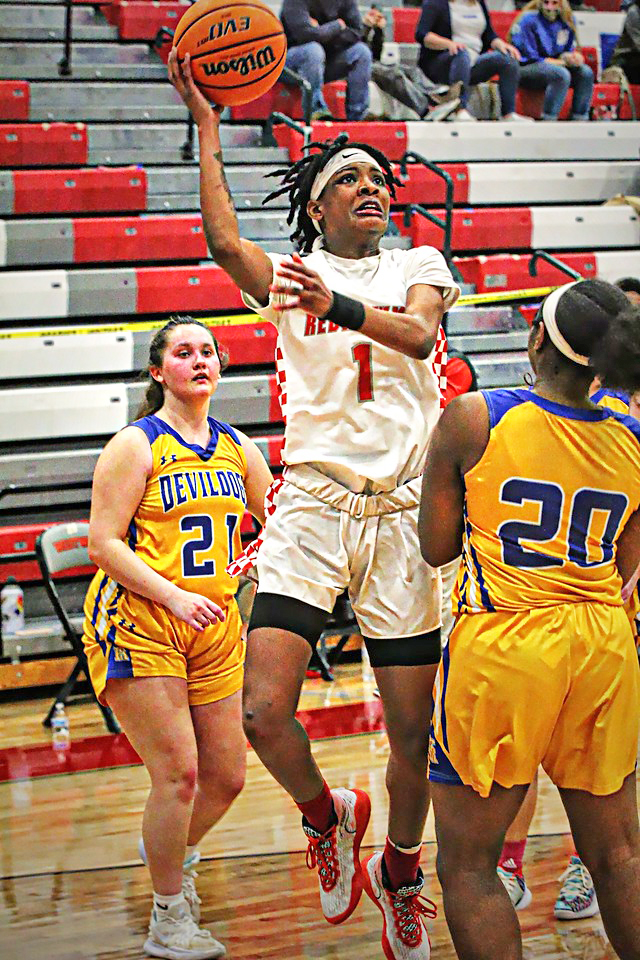 "We dug a hole for ourselves in the first quarter. I wouldn't say it was too deep to get out of, because we got ourselves into a position but we could never really push past certain points," Westwood head coach Gregory Bauldrick said. "We had a few bad shots, and probably some bad coaching at some points."
Rily Brown and Kloey Pickens joined Bruce in double figures, with 16 and 14 points, respectively. But it was the team's defense that stifled the Redhawks (10-4).
"Our team is led by five seniors who've been playing together since their freshman and sophomore years," Devildogs head coach Lindsay Baber said. "When they come out ready to play, and when everything's on the line, they do what they have to do. Defense wins championships, and that's what they did. They played solid defense and worked together."
Travelers Rest (8-6), which finished second in Region 1, moves on to play at South Pointe, which beat Greer 55-52 Saturday.
"We certainly knew that we had a talented, well-coached team coming in," Bauldrick said. "The Bruce kid, she is as advertised. We understood that the playoffs were starting in the second round (because of the Covid Pandemic restricting the size of the postseason bracket). It was going to be a tough match."
The Devildogs wasted no time in attacking Westwood, running up a 12-2 lead in the first three minutes of the game and using seven Redhawk turnovers to close out the first quarter with a 16-7 lead.
Westwood opened the second quarter with an 8-1 scoring run that got the Redhawks to within 16-15 at the 4:41 mark. Within one minute of play Brown followed up with a 3, Pickens a basket, and Bruce scored a 3-point play to give Travelers Rest a 25-15 lead.
Such was the way it went for Westwood, which engineered small bursts to keep the game close. The Redhawks closed out the second on a 7-2 run to walk into the locker room trailing 27-22 at the half.
TraShawna McCant stepped up for seven points in the third quarter, and a McCant basket got Westwood close again, within 32-30 with about five minutes to play in the third. Once again, Travelers Rest responded with a 12-5 stretch in those last five minutes to bring a 44-35 lead into the final quarter.
With their backs to the wall, the Redhawks went all out to break into the lane guarded by Pickens and Emma Baker, who combined for 16 rebounds on the afternoon. Westwood broke out on an 11-3 scoring run in the first three minutes. Malayziah Etheridge pulled down a defensive board to set up McCant's layup that gave the Redhawks their first lead of the game, a 48-47 advantage at the 4:20 mark.
At that point Westwood needed to stiffen up defensively and control the basketball. Travelers Rest, which up until then had controlled the tempo of the game, refused to let that happen.
The Devildogs responded with a Bruce basket a minute later, followed up with a Pickens basket 20 seconds after that to give Travelers Rest a 51-48 lead with 3:10 remaining.
"They were definitely the better team tonight," Bauldrick said. "They seemed to be a little bit more comfortable than we were in our own gym."
Bruce, who got points when the Devildogs needed them, and fed the ball to her teammates the rest of the time, led the way. Bruce signed with UNC-Asheville in November.
"Mallory, she's all over the place," Baber said about Bruce's leadership on the court. "She takes a beating sometimes because people faceguard her and are hands on most of the time, but she's a facilitator. If it's not her shot, she's going to create space and pass it off to somebody wide open for a 3. She did that and they just played really well together."
The Redhawks never retook the lead.
The Devildogs finished the final thee minutes with two foul shots from Brown, a basket and two foul shots from Bruce, and a bucket from Pickens to close out the win.
"It's tough. I'm very disappointed for our seniors, who for four straight years have been region champions and having opportunities of making a deep playoff run that fell short tonight. But we certainly thank them for what they've given to the program."
The Redhawks finish a year pocked with game postponements, game cancellations, and practice cancellations due to the pandemic.
"Just having the opportunity to play any game was a win," Bauldrick said. "We'll take that. But our program was dealt the same hand that everyone else was dealt. Whatever we had, they had. Regardless of the conditions, we're way past moral victories in Westwood girls basketball, but we'll learn from it."
Also on Tuesday night, the Blythewood boys (8-6. 5-3 Region 4-5A) fell 78-62 at Mauldin (14-6). The Mavericks, which finished first in Region 1, play at Riverside in the upper state bracket of the 5A playoffs. The Warriors knocked off Gaffney 86-71 Tuesday.
Westwood girls
Travelers Rest – 16-11-17-15 – 59
Westwood – 7-15-13-18 – 53
Travelers Rest – Mallory Bruce 22, Riley Brown 16, Kloey Pickens 14, Hartin 5, Baker 2.
Westwood – Malayziah Etheridge 16, Trashawna McCant 15, Jessica Woods 11, Daniels 6, Mintz 3, Scott 2.
Blythewood boys
Blythewood – 13-17-13-19 – 62
Mauldin – 20-14-18-26 – 78