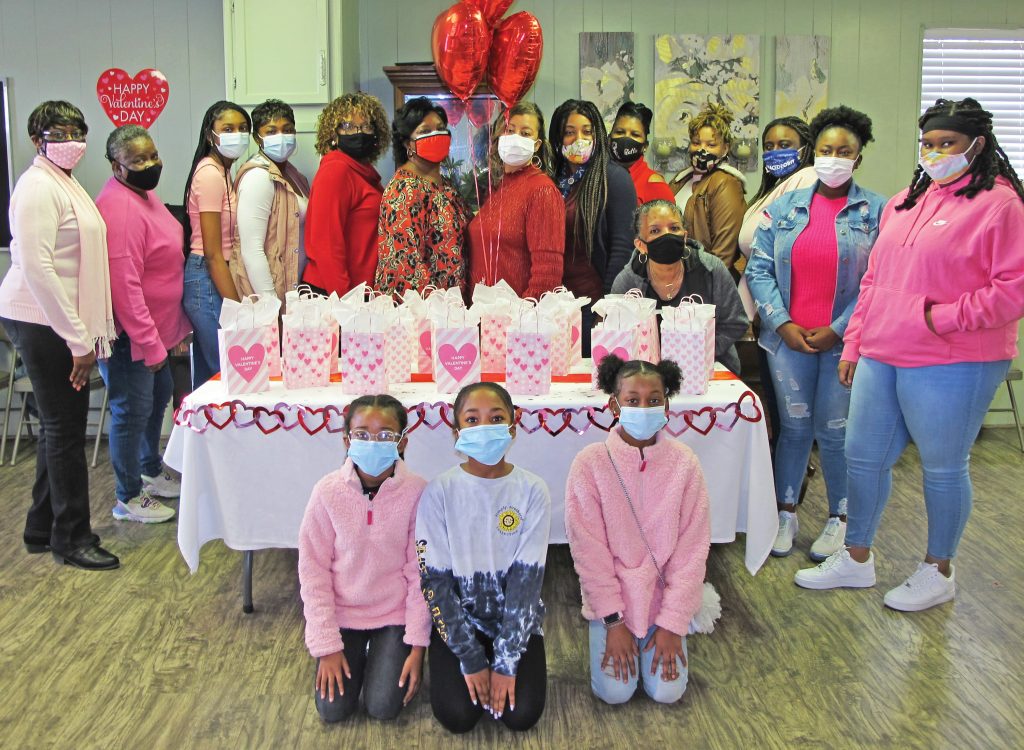 RIDGEWAY – When the women of Mt. Pisgah Baptist Church in Ridgeway were looking for a way to mentor the young women in their congregation with both spirituality and guidance, and a female perspective, they first looked at who they were – women in Christ. Then they considered who they wanted to mentor – their own Daughters for Life. It was a theme that not only resonated but has become the focus of a monthly mentoring program conducted the first Saturday of each month at Mt. Pisgah.
Organized by Levane Wilson, wife of the church's pastor, the program is for females ages 10 and up – including young single moms and adult women – without regard to where they live, their backgrounds, religion or ethnicity. The group has doubled to about 25 participants since it started in October. Wilson said the participants come from Camden, Columbia, Winnsboro and Ridgeway so far.
Iyonna Abgers peeks to seek the prize she drew – five dollar bills.

Lovetta Butler, left, and Chantea Williams prepare hotdogs with homemade chili for the participants' lunch.

Belva Bush cuts out a paper heart to be used to decorate the sanctuary.
Wilson said every female over 10 years of age is invited. Her own 38-year-old daughter attends with her daughter.
"Our goal is to meet the challenges unique to females of all ages through the implementation of activities, goal setting, games and discussions that lead to spiritual, physical and emotional well-being," Wilson said.
"Each first Saturday, we focus on a theme," she said, "…anything from bullying to healthy eating."
And, Wilson said, what is discussed in that room, stays in that room.
"We want the young women and the older women to talk freely about issues and know that the confidentially of the discussion will be honored," Wilson said. "Our young women are sometimes shy about talking with their parents, but will talk in the group."
Wilson said there are three newly licensed pastors who help guide the program and are available to talk with the participants in the group setting or one-on-one.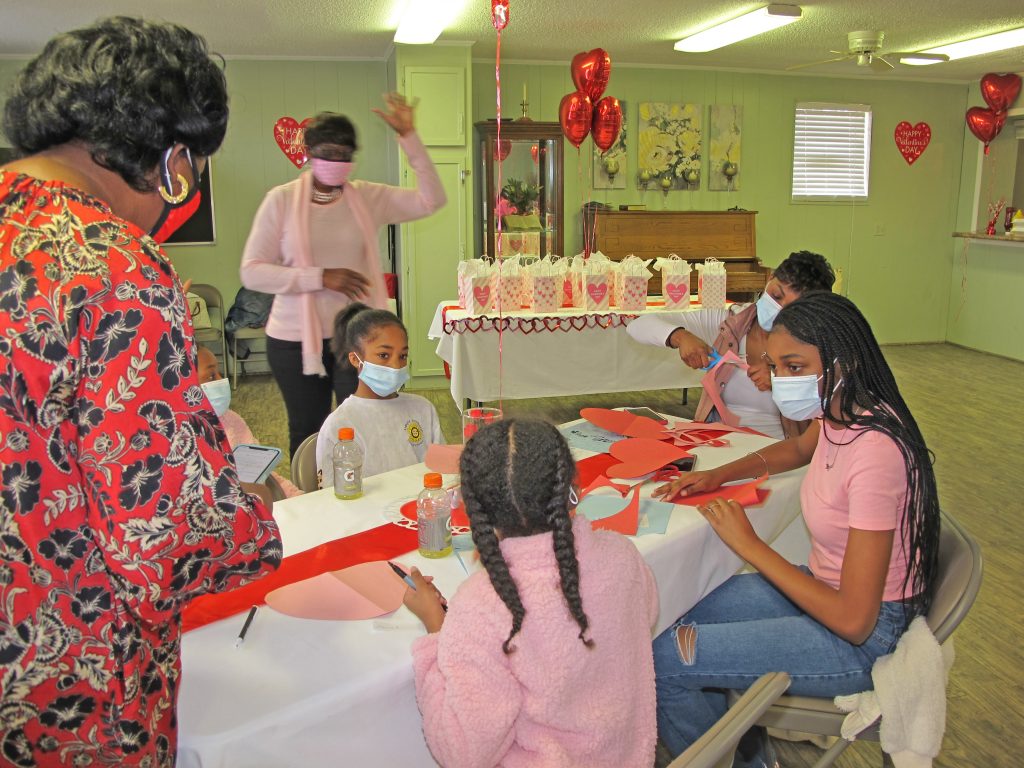 "Through our discussions, we have found out why some of our young women don't want to attend church or why they drop out of school," Wilson said. "We've also learned that bullying has gotten out of control and that some of these young and older women suffer from it."
On a recent February Saturday morning, the theme was 'Love from the Heart' and the room was decorated for the valentine month with red ribbons and red heart balloons floating upwards from several work tables where participates were seated. The young women and adults wore mostly pinks and reds. Pretty pink and white gift bags filled a table at one end of the room. Each participant would receive one of the gift bags at the end of the session.
As the session began, one of the three newly licensed female ministers, Lorraine Brown, asked the girls and woman what they love about themselves. One young woman spoke up to say she loves herself now, but not what she used to be. Asked what love means to them, another woman said love meant forgiving people.
By the end of the discussion, the group had fretted out the wonders of love, what it meant to them and the importance of love in their lives.
Next, they each cut hearts out of red construction paper and wrote scriptures about love on the hearts that would be posted around the sanctuary of the church before the Sunday service. There were several games that ended in drawings for envelopes containing $5 gift cards and cash. At the end of the two hours, boxed lunches of hotdogs with homemade chili, chips and soft drinks were served.
"We want the young and older women to enjoy the program, have fun and benefit in from their attendance," Wilson said. "We're losing our children to the world and we want to bring them back. It fills my heart that these women, young and old, want to come here. And many of them bring others with them.
"We are trying to spread the Word as Christ did," Wilson said. "That's what He tells us to do."
Women in Christ; Daughters for Life is held from 10 a.m. – 12 noon, the first Saturday of every month in the fellowship hall of Mt. Pisgah Baptist Church, located at 2092 Longtown Road in Ridgeway. For more information about the program, call (803) 337-2201.