SUMTER – With five minutes and some change to spare in the first half of last Thursday night's semifinal game against Patrick Henry Academy, Richard Winn showed up and showed out.
Down by three to the Patriots, the Eagles broke the Patrick Henry press and seized control of the game quickly. Sparked by back-to-back threes from Taylor Spires, Richard Winn took a 23-22 lead and ran with it.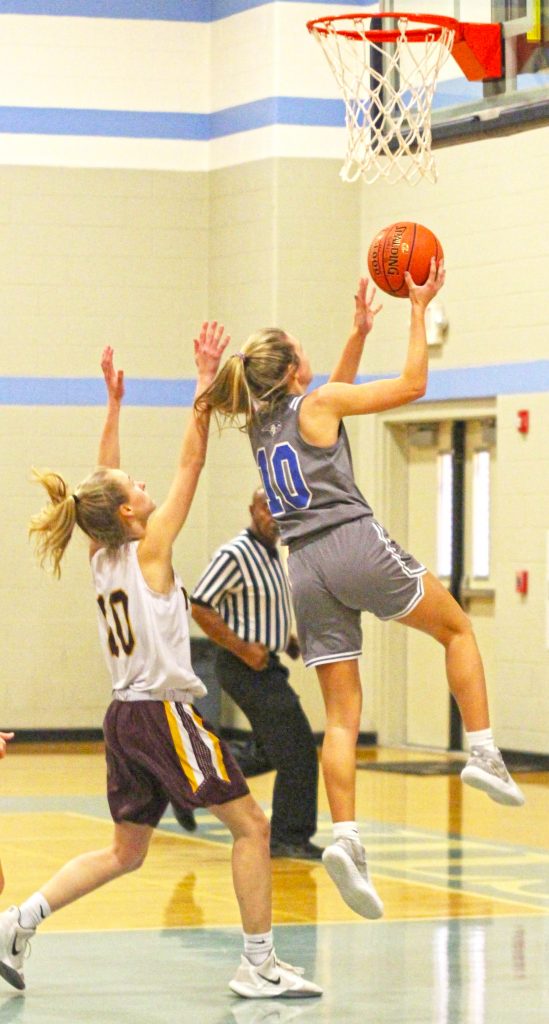 Senior Meredith Pope stretched the one-point lead to three with a quick steal and score. Then, with 1:15 left in the half, Rayne Williams grabbed a deflected Mikaela Miller blocked shot, and pitched to Pope, who broke away for an easy layup and a 27-22 lead. Four more Pope points with a minute remaining in the first put the Eagles with a 31-24 lead at halftime.
Patrick Henry opened the second half with a quick bucket, but Miller answered with a three. Pope hauled in a deflected rebound for a coast-to-coast score. Then Miller struck again, this time from the corner, and Richard Winn took a 38-26 lead over the Patriots.
Facing a 12-point deficit, Patrick Henry answered with a three, but Spires responded with an eight-point run to stretch the Eagle lead to 46-31. A drive up the middle from Pope put 17 points between the Eagles and the Patriots. Richard Winn's offense, firing on all cylinders, was seemingly unstoppable.
Patrick Henry managed to add two with a pair of free throws to chip away at the lead, but Miller was fouled on a rebound putback and added two of her own from the charity stripe. With a 50-33 lead deep in the third quarter, Richard Winn looked to be punching its ticket to the title game to all but Patrick Henry.
The Patriots found their footing with time to spare in the third, managing to go on a 5-0 run before the clock ran out. Still up 50-38 over Patrick Henry, Richard Winn looked to wrap up the game in the fourth, but it would be over four minutes into the final quarter before the Eagles got on the board again.
And just as quickly as the Eagles had taken their 17-point lead, Patrick Henry took it back. The Patriots hit a three to start the quarter, and Spires picked up her fourth foul with 6:30 remaining. A pair of Patrick Henry free throws closed the gap to 50-43, then Spires, a staple in the Eagle offense and defense, fouled out with six minutes left in the game.
Patrick Henry's 9-0 fourth-quarter run put the game tied at 50 with 3:29 remaining. The game on the line, a Pope layup put the Eagles back on top by two. After 14 minutes trailing Richard Winn, junior Saniah Sexton put Patrick Henry back in the lead with back-to-back threes. Another bucket put the Eagles down 52-58 with just over two minutes left in the game.
With a minute and a half left in play, Pope took an inbound pass down the lane for two, closing the lead to six. Then, with just over a minute left in regulation, Pope, the Eagles' leading scorer, picked up her fifth foul with a charge. In double bonus, Patrick Henry added four to their lead and ran the clock out for a 62-54 final.
The loss eliminated Richard Winn from playoff play, and Patrick Henry advanced to the title game against familiar Eagle foe Newberry Academy. Newberry claimed the title and put the first blemish on Patrick Henry's undefeated season with a 59-53 championship win.
Pope finished the game with 22 points, 10 rebounds, five assists, four steals and a block. Spires added 14 points, five rebounds, three steals and an assist. Miller, who shot 3 for 3 from behind the arc, had 11 points in the loss. She also tallied four rebounds, two assists and two blocks. Freshman Meagan Brigman had six points, eight rebounds, a steal and a block.
The Eagles finished the season with an 18-3 record, their only losses coming at the hands of state champion Newberry Academy and state runner-up Patrick Henry. Pope and Spires were named to the SCISA-A Region I and North-South teams. The SCISA-A North-South game is set to be played Saturday.
RICHARD WINN – 15-16-19-4 – 54
PATRICK HENRY – 16-8-14-24 – 62
RWA: Pope 22, Spires 14, Miller 10, Brigman 6, Williams 2.