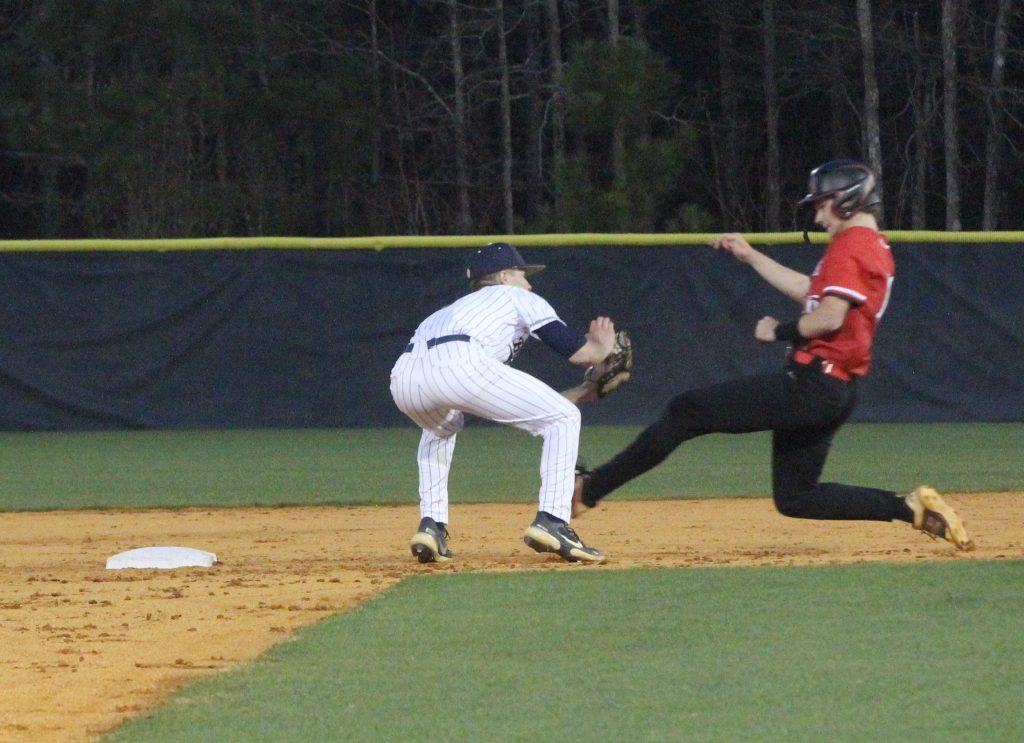 BLYTHEWOOD – Succinctly, the Blythewood baseball team eventually got around a strong pitching performance from Westwood's John Janco, while three Bengals pitchers 2-hit the Redhawks in a 9-0 season-opening victory.
What went unsaid—as the nation hopes to move out of the shadow of the Covid-19 global pandemic—was the joy of playing a game that mattered for the first time in a year.
Never mind that Blythewood, which was runner-up to 5A state champion Dutch Fork in 2019, returned nearly everyone for the 2020 season, only to have that season shut down. That lineup was loaded with sluggers including Landon Lucas, a hitter and pitcher who now plays ball at Clemson, Jansen Stokes, who plays now at North Greenville, and other seniors.
This season, a young and talented squad takes the field, and fifth-year Bengals head coach Banks Faulkner said he is tickled at how this spring may play out.
"We're a very young team, but a very talented tean," he said. "I don't think we're gonna do anything but get better. Our lineup is really young, but I thought we did some good things tonight. We had some good at-bats against a good arm. That kid's gonna be a good arm for them."
That kid is Janco, who worked four innings and scattered five hits before Blythewood's 6-run fifth inning destabilized the game for the Redhawks. Janco finished the night giving up 8 runs on 10 hits, striking out four and walking three in 4 2/3 innings.
Even though Westwood took a hit in the fifth, second-year head coach Michael McDermott said he saw a lot to like from his team on the cusp of his first full season on the field as head coach of the Redhawks.
"John did a real good job for us tonight," McDermott said. "We're trying to change the culture here, and one bad inning and a few failed executions is what it all came down to. We're gonna clean up those little things and it makes me feel good about the season."
McDermott pointed out to two key errors in the fifth that kept the inning alive for the Bengals, who got RBI doubles from Zac Cowan and Camden Watts, and an RBI triple from Watson Saunders in that frame.
McDermott tipped is hat to the Bengals ability at the plate and on the basepaths, and said that whenever Westwood may fall into the loss column again, the key is to shake it off and move on to the next game.
"We're in a tough region this year, and we need to focus on the positives," McDermott said. "We clean up that execution and in all honesty it's probably a 3-0 game."
The fifth inning started when Branson Hucks led off with a walk, and moved over to second on Justin White's sacrifice bunt. Hucks came home off of Cowan's 1-out double.
With Blythewood now leading 3-0, the gaffes affected the Redhawks. Cowan reached third base on a wild pitch, then came home when Ty Dooley grounded out to shortstop Dylan Bailey.
With two out, Caleb McCants singled and scored on Saunders' triple. Saunders came home on Alex Nevils single, and Ryan Hunter, the courtesy runner for Nevils, scored on Watts' double.
Janco walked Kevin Steelman and left the mound in favor of Colby Linn. Linn hit Hucks, batting for the second time in the inning, and gave up a single to White before getting Cowan to fly out to centerfield to end the inning with the Bengals up 8-0.
From the Westwood perspective, the Blythewood offense could have been cut off almost completely with some heads-up defense from the Redhawks infield.
"We catch the (foul) popup, and make that play at short," McDermott explained about some miscues early in the inning, "and it's a different ballgame because we're out of that inning."
Blythewood got its final run on three hits in the seventh, which featured a leadoff triple from Dooley. Dooley scored when Connor Weathers drove him home on a ground ball to short.
On the mound for Blythewood was starter Jacob Hardy, who sat down Westwood batters in order through two innings, gave up one hit—Westwood's Liam Ginnery's single in the fourth—in five innings of work. He struck out five and walked three.
Watts came on to start the sixth and gave up a hit to Dennis Weston. Closer Watson Saunders came on to start the seventh and struck out two to finish off the game.
The mix of experience and young talent paid off for the Bengals, whom Faulkner has high hopes for in a season likely unencumbered with the pandemic.
"I really like this team this team is young but like I've said they're really talented," Faulkner said. "They've worked extremely hard. They're very coachable. They've done a lot of work on their own in the preseason until we could get back together, and the results are showing so far."
Westwood plays host to West Florence Friday night.
Westwood, which travels to Lakewood in Sumter Thursday, is home against Region 4-4A power A.C. Flora Monday night. Until then the Redhawks will be working on the field and off to get better.
"We can work on the small physical errors that we're making," McDermott said. "The biggest thing we can do is change our mental approach, believing that we can win. That's what we're really focused on."
Westwood – 0-0-0-0-0-0-0 – 0 2 4
Blythewood – 0-0-2-0-6-1-X – 9 13 0
WP: Jacob Hardy. LP: John Janco.
Hitters: Caleb McCants 3-3. Camden Watts 3-4, 2B. Ty Dooley 2-4, 3B. Watson Saunders 3B. Zac Cowan 2B.