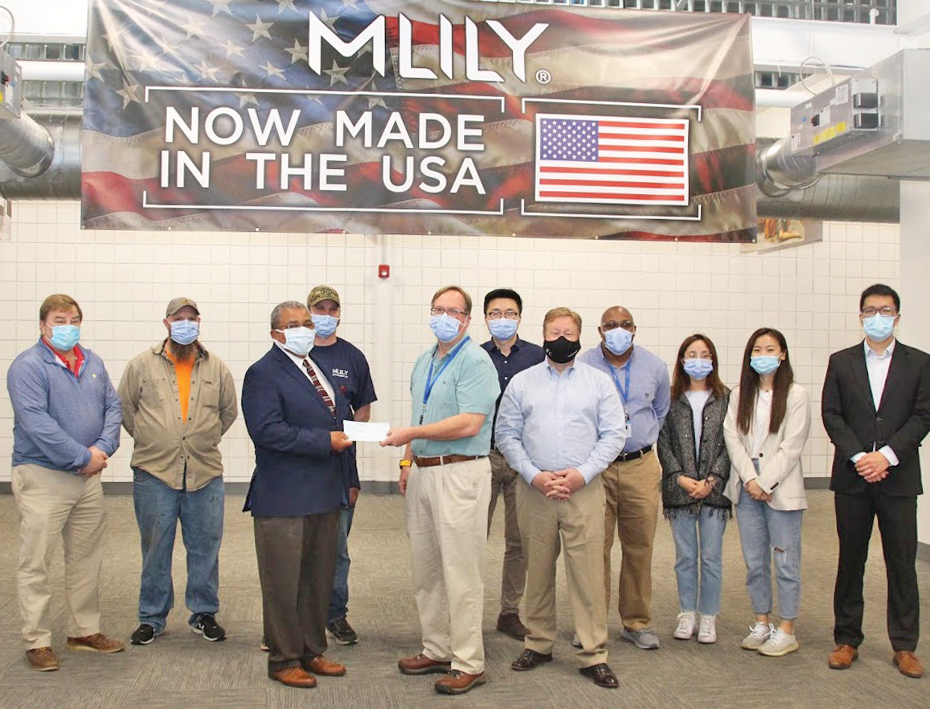 WINNSBORO – Fairfield County recently celebrated the receipt of its first annual tax payment from mattress manufacturer MLILY – an amount just shy of half a million dollars – with a ceremony recognizing the positive impact the company has had since its arrival.
"They have invested significantly in this community," Fairfield County Economic Development Director Ty Davenport said, "and as a result they've had a real impact on the county's revenue stream, which we are very appreciative of."
MLILY is looking to hire more people for its Winnsboro location, as the exponential growth that has occurred since opening its manufacturing facility there continues.
"They committed to 250 jobs in five years, and they ended up with 500 job in two years," Davenport said. He views the company as an example of how promoting industrial development along Fairfield's interstate corridor the last six years have helped the county.
The growth has happened both because the product MLILY makes – foam mattresses that are sold compressed – have become popular in recent years and especially during the pandemic, and also because of tariffs that have incentivized U.S.-based manufacturing over production in China, said Steve Miller, executive vice president for MLILY in South Carolina.
"We've done a lot in the last six months. We've grown pretty dramatically," Miller said. "We'll be hiring more people based on adding another production line, and who knows – we'll probably be adding more than one production line. Right now we have three, so we'll add a fourth, and that comes with all the support functions to do that."
He said there's so much demand right now that his facility could produce four times as much of the product and probably still sell it all.
In addition to the online-based mattress retailers like Lucid, whose business has boomed during the pandemic, he said MLILY is also producing or has plans to produce mattresses for more traditional retailers like Mattress Firm, Serta Simmons and big-box stores including Costco and Target.
Now with the Winnsboro facility up and running, an additional location is in the early stages of being developed in Rock Hill, Miller said.
He said that while skills and experience are a plus, the company is looking to hire anyone with a good attitude, work ethic and a willingness to learn. The jobs are posted on Indeed.com, and people who are interested can also visit the facility to fill out an application and schedule an interview.
Miller said the growth is expected to continue.
"We've invested a tremendous amount of money in the facility and the people," he said, "and we're in it for the long haul."