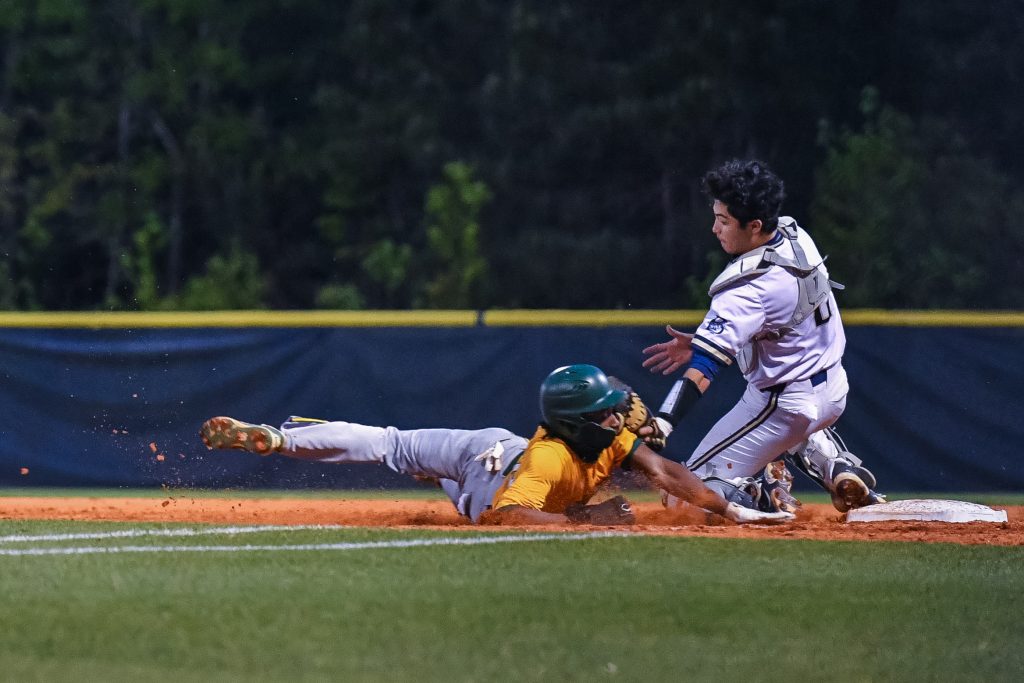 BLYTHEWOOD – Coming off a 2-1 nail-biter victory over Spring Valley last Friday, Blythewood went up early on Ridge View Tuesday night, scoring six runs in the first en route to an 11-1, 5-inning victory over the Blazers.
Kevin Steelman got the win for the Bengals (15-2, 7-0), scattering three hits over 4 2/3 innings of work. He struck out six and walked two.
Zac Cowan led off the game with a single and scored on Ty Dooley's double. Caleb McCants drove in Dooley on a triple to rightfield to make it 2-0 Bengals.
McCants then scored on a wild pitch as Alex Nevils batted. Nevils singled and his courtesy runner, Ryan Hunter, scored on Watson Saunders' single to centerfield to make it 4-0 Blythewood with nobody out.
After Camden Watts grounded out and Justin Flemming walked, Saunders stole home to make it 5-0. Landon Penfield grounded out at first, but it was enough for Flemming to cross the plate and make it 6-0.
Justin White closed out the first inning flying out to centerfield.
Blythewood scored two more runs in the second inning, and after giving up a run in the fourth, the Bengals got three more runs in the fifth to close out the game on the 10-run mercy rule.
Against Spring Valley Friday night, the game was much closer.
The Bengals clung to a 1-0 lead going into the top of the sixth, when Ethan Rumpel's 2-out single to score Wynn Ravan and tie the game.
Watson Saunders led off the the bottom of that frame with a single, moved to second on a passed ball, and moved to third on Nevils' sacrifice bunt. Watts then laid down a bunt to the pitcher that enabled Saunders to score.
With Watts at first, Kevin Steelman doubled and moved Watts to third with one out for Flemming. As it turned out, Watts got picked off third and Flemming struck out to end the inning.
It was all the Bengals needed. Cowan, on the mound since the top of the sixth, struck out one and got two batters to ground out get the 2-1 win.
Blythewood plays host to Ridge View for a double header Friday.
Blythewood – 6-2-0-0-3-X – 11-12-1
Ridge View – 0-0-0-0-1-X – 1-3-0
WP: Kevin Steelman. LP: Noard
Hitters: Alex Nevils 3-3, 2B. Watson Saunders 3-3, 2B. Caleb McCants 3B. Ty Dooley 2B.
Spring Valley – 0-0-0-0-0-0-1 – 1-6-0
Blythewood -1-0-0-0-0-1-X – 2-5-3
WP: Zac Cowan.
Hitters: Zac Cowan 3B. Alex Nevils 2B. Kevin Steelman 2B.