BLYTHEWOOD – Kevin Steelman had a bad outing in a loss to T.L. Hanna last week in the South Carolina Diamond Invitational.
While the Blythewood baseball team rode over that speedbump to claim the Invitational trophy Saturday in a 4-2 win over Dorman, Steelman settled in Tuesday night at Spring Valley and pitched a complete-game 2-hit shutout as the Bengals closed out a 4-0 win.
"Man he was good. What a winner he is," Blythewood head coach Banks Faulkner said. "He had a tough third inning against Hanna the other day. He was super all year, and he just had an inning where he lost the strike zone. Being the winner he is, he got back to work and was in total command out there."
Unlike his two-inning performance against the Yellow Jackets last week in which he gave up five runs and walked four, Steelman worked efficiently against the Spring Valley batters. He needed only 65 pitches—74 percent of which were strikes—to close the book on the Vikings, striking out seven and walking none.
Steelman's work on the mound proved a relief for Blythewood batters, whom Spring Valley starting pitcher Wyatt Tucker kept off balance for much of his 5 1/3 innings of work.
The Bengals did get a run in the third inning, when Justin White led off with a single and Zac Cowan drew a walk. With nobody out and Ty Dooley at bat, White stole third and came home on Dooley's groundout to second baseman John Gabriel Lashley.
Tucker kept his calm on the mound and got Caleb McCants to ground out, and struck out Camden Watts to retire the side and strand Cowan and at third.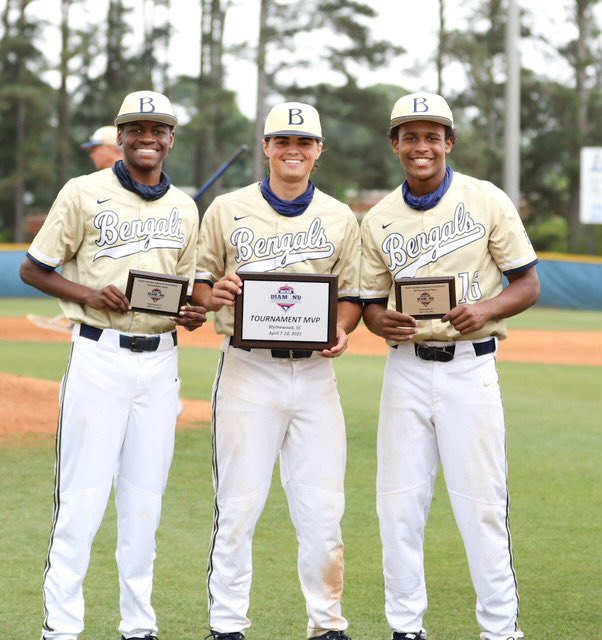 "He was good," Faulkner said of Tucker. "He did a good job of keeping us off balance using multiple pitches, and that's gonna give any lineup trouble."
Blythewood threatened a big inning in the fourth with one out. Watson Saunders and Justin Flemming singled and were at second at third for Landon Penfield. Penfield bunted directly to Tucker charging from the mound, and his only play was the throw to first. Saunders scored to make it 2-0, while Flemming settled in at third. Justin White singled Flemming in to make it 3-0 Bengals.
White moved to second on a throwing error and stole third while Zac Cowan batted. Cowan eventually walked, which seemed to set the table for Ty Dooley.
But as Dooley was headed to the plate, Spring Valley catcher Wynn Ravan fired the ball to third baseman Brandon Gibbs to lay the tag on White for the third out of the inning.
It was the second pickoff of the night out of several attempts throughout the game.
"They did a nice job controlling our running game," Faulkner said. "That sort of took us out of what we do a little bit."
A dropped third strike helped get Blythewood's fourth run across in the top of the sixth. With one out, Tucker struck out Flemming, but the final pitch shot to the backstop. Ravan threw to first but Flemming beat the throw.
After that, Tucker walked Penfield, which spelled the end for Tucker. With Lashley on the mound in relief, White singled to left to score Flemming from second.
With courtesy runner R Hunter at second, Zac Cowan sacrificed bunted him over to third for the second out, but Ty Dooley flied out to rightfield to end the inning.
"That's the game sometimes," Faulkner said. "Sometimes you hit enough to win, and that's why we base our game on pitching and defense, because that's what wins games."
While Blythewood cashed in on hits to open the South Carolina Diamond Invitational with a 16-4 win over Lexington, pitching and defense came in handy the rest of the way.
"We opened up against a really good Lexington team and it just happened that it was our day," Faulknter said. "A lot of things went our way, a lot of balls just seemed to fall in (the gaps) and we pitched out of some jams early."
The 8-5 loss to Hanna Thursday could be boiled down to a bad third inning. The Yellow Jackets scored six runs on one hit, two Blythewood errors and five walks. That gave Hanna a 6-2 lead.
"We didn't play poorly against Hanna, we just had a tough inning," Faulkner said. "It got to us chasing a bunch of runs, and we fought our way back, but we didn't quite have enough there for the end."
The Bengals blew out crosstown rival Westwood 11-1 Friday to set up the championship matchup with Dorman at the Lexington baseball field Saturday.
The Cavaliers proved formidable as three pitchers 4-hit the Bengals. Blythewood pitching stood just as firm, with Jake Hardy on the mound for 4 1/3 innings and Zac Cowan pitching 2 2/3 innings in relief. The two 3-hit Dorman.
Blythewood got a run in the first and a second in the the third inning, but the Cavaliers tied it up with a 2-run sixth. The Bengals scored two in the bottom of that frame and closed out a win with a scoreless seventh.
"We did a good job against Dorman with manufacturing some runs," Faulkner said. "We got a good pitching performance from Jake Hardy."
One fact that Faulkner said he appreciates about his team is consistency on the mound, whether from Hardy, Steelman, Saunders, Cowan at closer, or any other arm on the staff.
"That's what I thought was going to be the strength of the team, and it really has been."
Faulkner also appreciates the efforts of some of the lesser known Bengal heroes.
"Alex Nevils, I can't say enough about him. He's sort of the unsung hero. He and Caleb McCants don't ever get enough credit for the jobs they do. They just show up every day and show reliability and consistency."
Blythewood (13-2, 5-0 Region 4-5A) is home against Spring Valley Friday and home against Ridge View Tuesday.
Blythewood – 0-0-1-2-0-1- 0 – 4 8 0
Spring Valley – 0-0-0-0-0-0-0 – 0 2 1
WP: Kevin Steelman. LP: Wyatt Tucker
Hitters: Justin White 3-3. Caleb McCants 2-4, 2B. Watson Saunders 2-4.
SC Diamond invitational
April 7
Blythewood – 0-1-3-4-1-4-3 – 16 18 2
Lexington -1-1-1-1-0-0-0 – 4 5 3
WP: Jacob Hardy.
Hitters: Watson Saunders 2-2. Justin Fleming 2-2. Ty Dooley 3-5, 3B (2). Zac Cowan 3-5. Caleb McCants 3-5. Alex Nevils 2-4. Camden Watts 2-4, 2B.
April 8
TL Hanna – 0-0-6-1-0-1-0 – 8 6 1
Blythewood – 2-0-0-0-0-3-0 – 5 9 2
LP: Kevin Steelman.
Hitters: Caleb McCants 2-2. Ty Dooley 2-4, 3B. Justin Flemming 2-3, 2B. Justin White HR.
April 9
Westwood -0-0-0-0-0-1 – 1 5 3
Blythewood – 5-3-0-0-0-3 – 11 10 0
WP: Camden Watts. LP: Donnie Weston
Hitters: B – L Penfield 3-3, 2B. Camden Watts 2-3. Justin Fleming 2-3, 2B.Ty Dooley 2-5. Watson Saunders 2B.
April 10 Championship
Dorman – 0-0-0-0-0-2-0 – 2 3 1
Blythewood – 1-0-1-0-0-2-X – 4 4 0
WP: Zac Cowan
HITTERS: B- Caleb McCants 1-1. Zac Cowan 1-1. Justin White 1-2. Ty Dooley 1-3.