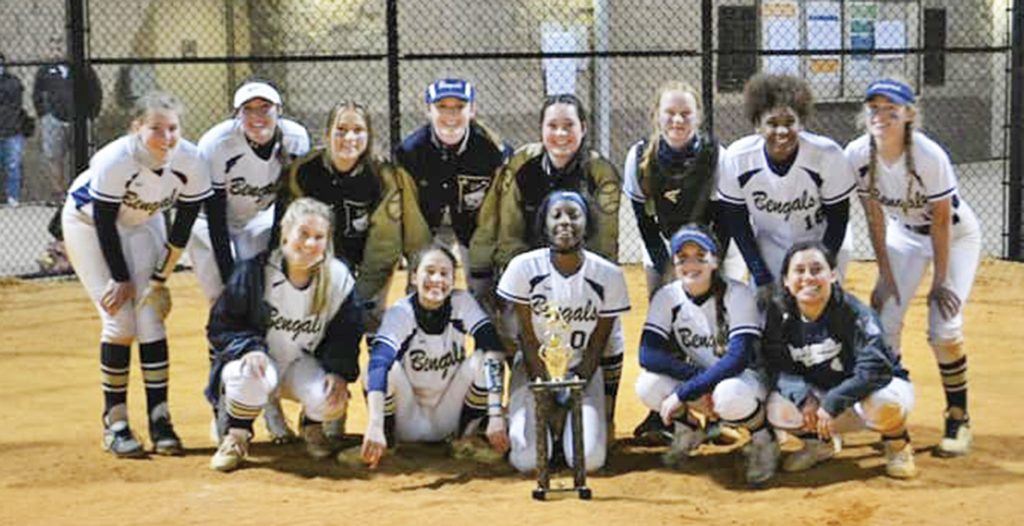 COLUMBIA – At the end of the six-team Soda City Classic tournament last Saturday, only one team remained: Blythewood.
After going 2-0 in pool play with wins over Westwood (16-2) and Ben Lippen (15-0), the Bengals defeated Westwood a second time with a 6-0 final before defeating Spring Valley in the title game.
Spring Valley's leadoff hitter reached base on an error in the first inning, but three ground outs left her stranded on third.
Blythewood's Anna Fridriksson led off for Blythewood and reached base on error. Kalei Swanier followed with a single to put runners on first and second, but Blythewood couldn't produce and headed into the second scoreless.
Maya Van Zyl singled for Blythewood to start the bottom of the second. Kylie Sanders, in to run for Van Zyl, stole second before Hannah Black singled on a bunt, scoring Sanders. A Josie Smythe sacrifice bunt put Black on second. A Spring Valley error from Fridriksson's fly ball to center scored Black. Blythewood led 2-0 after two innings of play.
Spring Valley responded in the top of the third with a score on a fielder's choice. With Viking runners on second and third, Hardy seated Gianna Valentie for the second out. Spring Valley added a run on a wild pitch before flying out to end the inning tied 2-2.
Callie Baucom tripled to right to start the bottom of the third inning, then scored on a passed ball. Three walks by Spring Valley pitcher Kiarra Thomas loaded the bases for I'Yanna Velez, who singled on a hard ground ball to center, which scored three. Blythewood led 5-2 after three.
A fielder's choice plated Spring Valley's third run in the fourth. An inside the park homerun on a line drive to left from Hardy put Blythewood ahead 6-3 in the bottom of the fourth.
Spring Valley couldn't answer in the top of the fifth, ending the game with the 90 minute time limit.
Hardy threw a no-hitter, picking up the win with five innings of work. She allowed three runs and struck out five. Swanier went 2-3 at the plate.
On Spring Break this week, Blythewood (8-2) will return to action next week with a Tuesday game against Rock Hill and Friday night game at Spring Valley.
POOL PLAY: Blythewood 16, Westwood 2
BHS – 2-0-3-11-X-X-X – 16-8-1
WHS – 0-0-0-2-X-X-X – 2-0-2
WP: Hardy. LP: Scott
BHS – Swanier 2-3, Hardy 2-3, Van Zyl 1-1, Fridriksson 1-3, S Fridriksson 1-3, Hoile 1-2.
POOL PLAY: Blythewood 15, Ben Lippen 0
BLS – 0-0-0-X-X-X-X – 0-0-4
BHS – 9-4-2-X-X-X-X – 15-8-0
WP: Smythe
HITTERS: Hardy 2-3, Fridriksson 1-1, Hall 1-1, Swanier 1-2, Baucom 1-2, S. Fridriksson 1-2, Sanders 1-2.
Blythewood 6, Westwood 0
WHS – 0-0-0-0-0-X-X – 0-2-3
BHS – 1-3-0-2-X-X-X – 6-8-0
WP: Smythe. LP: Drakeford
BHS – Fridriksson 2-3, Swanier 1-1, Hardy 2-3, Baucom 1-3, Black 1-3, Smythe 1-1. WHS – Alivia Hodges 1-2, Burroughs 1-1.
Blythewood 6, Spring Valley 3
SVHS – 0-0-2-1-0-X-X – 3-0-2
BHS – 0-2-3-1-X-X-X – 6-7-1
WP: Hardy. LP: Raina Palevich
Swanier 2-3, Hardy 1-3, Baucom 1-3, Van Zyl 1-1, Black 1-2, Velez 1-2.