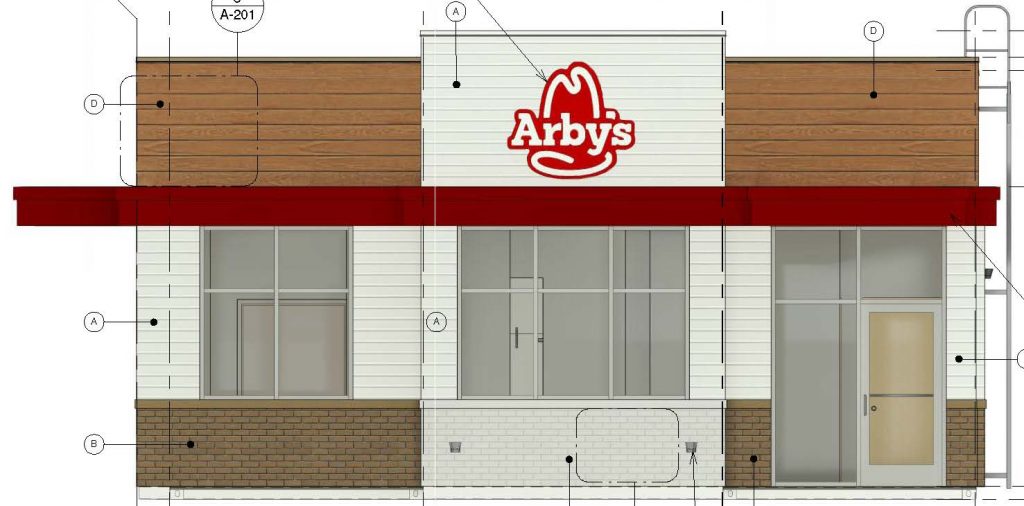 BLYTHEWOOD – If the owner and developer can meet several conditions set forth by the Blythewood Board of Architectural Review (BAR), a new Arby's restaurant will be coming to Blythewood in the near future.
Representing applicant Brumit Restaurant Group, Michael Newman of MDV Engineering explained to the BAR Monday night that the proposed 1,400 square foot facility would be a drive-thru and carry out only restaurant.
If approved by the board for a Certificate of Appropriateness, the restaurant will be built on the lot next to Zaxby's on Blythewood Road. The lot was previously looked at by Starbucks, who ultimately did not buy it.
The restaurant will feature a 420-square-foot outdoor eating area and 24 parking spaces.
"The building will be prefabricated," Newman said. "It will be constructed in Charlotte and shipped down to Blythewood."
After Newman's presentation, the board's architectural consultant, Ralph Walden, made note of several adjustments he would like to see made to the plans before the building receives final approval.
Walden suggested the red banner that wraps around the building be changed to a different color or a darker red or earth tone color. He also said he would like to see laid on-site brick as part of the foundation structure instead of faux brick.
Other suggestions included converting the siding on the sides of the building to hardiplank with appropriate trim, to relocate the roof ladder to the east side or rear of the building and to include division bars in the top 25 percent of the glass.
The board voted unanimously to approve a Certificate of Appropriateness on the condition that the owners would make the adjustments suggested by Walden.