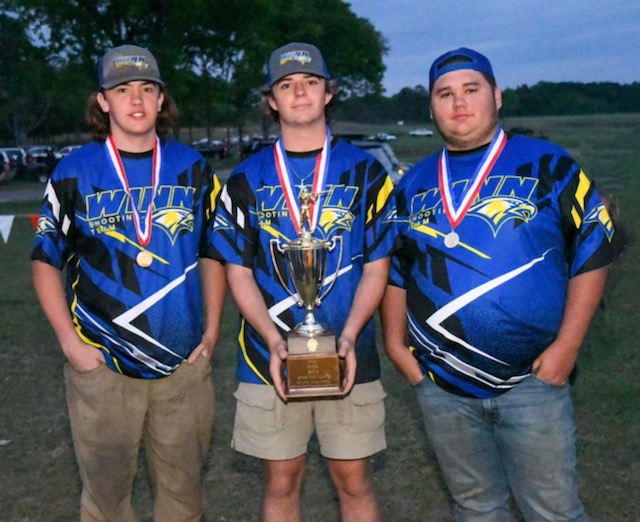 SOCIETY HILL, SC – Moree's Sportsman's Preserve in Society Hill, SC, was the site of the SCISA Sporting Clay State Championship on April 17. It was then and there that the Richard Winn Shooting Team literally hit their mark of excellence. In four short years from the time Head Coach Scott Clyburn established Richard Winn's inaugural shooting team, the varsity boys' team achieved the ultimate bang – a State Championship title. The varsity girls' team competed exceptionally well also, as they earned the State Runner Up title, and a number of Eagle shooters were recognized with individual awards.
Out of a perfect score of 300, the Eagle shooting trio of Berry Bonds, Sam Clyburn, and Matt Tate scored a combined total of 290, taking the top honors and the coveted title. Bonds was also awarded Senior Varsity High Overall (HOA) Runner Up, hitting an impressive 98/100 clay bird targets. Clyburn and Tate knocked out an also impressive 96 apiece. Thomas Heyward Academy placed second behind Richard Winn in the varsity boys' division with 288.
"Our team has come very far over the past four years to achieve this goal," said Bonds, a junior and one of the 10 original team members on the 36 member squad. "It took a lot of practice and hard work, but it paid off. We have pushed each other and improved our scores each tournament, and it feels great to be part of this championship team."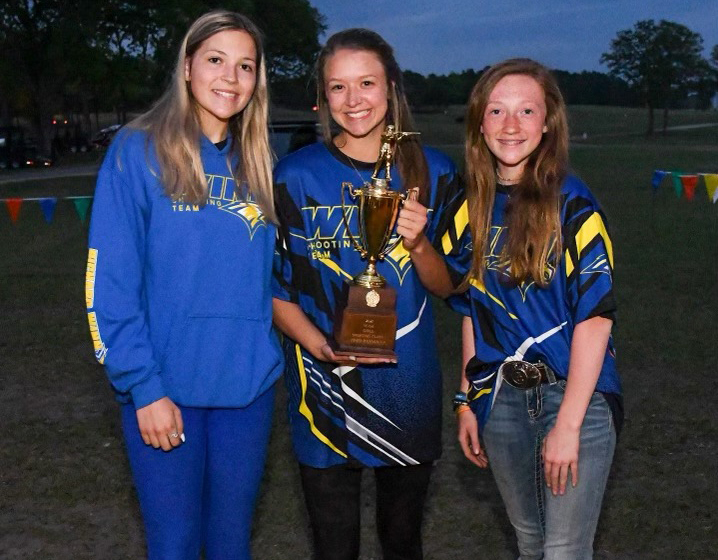 While the boys were busy knocking out the competition, Richard Winn's varsity girls' team of junior Mikaela Miller, senior Meredith Pope, and seventh-grader Abby Lewis were in the thick of battle for a title run as well. At the end of the day when the scores were all tallied, they fell just short of the title behind the Wilson Hall School championship girls' team. Miller led the RWA shooters with 81, Lewis 80, and Pope 74. Lewis also earned the HOA Runner Up for girls' middle school division.
Pope, a four-year veteran competitor, was nervous but excited for Saturday's championship shoot. She described the ending as a great finish to her senior year.
Sophomore Ella Grace Harrison's name was called for an HOA shoot off as the JV results were posted.
"I had a rush of nerves," Harrison said. "They went away when I got into the shooting box. We develop a routine for when we get ready to shoot. When I got into the box, I was in the zone."
Harrison took the sudden death shootoff to claim the JV HOA title.
Clyburn's two sons, Jake, a 2019 grad and now an assistant shooting coach, and Sam a senior, started competitive shooting at young ages on the Rocky Creek Dusters team where he coached them.
"When my boys transferred to Richard Winn, they wanted me to start a shooting team," Clyburn said. "I was worried we wouldn't get enough shooters to show up for our first meeting. Boy was I wrong! It has been nothing short of amazing to see these shooters, the parents, the school administration, sponsors, and coaches build the program at Richard Winn in four short years. We have been putting trophies in the trophy case in senior, JV, and MS divisions. I feel that we have become one of the best all-around teams in the state. Saturday solidified that."
The championship day started at 10 a.m. for the RWA shooters, and following registration, team and safety meetings, competition began with the noon shotgun start.
"I knew it would be a grind. I told our kids, 'every bird counts. This is the State Championship; anything can happen. Hang in there mentally, and you'll be fine.' After we finished our round, I knew our scores were good," Clyburn said.
Clyburn described the long day of waiting for the results as a nail biter. Finally the time came for the awards presentation.
"The buildup was tremendous. We were literally accepting our awards as the sun went down, but what a special day."
Clyburn attested to what a special, hardworking group of kids these are. "All of our shooters put in the work. Our best shooters put in the extra work. Extra work shows up on scorecards. I tell our shooters, 'you don't win or lose on tournament day, you win or lose at practice'."
He went on to say it was not uncommon for his own son to leave school after baseball practice to go shoot 100 rounds of clays. Sam has already accepted an offer to shoot on the Clemson University Shotgun team in the fall where he'll shoot alongside RWA class of 2020 graduates Carson Stuck and Ansley Parker.
The SCISA state championship title is not the finale for this Eagle team's season. They will compete in three more championship tournaments between now and June. The Junior US Open in June will pit some of the best shooters in high school and college against each other.