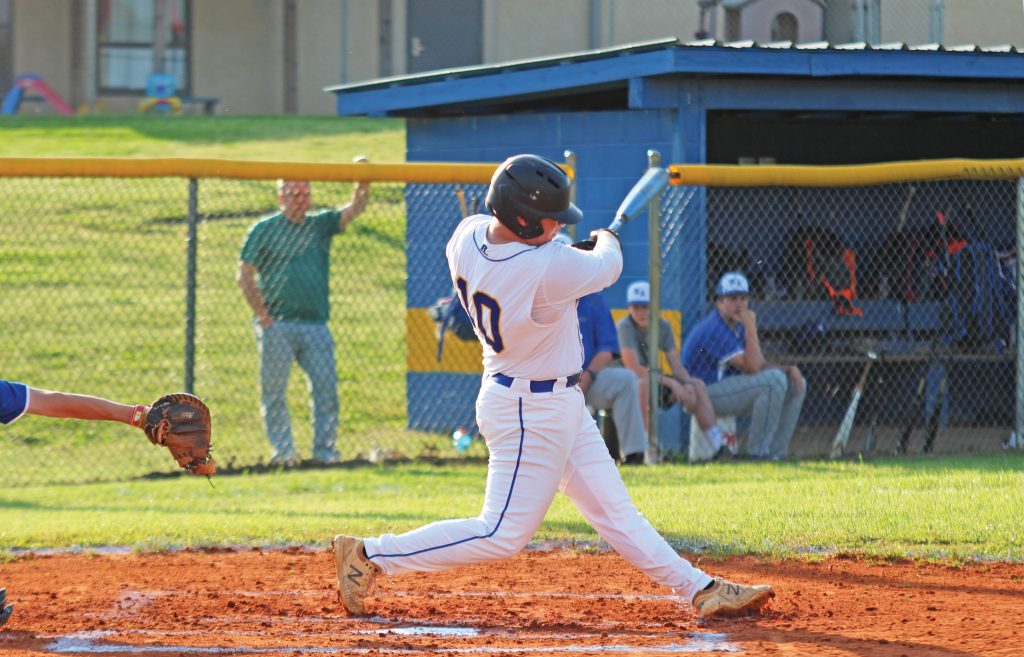 WINNSBORO – It went a little something like this. Richard Winn picked up its first region loss of the season last week against King Academy. Then they took a few days off for Spring Break before heading to Newberry on Monday for their next region game. It was the Eagles' first meeting with Newberry Academy for the season. The Eagles returned to Winnsboro with a clean 8-0 sweep and one night of sleep before they hosted Newberry for a rematch on Tuesday.
Zack Taylor took the mound to start Tuesday's game, and the Eagles made quick work of the inning, getting three outs in four at bats.
B Baker walked to lead off the inning, then took second base. Taylor took a ball and a strike, fouled one, then homered to left field. Jacob Chaisson reached first on a grounder, but the Eagles did not capitalize. They led 2-0 after an inning, and that score would remain until Newberry's at-bat in the third.
With one out, Newberry's James Graham reached first on an Eagle error. Taylor struck out the next batter for the second out, but Newberry's Payton Gardner homered in center to tie the game at 2. Taylor picked up another K to end the inning.
Two walks and a hit batter loaded the bases for the Eagles with two outs. Rob Wilson drew a walk to score another Eagle run before the inning ended at 3-2 with a fly ball to right.
After holding Newberry hitless in the top of the fourth, Taylor homered again to left to score Lawson Wade and Dru Caldwell, who both singled earlier in the inning. Richard Winn took the 6-2 lead and never looked back.
Taylor, fresh off of his second dinger of the game, struck out the next three Newberry batters in 14 pitches.
Wilson drew a walk to lead off the fifth for the Eagles, then stole second. A Brian King single scored Wilson, and King advanced to second on the throw. King, who advanced to third on a pitching error, scored on a wild pitch and the Eagles led 8-2 heading into the sixth.
Taylor hit Newberry's leadoff batter, then Gardner doubled to left. A sacrifice bunt scored a Newberry run and an Eagle error on another bunt scored Gardner, quickly trimming the Eagle lead down to four. A strikeout and fielder's choice ended the inning with a runner on.
Richard Winn added an insurance run in the bottom of the frame and held Newberry to one in the top of the seventh to take the 9-5 win.
Taylor picked up the win on the mound and went 3-3 on the night with five RBIs, two homers and a single. In six and two-thirds innings of work, Taylor tallied ten strikeouts, one walk, three hits and five runs. Wilson came on in relief to allow one hit and strike out one.
In Monday's shutout, Caldwell pitched six innings, allowing only four hits, walking three and striking out nine. Landon Caulder threw one inning of relief. He had two strikeouts.
Austin Lancaster welt 2-3 at the plate with a homerun. Brian King batted 3-4 with two doubles. Caldwell and Baker also doubled in the win. Baker batted 3-5. Lawson Wade went 1-2 with a triple.
The Eagles, who sit at 10-2 on the season and 7-1 in region play, will honor their seniors at Friday's home game.
Richard Winn 9, Newberry 5
NA – 0-0-2-0-0-2-1 – 5-4-2
RWA – 2-0-1-3-2-1-X – 9-8-2
WP: Taylor LP: Jay Alford
Hitting: NA- Gardner 2-4, McLean 1-2, Graham 1-4. RWA- Taylor 3-3, Lancaster 1-3, Chaisson 1-3, Wade 1-3, Caldwell 1-4, King 1-4.
Richard Winn 8, Newberry 0
RWA – 0-1-4-1-1-1-0 – 8-13-0
NA – 0-0-0-0-0-0-0 – 0-4-2
WP: Caldwell LP: Graves
HITTING: RWA– King 3-4, Baker 3-5, Lancaster 2-3, Caldwell 1-4, Taylor 1-4, Wilson 1-3, Wade 1-2, Berry Bonds 1-1. NA– Graham 1-3, McLean 1-3, Alford 1-3, Morris 1-3.