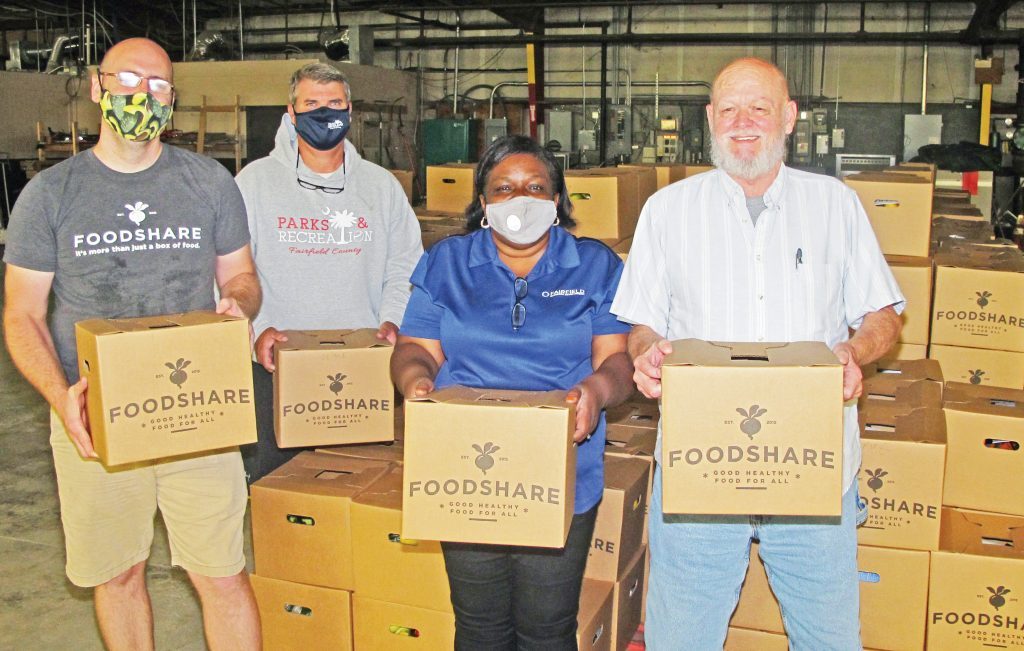 WINNSBORO – Fairfield Forward has now affiliated with FoodShare SC to create a food hub that will provide boxes of fresh fruits and vegetables every week at deeply discounted prices. The boxes can be purchased by anyone – inside or outside of the county.
The boxes are filled with 9 to 11 varieties of fresh fruits and vegetables. The contents change regularly and each box includes recipe ideas for that box's produce. The produce is the same as that found in grocery stores but bulk buying at wholesale prices makes the boxes more affordable.
The boxes come in two sizes and FoodShare accepts cash and SNAP EBT. A large box with about 12-15 pounds of produce is ideal for a week for three or four people and costs $20 if paying cash and $10 if purchasing with a SNAP card. A small box, holding about 8-9 pounds of produce, is suitable for one to two people and costs $15 if paying cash and $5 if using a SNAP card.
The program is the brainchild of FoodShare SC, a non-profit organization in Columbia. They introduced the program in Fairfield last October when they provided 800 free boxes of fresh produce for Fairfield residents during the pandemic. County Administrator Jason Taylor, Assistant Administrator Laura Johnson and Fairfield Forward leaders saw it as a program they would like to see made available to Fairfield county citizens on a regular basis. The end goal of Foodshare is sustainability of food distribution over the long term.
The program works like this – FoodShare will send a truck load of boxes of fresh fruits and vegetables into an as yet to be determined Fairfield hub where a group of volunteers will sort the produce, pack the boxes and distribute them. All the boxes distributed through a hub are purchased by the people who come to pick them up.
"Our goal is to make it affordable for people who want to eat healthy, and would especially benefit people who have diabetes, high blood pressure and other diseases," Lindsay Decker, program manager for Fairfield Forward, said.
The FoodShare program begins May 10.
"It eliminates the barrier of affordability for everyone. Instead of picking up boxes from the Columbia Food Hub, we'll be able to distribute them from our hub here directly to local pick-up sites," Decker said.
For more information or to sign up for the program, contact Decker at (803) 815-2045.
---
Free Food Boxes
To celebrate the grand opening of the FoodShare Fairfield County hub, a fresh food box giveaway on April 28 is being sponsored by Fairfield Forward and Fairfield County Council.
"We want to introduce the FoodShare program to folks in Fairfield by giving 600 free food boxes of food to county residents on a first come/first served basis," Lindsay Decker, Fairfield Forward Program Manager, said. "The boxes will include ordering information and box pick-up locations for anyone who wants to purchase the produce on a regular basis, starting the week of May 10."
The April 28 Fresh Food Box Giveaway will be located at four sites throughout the County:
McCrorey-Liston School of Technology, 1978 SC Hwy 215 in Blair
Mitford Fire Station, 70 Meeting Street in Great Falls
Geiger Elementary, 150 TM Cook Lane in Ridgeway
Fairfield County Airport, 1291 Runway Road in Winnsboro
Distribution will begin at 5:30 pm. All locations will be drive-through service with one box per household (identification of each household required) for a limit of two boxes per car. The giveaway is available only to Fairfield County citizens and ID showing proof of residency is required.
For more information on Fairfield County's FoodShare program, contact Fairfield Forward at (803) 815-2045 or [email protected]