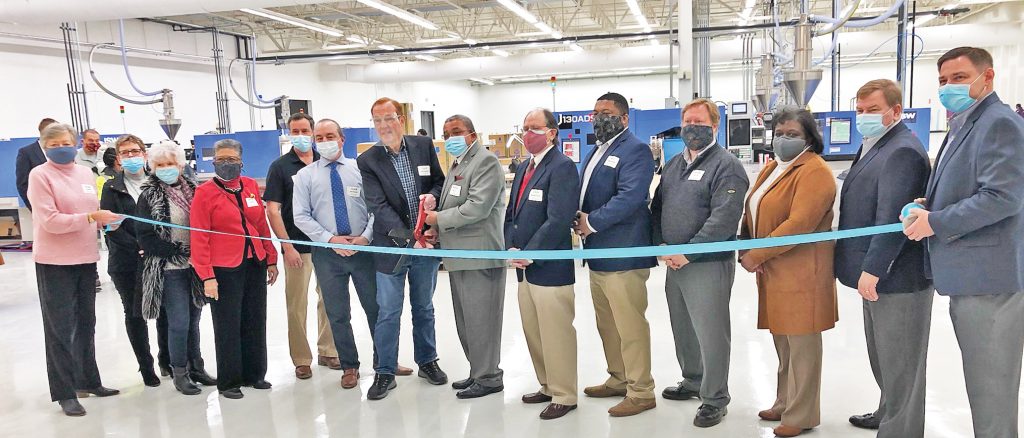 WINNSBORO – With the new Pharmacy-Lite Packaging plant now officially up and running in the renovated former Walmart building in Winnsboro, President and owner Jack Brennan says he's glad to feel welcome in South Carolina.
"One lady that I was talking to an hour before the [ribbon-cutting] ceremony called me over and said, 'I want to thank you for moving your operation down here to Winnsboro,' so I think there's a welcoming attitude in Winnsboro, both by the officials there and by the people we've hired so far," Brennan said.
"I mean, no one in Ohio ever came and thanked me for having a plant in Ohio."
The Ohio-based company sought a location in South Carolina based on the desire to serve its national distribution network by adding a site about 600 miles from home. South Carolina, he says, is a growing market.
The facility opened about a year ago with distribution only, while renovations took place to upgrade the building for manufacturing. The recent ribbon-cutting was to celebrate its opening as a manufacturing facility.
Brennan says people have been amazed by how different the building looks now, with white floors and white open spaces, than it did when they shopped at Walmart.
With more than 20 people now employed there, he says the plan is to add about 10 more within the next year. From there, the goal is continued growth – and while the speed of growth will undoubtedly be impacted by the future state of the economy, the focus is on the long term.
"I know one of the problems that has happened for most development boards is that a lot of companies move and then… relocate again or are sold out," Brennan said. "As I said in the ceremony, we're a family business. We're not selling out. We have second-generation management in the business, so I foresee a long future."
Pharmacy-lite makes packaging for prescriptions medications. The company's focus is on serving the 25,000 independent pharmacies around the country, often with next-day delivery. These businesses, he says, serve an important function in communities, typically providing broader and more personalized services than their big-box counterparts.
Fairfield County Economic Development Director Ty Davenport says it was exciting to learn that Pharmacy-Lite's brand new machines had arrived for production at the plant. He says it's been great to watch the transformation of the old Walmart building, which had been vacant for nearly three years, and see it back in productive use.
"Having an abandoned Walmart is a real negative. It's a morale downer for the community," Davenport said. "What a great thing to have it repurposed for manufacturing, which adds a lot of value to the community. It adds to the tax base, and the jobs are high-paying and with benefits and require skills, and that's huge for us."
Davenport says the company, which has invested $2.9 million in the plant, is socially and environmentally responsible, and he looks forward to its continued growth – way beyond, he anticipates, the 30-plus jobs that will exist on the immediate horizon.
He says Pharmacy-Lite is one of several manufacturers to locate recently in Fairfield County in what has become a local manufacturing resurgence.
So far, he says, that resurgence has brought about 1,100 jobs to the Winnsboro area, an infusion which he hopes will help to spark some revitalization in downtown Winnsboro and encourage small-business investment as well.
Brennan said that after identifying the location, before choosing to locate here, company leaders first took some time to get a feel for the community – and they liked what they saw.
"We thought the people in the town were good people. We walked around, and we went in stores and restaurants, talked to people, and sort of got a feeling for the openness and friendliness of the community, and then made an offer on the Walmart," he said.
"It's all about people. It's always been about people, and so it's nice to see that we're welcome. We want to be a fair and productive employer, and we're optimistic."