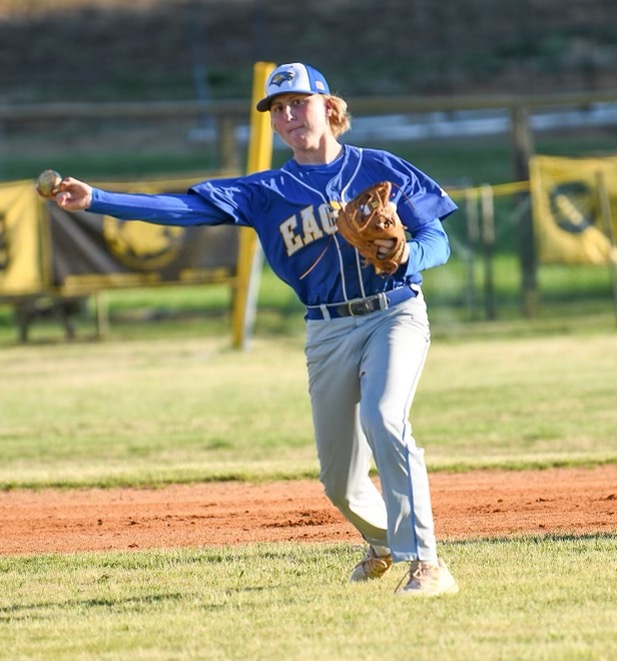 WINNSBORO – After a scoreless first two innings, Richard Winn plated the first runs of the game against familiar foe Laurens Academy in Tuesday's region game.
With two outs in the bottom of the third, Rob Wilson drew a walk to put an Eagle runner on base. Austin Lancaster singled on a fly ball to right field, advancing Wilson to third. Zack Taylor drew his second walk of the game to load the bases for Brian King, whose line-drive single to center scored Wilson and Lancaster. A strikeout ended the Eagle rally with runners on first and second.
A Laurens single with one out in the top of the fourth followed by an Eagle fielding error and a hit batter loaded the bases for the Crusaders. A sacrifice bunt plated a Laurens run and gave the Eagles two outs in the field. A line out to centerfielder B Baker ended the frame with Richard Winn up 2-1.
Bats were silent until the bottom of the fifth. Dru Caldwell walked, and Lancaster singled to left. Taylor's third walk loaded the bases for King again, who grounded into a fielder's choice, scoring Caldwell. Baker drew walk to load the bases for Jacob Chaisson, who doubled on a line drive to left, scoring Lancaster and King. The inning ended on a strikeout with the Eagles leading 6-1.
After a scoreless sixth inning, Laurens worked to rally in the top of the seventh. With two outs, a Crusader runner reached first on an Eagle error. Taylor walked another to put runners on first and second. A line-drive double to center by the next Laurens batter scored two to put Laurens down 6-3. Taylor walked the next batter to put two runners on again.
In to relieve Taylor after 109 pitches thrown, Rob Wilson got the K for the final out of the game, and the Eagles clinched the 6-3 win.
Taylor threw six and two-thirds innings. He struck out eight, walked four, hit two batters and allowed four hits. Wilson got the save.
Lancaster led Eagle hitters with three singles. King and Chaisson both hit 1-3 with 3 RBIs.
The win puts the Eagles at 7-1 on the season, 4-0 in region play. They return to action with back-to-back home region games on April 5 against Wardlaw and April 6 against King, then are set to face Heathwood Hall on April 9 in Winnsboro.
LAURENS – 0-0-0-1-0-0-2 – 3-4-1
RWA – 0-0-2-0-4-0-X – 6-5-2
WP: Zack Taylor. LP: Jordan Hudson
HITTING – RWA: Lancaster 3-3, King 1-3, Chaisson 1-3. LA: Lowery 2-3, Watkins 1-4, Smith 1-2.