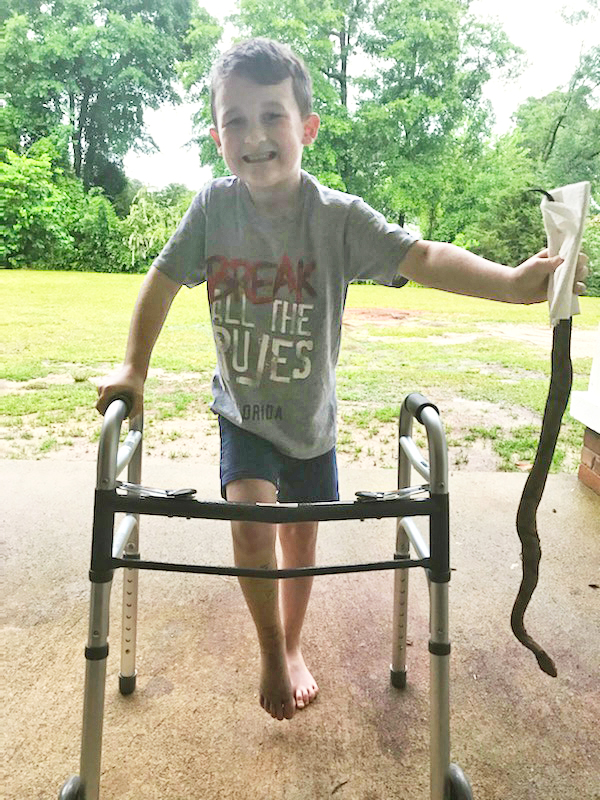 WINNSBORO – Six-year-old Brees Gaddy had just hopped off his brother's dirt bike into some dry leaves under a large pine tree when he suddenly started screaming, "Oh, Daddy a snake bit me! It burns, it burns. My leg burns!"
Manley Gaddy grabbed his gun and rushed to his son's aid.
"What did it look like?" Gaddy asked.
"It was brown and looked like leaves," Brees responded.
"I grabbed my gun and ran over and shoved my foot around in the leaves next to the tree, and then I saw it – a big copperhead – just as it struck at me from the leaves," Gaddy said. "When a snake is coiled, it can spring twice the length of its body. I shot at him twice with a .22, but I didn't hit him. He struck at me two more times. When I saw what he could do, I beat him to death with the barrel of my gun. I needed to take the snake with us."
After killing the snake Manley threw it in the bed of his truck, laid his screaming son in the back seat and headed to the Providence-Fairfield County ER, with his 11-year-old son Ryland in the front passenger seat.
Knowing that every minute counted, on the way, Gaddy called 911, his wife and he let the ER know he was headed there and why.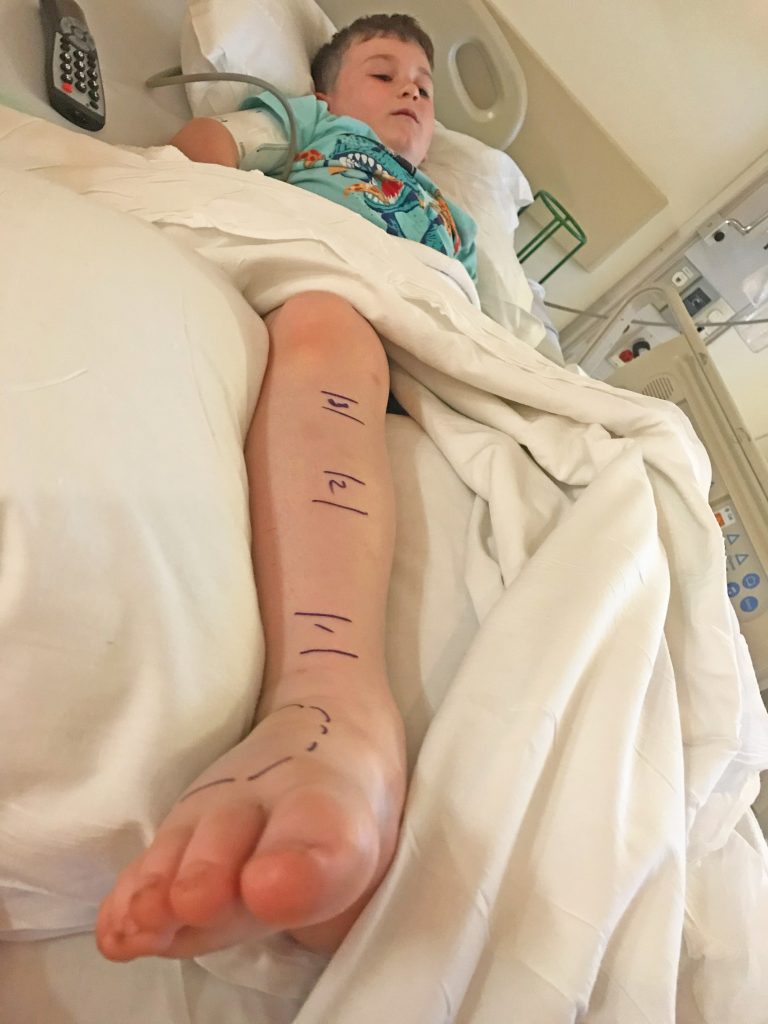 The snake had bit Brees' Achilles tendon, and his leg was swelling.
"I was worried about Brees' breathing and I tried to keep him calm," Gaddy said. "I told him we had to go to the hospital to get some medicine for his snakebite. I didn't want him to worry."
At the ER, Gaddy said the staff met him and his sons as they drove up and rushed Brees inside where he was immediately started on an anti-venom therapy.
"The goal was to keep him calm and monitor his breathing and leg swelling," Gaddy said. The ER staff determined that Brees would need to be sent to Prisma for more specialized care. A specially equipped critical care ambulance, complete with its own nurse, driver and respiratory therapist, arrived from Prisma to pick him up.
During four days he spent in ICU at Prisma, Gaddy said Brees spent his time coloring pictures of snakes and collecting snake pictures. He also had to learn to walk with a walker. He was released Tuesday to come home.
Gaddy said he and his family are thankful Brees pulled through the ordeal so well. He said the family is especially thankful for the care Brees received at both hospitals.
"He'll be using this walker for about two months," Gaddy said, "but his doctor said he should have a full recovery and regain full use of his leg after that. The doctor said he should bounce right back."
And he has. The pain and swelling are subsiding. Brees, a kindergartener at Fairfield Magnet School for Math and Science, is looking forward to getting back to school, but his dad said he'll be in a virtual classroom until the end of the school year.
And he's looking forward to getting well enough to ride on his brother's four-wheeler again.
Brees with his brother Ryland at the Fairfield ER.