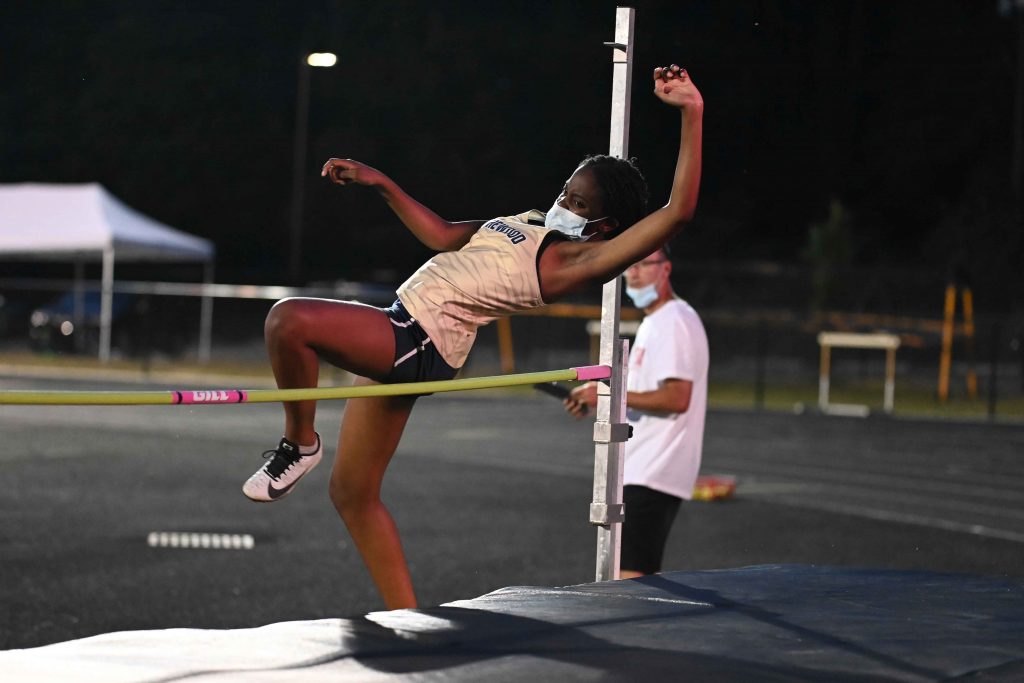 HOPKINS – Blythewood girls track and field blazed through last week's' Richland County Championship, taking first place of eight teams with a score of 261. Spring Valley finished in second at 114.
Briana Green was named Richland County Girls MVP with 28 individual points. Green pulled first place finishes in long jump (17-3) and triple jump (34-11.75) and she finished second in the 100 meter dash finals with a time of 12.48.
Other first place finishers were Arianna Williams in the 200m dash (25.20) and 400m dash (56.25); Mallorie Hogue in the 800m run (2:33.10); Anna Kelly in the 1600 meter run (5:47.88) and 3200 meter run (12:37.15); Makeshira Brown in 100 meter hurdles (15.40); LaTavia Bracey-Ransom in 400m hurdles (1:0932); and Janyia Pinckney in high jump (5-0).
The 4×100 meter relay team of Green, Williams, Bracey-Ransom and Haley Duncan finished first with a new school record of 47.78. The 4×800 meter relay team of Eva Pendleton, Monica Joy, Hannah McGrory and Hogue finished first at 10:47.01. The girls 4×400 meter relay team also finished first at 4:05.32.
Green, Williams, Hogue, Kelly, Brown, Bracey-Ransom and Pinckney, along with the 4×100 meter relay and 4x800m relay teams, were named First Team All-County.
Finishing in second place were Hailey Duncan in 200m dash (25.95), Sinaii Weeks in high jump (4-10) and Jasmine Young in triple jump (34-9). Duncan, Weeks, Young and Green (100 meter dash) were named Second Team All-County in these events.
Receiving All-County Honorable Mention were Zhaire Casteal (3rd, 100m hurdles), Katuria Glover (3rd, 400m hurdles), and Hannah McGrory (3rd, 800m run).
Other top-five finishers were:
Duncan: 100m dash (5th, 12.77)
Monica Joy: 400m dash (4th, 1:02.90)
India Haygood: 400m dash (5th, 1:03.59)
Jurnee Warren: 800m run (4th, 2:42.08)
Evan Pendleton: 1600m run (4th, 6:00.06)
Ashlynn Scott: 100m hurdles (4th, 18.42)
Zhanaya Casteal: 400m hurdles (4th, 1:16.63)
Janiya Wilson: high jump (4th, 4-6)
Makeshria Brown: triple jump (5th, 32-5)
Jenelda Aristhil: discus (4th, 90-1); shot put (5th, 29-8)
Jasmine Young: javelin (4th, 46-8)
Blythewood boys finished in second of nine teams at 122.5. Spring Valley finished first at 183.5.
Pulling first place finishes for Blythewood were Randy Kelly in high jump at 6-10 and Josias Addison in shot put at 48-9. Kelly also finished second in long jump at 21-5.
Peyton Manuel finished in second place in triple jump at 43-9; Connor Knight finished second in discus at 144-4 and second in javelin at 114-9. The 4×800 relay team also had a second place finish with a time of 8:36.15.
Other top-five finishers were
Barry Hardy: 400m dash (4th, 52.01); 800m run (4th, 2:06.29)
William Lenker: 1600m run (4th, 4:51.81); 3200m run (4th, 11:19.51)
Jordan Clark: shot put (4th, 42-6)
Donyae Frazier: 110m hurdles (5th, 16.53)
Chase Johnson: discus (5th, 128-9)
4x400m relay team (4th, 3:36.54)
Blythewood was set to compete in the Region 4-5A meet on May 5 at Spring Valley High School, but scores were not available at press time.