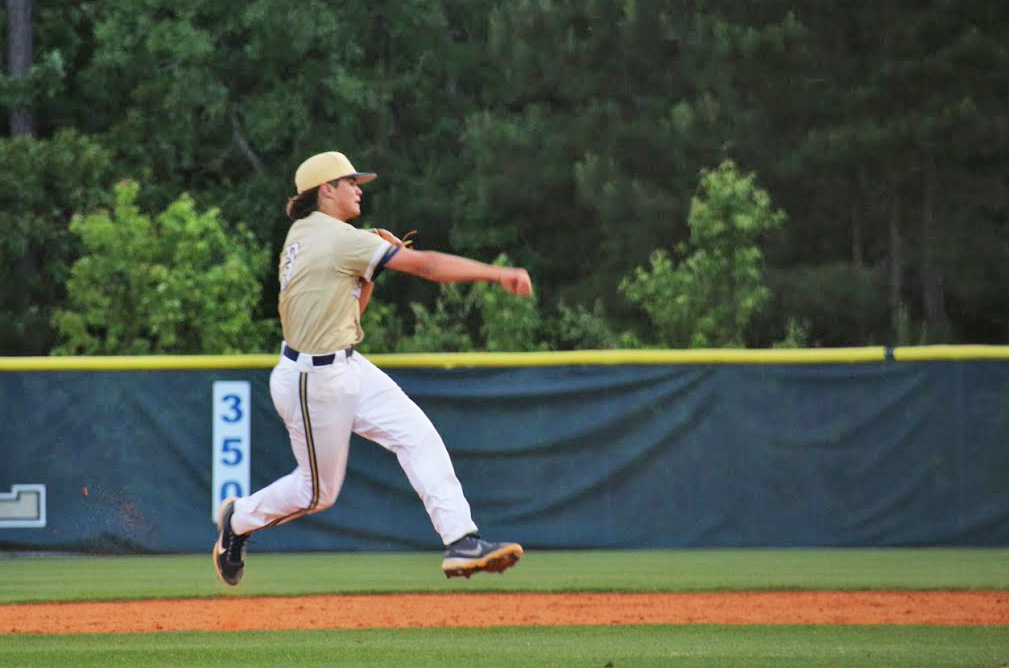 BLYTHEWOOD – After a rough start against J.L. Mann last Wednesday in a 5A playoff elimination game, the Blythewood baseball eventually evened the score and got the go-ahead run to cross the plate in the bottom of the sixth.
Alas, moving on to the District 2 upper state tournament's championship game at Dorman last Friday was not in the cards for the Bengals. A walk, two costly errors and a hit batter in the top of the seventh enabled the Patriots to score two runs in the top of the seventh and eventually close out a 5-4 victory over the Bengals.
"Our kids battled back, we spotted them three runs early, and I couldn't be prouder," Blythewood head coach Banks Faulkner said of his team in the second game of the tournament against J.L. Mann starting pitcher Wyatt Evans. "We battled back against that guy who was good again tonight and we had some better at-bats."
Ty Dooley's one-out single in the bottom of the sixth led to an interesting way of scoring a go-ahead run. Dooley moved to second as Stephen Lang-Spittler batted, and when Spittler hit a fly ball to centerfield, he tagged up when Bryce Harder caught the fly.
Dooley came in well ahead of Harder's throw to Erik Simpson at third, but when Simpson mishandled the throw, the ball darted into foul territory. Faulkner, in the third-base coaching box, leapt in the air and waved Dooley home to put the Bengals up 4-3 as the electrified crowd celebrated the team's coming back from a 3-0 first-inning deficit.
"We worked so hard to get the lead and we had them right where we wanted them," Faulkner said. "We said if we had the lead going into the seventh we're going to go to Davis."
All that was left to do was for Blythewood to get Mann out in the top of the seventh, and move on to the hope of beating Dorman in two games Friday to advance to the upper state championship series this week.
Unfortunately, that plan fell apart almost immediately.
Blythewood closer Zac Cowan had hurt his throwing shoulder and saw limited play as a designated hitter. That left Faulkner to go for Davis Wright took the mound and almost immediately got into trouble.
Wright, who had six wins and a 0.78 earned-run average as a starting pitcher going into the playoffs, got Tristan Bissetta to pop out for the first out, but Harder reached second base on an error and moved to third on a wild pitch to Ben Lumsden. Wright walked Lumsden to put runners and first and third for Braden Buffington.
Buffington got a bunt down toward Wright, but Wright mishandled the ball, which enabled Harder to score the tying run and put baserunners at first and second.
A second infield error enabled Erik Simpson to reach first and load the bases.
Wright struck out Santini for the second out, but he hit Shane Moriarity on the next at-bat, which brought Lumsden home from third to score the winning run.
Wright recovered to strike out Bradley Lewis and strand three Mann baserunners, but Blythewood couldn't get anything going in the final inning.
Justin White led off with an infield groundout and Justin Flemming flied out for the second out. Cowan got on base with a walk, but Alex Nevils struck out to close out the game and the season for Blythewood.
"We just didn't do enough to finish the game," Faulkner said. "I told our guys I want them to know that we've got a great team coming back here. We've got a great group. There's gonna be really high expectations, but I want them to remember that feeling, losing, getting eliminated on your home field, it's a tough pill to swallow."
J.L. Mann nearly pulled out an upset in the district championship. The Patriots forced a second game with a 15-11 scorefest over the Cavaliers, but Dorman pounded Mann in the final game 14-4 to move onto the best-of-3 upper state championship against Hillcrest this week.
The Patriots, which put Blythewood in the losers bracket of the tournament with a 4-1 victory May 14, scored three runs on Jacob Hardy's shaky start for the Bengals last Wednesday. Ben Blackwell came on after Hardy's 2/3 inning appearance and pitched 5 1/3 scoreless innings, giving up two hits.
Meanwhile, the Bengals got a run back when Cowan drew a lead-off walk, moved to second on Nevils' singled, stole third as Watson Saunders batted, and scored on Saunders' sacrifice fly. Mann starter Wyatt Evans struck out Caleb McCants and got Dooley to pop out to retire the side.
Blythewood didn't score again until the bottom of the fourth, but those two runs were enough to even the score.
McCants led off the inning with a double and moved to third when Dooley reached on an error. He scored the first run of the inning on a passed ball to Kevin Steelman.
Evans struck out Steelman for the first out, but another Mann error got Spittler aboard and put Dooley at third and Spittler at first. After Justin White fouled out for the second out, Justin Flemming came to bat.
Spittler jumped for second and Dooley jumped for home. Dooley made it in time to score the tying run, but Spittler was tagged out on the basepaths to end the inning.
That inning set the tone for both teams' final moves, which did not bode well for the Bengals.
The loss hurt, Faulkner said, but it takes nothing away from the group that well over performed and transformed what was to be a rebuilding year into a legitimate title run.
"I'll remember the way they came to work every day," he said before noting last year's powerful team that saw no action because of the Covid-19 cancellation of the 2020 spring season.
"We graduated so many guys last year," he began. "You know, I told some people I thought this might be a transition type year for us, and to do the things that they did and accomplish what they accomplished is a credit to our guys. They continued to set a high standard for our program and I couldn't be more proud of them."
The 2022 season starts in a few days, Faulkner said.
"We lose three starters, seven seniors," he said. "But the core of this team is back, and we've got a lot to do in the offseason. We'll take a week off and get away from it, and we'll get back to work."
J.L. Mann – 3-0-0-0-0-0-2 – 5, 7, 4
Blythewood – 1-0-0-2-0-1-0 – 4, 3, 2
WP: Wyatt Evans. LP: Davis Wright.
Hitters: M – Ed Michael Santini 2-4, 2B. B – Caleb McCants 2B.