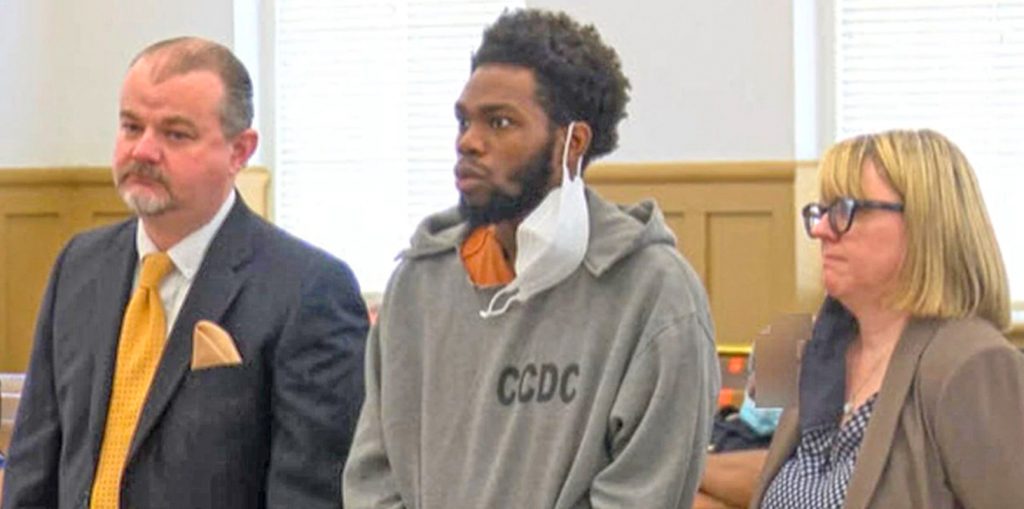 CHESTER – The largest manhunt in Chester County history came to a close Monday near where it began.
After a seven-day manhunt, alleged serial killer Tyler Donnett Terry was taken into custody Monday morning.
Terry, 26, was taken into custody Monday morning near Jones-Hamilton in the Richburg area. According to Chester County Sheriff Max Dorsey, the subject of the week-long manhunt that included more than 300 local, state and federal law enforcement officers ended without a shot being fired. Terry was laying on the ground near some power lines and did not have a gun on his person, though one was recovered. He was checked out by EMS officials, then transported to the Chester County Detention Center. Due to ongoing COVID protocols, he will be quarantined for at least 10 days and an initial bond hearing will be scheduled. Terry had actually not been seen in a couple of days, but officers laid eyes on him Sunday.
"Yesterday was the break we were looking for," Dorsey said at a Monday press conference.
The manhunt for Terry began close to midnight last Monday following a high-speed chase that stretched through two counties and subsequently ended with a crash near Lewisville High School, after which he fled into the Richburg woods. As it turns out, that was only the last stanza of a violent crime spree during which Terry was alleged to have murdered four individuals in two states, shot another man, fired shots at Chester County Sheriff's Office deputies and carried out burglaries and other non-fatal shootings.
It is still unclear what prompted it, but the violent binge appears to have begun with a number of incidents on May 2. On that day, Thomas Durell Hardin of Lowery Row in York County, was murdered. On May 19, once the manhunt had begun in Chester County, York County law enforcement charged Terry with Hardin's murder, along with additional charges of possession of a weapon during a violent crime. They added additional charges of first-degree burglary, injury to property and attempted murder in relation to other shootings in York that same day.
Also on May 2, the husband of Adrienne Roshea Simpson (the woman who was with Terry in the car during the chase and who is facing numerous felony charges herself), Eugene Simpson, was reported missing. By this past Wednesday, Simpson's body was found on a roadside near Great Falls and within 24 hours both Terry and Adrienne Simpson were charged in his murder. According to warrants, Terry shot and killed the victim, with he and Adrienne Simpson dumping his body off of Stroud Rd. She apparently gave statements to investigators that led to the charges and discovery of the body.
Last week, the City of Chester Police Department obtained warrants for attempted murder, possession of a weapon during a violent crime, first degree burglary, discharging a firearm, unlawful carrying of a pistol and malicious injury to personal property for Terry, with accessory charges leveled against Adrienne Simpson in relation to a shooting that occurred on Erhlich Street. Additionally, three counts of attempted murder were brought against Terry by City police in connection with a May 2 shooting that occurred at the Chester location of Taco Bell at 1715 J.A. Cochran Bypass. Adrienne Simpson was charged with accessory after the fact in that incident.
On May 15, Terry and Adrienne Simpson had allegedly made their way to St. Louis, Missouri. According to various media reports, they stole a license plate from a truck there sometime between 8 p.m. and 9 p.m. and put it on their vehicle. Less than two hours later, they allegedly shot Barbara and Stanley Goodkin as they were driving on the 8200 block of Delmar Boulevard. Barbara was killed as a result of a gunshot to the head, while her husband survived wounds to the leg and chest, with the latter apparently being at least partially repelled by a cell phone. Within an hour, just before midnight, Terry and Adrienne Simpson are believed to have shot Dr. Sergei Zacharev outside the Drury Inn in Brentwood as he waited for an Uber. The motive in both shootings is believed to have been robbery and there was no known connection of any kind between the victims and the subjects. The two are then believed to have purchased drugs somewhere in St. Louis before returning to South Carolina where Terry was captured on Monday.